We are SO excited that Farmer Wants a Wife is FINALLY airing on our TV screens. So, to celebrate, we asked some of our favourite Aussie authors to recap each episode for us. For the second week's recap we asked author of upcoming rural romance, Lonely in Longreach, Eva Scott.
---
We are nearly at the end! Can you believe it? Time has flown so fast and the relationship dynamics between our farmers and their ladies have changed. As we came into the final one-on-one dates, Neil and Alex faced rebellion in their camps as the girls became fed up with waiting for the lads to make some choices. The pressure is mounting and the boys are feeling it.
But first, let's talk about Sam. Watching the poor man grieve for his grandfather was heartbreaking. Talk about adding salt to the wound when the two girls he fancies, Emily and Sophie, tell him they don't feel the same way he does about them. Of course the one girl who likes him, Riley, is firmly in his friend zone. You can't make the magic happen but the timing is just terrible. We say goodbye to Sam and I hope he finds a lovely girl to heal his heart.
Meanwhile, in the rest of the country, the other girls are enjoy a day of farming.
Harry has his ladies grape harvesting. Madison and Stacey are pretty evenly matched here. While I have questions about Madison (see below), don't underestimate Harry's attraction to her.
Over at Alex's farm, Henrietta is feeling confused and frustrated, and who could blame her? Alex has had his ladies in a holding pattern for the longest time. As he struggles to deal with the forthright truth he was served up at Saturday night's dinner, he teaches the ladies how to backline the sheep. A handy skill for one girl's future?
Nick takes his ladies fishing. He hasn't sent anyone home and they are collectively pushing him to make a decision, with Naomi leading the charge. They're right. Of course, he doesn't want to hurt anyone, that's a given. However, love is a dangerous game and someone always gets hurt.
Neil is all about trying to be fair over on his farm. He takes the girls to see the farmhouse he wants to restore with his chosen lady, providing a lovely glimpse of a possible future. Behind the scenes, he's debating who to take on the one-on-one date. He feels he ought to take Megan but openly admits his heart lies somewhere else. He finds Megan a challenge, which begs the question as to why she's still there. Man up, Neil, and set her free.
The episode slides into home plate with a get-together. The boys share a beer and war stories. They don't really understand the girls' frustration, thinking they are doing the right thing by prolonging the pain of a decision.
The girls are almost relieved to see each other and share their experiences. It's about here that Sam arrives to make his announcement. As we've talked about it above, let's allow him the dignity of riding off into the sunset, shall we?
Moving right along to the dinner and the big decision as to who gets the last date. You get the sense it was a long night, with everyone looking a little worse for wear by the end. Henrietta makes the bold move of enlisting Harry's help in trying to understand Alex. Good luck with that.
After dinner, everyone moves off for a chat. Fuelled with food and wine, conversations get real.
Nick is a dark horse. Liz keeps pushing and his tone of voice made me think he's over her. Emma crashes their private party and tells Nick how she feels about him, causing Liz to walk off in a huff.
Naomi blows her chance by making the prospect of their first kiss transactional. You can see the wall come down the minute the words leave her lips. The fact he picked Liz for the date did surprise me, given the obvious chemistry between him and Naomi. This situation could go in any direction.
Harry picks Stacey, which is a no-brainer for me. They've shared something special from the get-go. Although I did feel a tiny bit sorry for Madison, left sitting like a lump on a log.
Alex picks Jess, another obvious choice. I think these two get each other on a fundamental level.
Neil chooses Megan and I can't help feeling like it's a charity date, a consolation prize for having hung in there this long. Here's your date, thanks for coming. Waste of a date if you ask me.
I get the sense that only Alex and Harry have followed their hearts in the one-on-one date selections. The clock is ticking boys, no time for mucking about.
The day of the one-on-one date dawns, marking forty-eight hours until the lads need to make a decision on their final two. No pressure!
Alex and Jess have a day at what Alex refers to as the Cunnamulla Day Spa, a sweet gesture designed to make Jess feel pampered. He gives her a rose-gold bracelet as a declaration of his intention.
We all know about good intentions…
Nick and Liz head for Cataract Gorge in Tasmania. Nick says he likes the fact they have the same dumb ideas at the same time but expresses concern that Liz may become annoyed with him. He wonders if they are too much alike. They do have an easy connection but I'm always left with the impression Liz wants from him that which he does not have to give.
Harry and Stacey take a jaunt out to the river by helicopter, where they have a romantic picnic and declare their passionate like for one another. They remind me of two grade ten kids making out after school and I wonder if there's enough here to go the distance. I like Stacey and I'm barracking for her. I was hoping for more from this exchange.
Neil teaches Megan his secret recipe for butter chicken. As far as dates go, this one wasn't very exciting although it did allow for them to have some intense one-on-one time. Rather pointless really, when we all know he's going to send her home in favour of the other girls.
Which brings us to the last day before things get serious.
Alex has the girls helping out in the stock yard. Cracks start to show in Henrietta's resolve as she struggles to come to grips with the cows. While she's overwhelmed, I don't think it's only the bovines that have her on the run. She's having some serious doubts about her place in Alex's life while Jess has never been more sure of what she wants. Later in the evening, Henrietta presents Alex with a poem in an effort to reconnect. Will it be enough? To nobody's surprise, Sarah goes home. While sweet, I don't think she was ever a serious contender in Cunnamulla.
Moving right along to Nick. He's a cricket tragic and they spend a pleasant day at the pitch with a picnic and champers. Later that evening, he's straight with Naomi about the whole transactional kiss thing. He says he's not sure of her feelings towards him which surprised her – and me. I thought it was pretty obvious. He sees him and Liz as being cut from the same cloth. I think he sees this as both an advantage and a disadvantage. Emma, however, he believes to be one of the loveliest people he's ever met, so he lets her go. To be fair, he did so with a truly heartfelt gentle farewell. Respectful. Kudos to him.
Neil ran his ladies through the gauntlet of his kids. The three teenagers seem to be genuinely nice kids and get on well with all the girls as they watch them work the sheep. They do think the ladies are a bit soft with the animals but are generous in their praise. At the last supper, Neil knows his decision right out of the gate but Megan pips him at the post by bowing out with grace and leaving the house. There is authentic sadness at her departure and you get the sense these folk have formed enduring friendships.
Harry puts Madison and Stacey to the sibling test, having his sisters grill the girls about their intentions towards Harry. Stacey doesn't come out of this so well, which rattles Harry as she was clearly his frontrunner. The sisters think Madison's calm demeanour will be better for him in the long run. I'm not so sure. What follows is an awkward dinner with Stacey getting the wobbles.
She's under a lot of pressure and it's starting to show.
I can't wait until the next episode. Who will win the farmers' hearts? I am only clear on a couple of outcomes, the rest are up in the air. It could go either way. There's so much we don't see, so much that ends up on the cutting room floor, that might help us make a more informed decision but I guess that's the point, right?
THE HIGHS
Alex and his homemade spa. Jess and Alex shared their abandonment stories and grew closer for the sharing. Her declaration that she doesn't need grand gestures of love, just for him to come home at the end of every day, broke my heart. His one-on-one date was designed to take care of her, pamper her and giving her a gift of the bracelet to show he cared spoke to real romance.
THE LOWS
Sophie telling Sam she doesn't have feelings for him. She's left it a bit late in the proceedings to have this conversation. And I know the cameras were running, which might be a bit off-putting but I wasn't feeling any warmth coming from her. She delivered her news with crisp efficiency. She might have thrown in a comforting hug for free.
HUH? MOMENTS
Harry's sisters falling for Madison and advocating for her over Stacey confused me. Sure, they haven't seen what we've seen but I think they got fooled by her vanilla cupcake routine. I have my doubts about Madison, as you know. She came back a whole different person after she staged a dramatic departure,  and anyone who has what looks like a queen bee tattoo on their forearm can't be that retiring. Just sayin'.
LINGERING QUESTIONS
Can Harry see his way past his siblings' opinions to the truth of his own heart?
Is there anything Henrietta can say or do to change what looks like a pretty obvious outcome with Alex?
How is Nick going to choose between Naomi and Liz? He can't string this out any longer. And does his Greek mother really have no opinions? I've never met one who didn't!
PREDICTIONS
Here's how I think the farmers are going to pair up:
Alex will choose Jess. These two have shared their vulnerabilities and have a lot in common. By his own admission, Henrietta intimidates Alex so I can't see a future there.
Harry could go either way, as his sisters' opinions are clearly confusing him. I'm hoping for Stacey although this is more of a wish than a firm bet.
Neil may well choose Justine. Either lady would work well with him although I sense he's formed a deeper connection with Justine than Karissa.
Nick, well, I have no idea who Nick will choose. I'll pluck a name out of the hat and say Naomi.
Get your champagne chilling and your snack selection ordered. The last episodes are going to be interesting.
---
Eva Scott
Eva comes from a family of storytellers and has been writing her own stories since she could hold a pencil. Growing up in a multicultural neighbourhood in Melbourne, Eva developed her wanderlust and a passion for culture and language. She travelled the world, living in Britain before coming home to Australia to study Anthropology. Wanderlust got the better of her again, so Eva packed up and headed to Papua New Guinea to live and work where she was completely in her element. Eva's passion for the Australian country is born of her large extended family, which is spread out across the land. She volunteers at the local primary schools, teaching writing and working with children to incite a love of books and reading. Eva's books explore relationships, culture, our roles in changing society, love and loss. She loves finding connections with readers over shared experiences.
If you'd like to know more about Eva, her books, or to connect with her online, you can visit her website: evascottwriter.com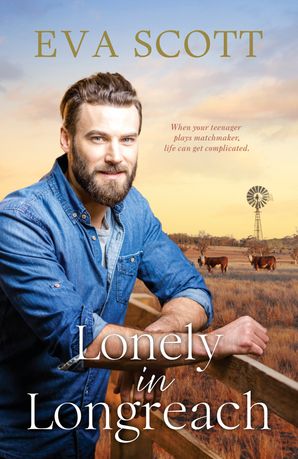 In the red heart of Queensland, two teenagers playing matchmaker are about to turn more than one life upside-down.
Widower Sam Costello has no time for love. When he's not working on his farm, he's trying to figure out how to connect with his teenage son Levi.
But Levi is about to finish high school, and he has big plans to move to Sydney for university with his best friend Maddie. If only he didn't feel so guilty about abandoning his dad. Maddie has her own reasons for wanting to go to Sydney and she's not going to let Levi's dad ruin her future happiness. Mr Costello needs a girlfriend and, with her talent for matchmaking, Maddie is the girl to make it happen. By the time Mr C figures out what she's done, surely he'll be too in love to be angry.
Journalist Sarah Lewis has a good job, a nice boyfriend and a safe life in Sydney. Though sometimes she wonders if life has more to offer than nice and safe. When she starts working on an article about finding love in the outback she finds herself asking whether journalists should become this invested in their research. But there's just something about Lonely in Longreach. Could it be that the man behind the dating profile is the key to the passion she has been looking for?
Sleepless in Seattle meets rural Australia in this fresh romantic comedy about optimism, online dating and love at first sight.