In my latest release, Five Dates with the Billionaire, Violet Stewart manipulates both her grandson Connor and his employee Mia into dating. Family interference in romance has played out many times on our television and movie screens – and in some cases in real life!
I've put together a list of six movies I've enjoyed where family members have either schemed to push a couple together – or tried to tear them apart.
---
The keeping apart …
1. Ever After (1998)
This fabulous movie starring Drew Barrymore as Danielle and Dougray Scott as Prince Henry is the classic Cinderella story complete with nasty stepmother (Angelica Houston) and stepsisters (Megan Dodds and Melanie Lynskey). To prevent the romance between Danielle and Prince Henry they do all manner of nasty things, including locking Danielle in the pantry so she can't get to the ball. In a lovely bit of poetic justice, Danielle turns the tables on them nicely at the end of the film.
2. Mrs Doubtfire (1993)
In my favourite Robin Williams movie, he plays Daniel who turns into Mrs Doubtfire to be able to spend time with his children. Hilarity ensues with his antics to warn his estranged wife Miranda (Sally Field) about the perils of dating her old flame Stuart (Pierce Brosnan) and to try to keep them apart.
3. Monster-in-Law (2005)
Oh yes! What a monster Viola (Jane Fonda) is to poor Charlie, her daughter-in-law to be (Jennifer Lopez). Viola is the classic mother-in-law of all nightmares who believes that the woman her son Kevin has fallen in love with is simply not good enough for him and who sets out to ruin Kevin and Charlie's relationship. I'm sure every daughter-in-law who's had this experience was cheering Charlie on as she fought back against all Viola's scheming!
The pushing together …
4. The Proposal (2009)
Although it was executive publisher Margaret (Sandra Bullock) who proposed that her assistant Andrew (Ryan Reynolds) play the part of her temporary fiancé to stop her being deported from the US, it is Andrew's grandmother Annie's feigned 'heart attack' that really gets them together. (Both Annie Paxton and Violet Stewart are a pair of manipulative grannies who want their grandchildren to find their HEAs!)
5. Sleepless in Seattle (1993)
Tom Hanks plays widower Sam in this classic movie and it's his son's manipulations that lead to Sam getting together with Annie Reed (Meg Ryan). Jonah proves that family interference in matters of the heart can come from all generations!
6. The Parent Trap (1998)
I left this movie until last as it is manipulation that causes the breakup of one relationship and the rekindling of another. Lindsay Lohan in her first role as twins Hallie and Annie meddles to cause her father to see his girlfriend's true colours ('a child-hating gold-digger') so that he will split with her and reunite with his daughters' mother (played by Natasha Richardson).
Which movies or television series have you enjoyed where family manipulation has been afoot to either wreak havoc on a relationship or to help the characters along to true love?
---
Alyssa J. Montgomery
Alyssa lives with her husband and three children on a five-acre property nestled into a mountain range south of Sydney, Australia, and enjoys having the space for gardens, a dog, horses, goats and chickens. Visits from the native wildlife (echidnas, wallabies and a variety of native birds) are particularly welcome … although visits from native wildlife with scales and fangs aren't met with quite as much enthusiasm!
She continues to work in her private practice as a Speech-Language Pathologist. Previously she's done a stint with Qantas Airways as an international flight attendant, completed her Master of Science degree, and has also been a professional pianist.
If you'd like to know more about Alyssa, her books, or to connect with her online, you can visit her webpage: http://www.alyssajmontgomery.com
Follow her on Twitter: @Alyssaromance or like her Facebook page: https://www.facebook.com/AlyssaJMontgomery
Check out Alyssa's latest book: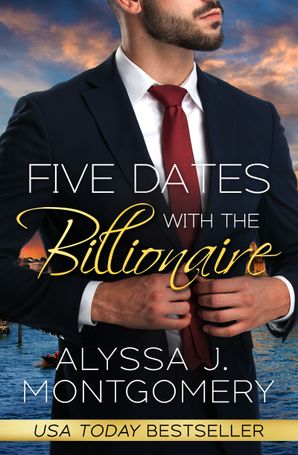 'I'm insisting you date her. Five dates together, then I'll have this surgery.'
Billionaire CEO Connor Stewart is being blackmailed. By his own grandmother, no less, who is refusing to have life-saving surgery unless Connor dates Mia Simms, his dull and dowdy marketing employee.
For Violet's sake, Connor agrees to the crazy scheme. There's no risk of breaking his 'short-term only' rule with Mia Simms; she's not the kind of woman Connor is interested in … and he's sure she's hiding something. He just doesn't expect it to be delicious curves and a firecracker personality.
Mia Simms is hiding something, and it's much more dangerous than her looks. All she wants to do is live life in the safety of the shadows and avoid discovery but perhaps a short-term fling is exactly what she needs to remind her to live.
If Violet is right to push them together can Mia trust Connor enough to let him see the real person behind the facade she's built? Or is Violet's little scheme about to put both their lives in danger?
Looking for your next favourite read? Check out some of our faves available from $1.99!
By Alyssa J. Montgomery