Bronwyn Sell's latest book Lovestruck is set on a gorgeously romantic Whitsundays island. To celebrate its release we got Bronwyn to tell us all the reasons the Whitsundays are the perfect romantic location…
My sole experience of sailing, before my first visit to the Whitsundays, was of sitting back and drinking wine while people far more capable leapt around doing all the baffling tricky stuff with ropes and sails and cleats and things.
So when my then-boyfriend suggested we fly up from Sydney, hire a small yacht and sail around the islands, jumping off here and there to snorkel, I had reservations. He reassured me that he had all the sailing experience we needed. I'd mostly just need to sit back and enjoy the ride.
It was only once we'd headed out of Shute Harbour into Whitsunday Passage and immediately hit a squall that lashed us with galeforce winds and reduced visibility to a few metres, making it near impossible to navigate the tricky, narrow entrance to the Nara Inlet of Hook Island, that he admitted he'd only ever sailed windsurfers. "I'm sure it's pretty much the same."
After a few tense moments, the squall passed and we gratefully motored into the inlet and the protection of its fringe of bushclad hills. We figured out the anchor and took our first dip in the glossy dark water. In the days that followed, I fell in love. Waters melting from turquoise to bottle green to concrete to black, depending on the weather and time of day, islands carpeted in eucalyptus and hoop pines, deserted beaches, mornings waking to water slapping the hull, that feeling of going on an underwater safari each time we dipped under the surface… I even came to like the sailing.
As for the boyfriend? Reader, I married him, and he is still just as intrepid and optimistic, bless him.
Years later, when I had an urge to write a romantic comedy novel about a quirky and charming family who run a tropical island resort, so I could explore that delicious trouble-in-paradise feel, the Whitsundays were the obvious choice for a setting. Added bonus? I had to return there for, er, research.
Here are the top-five swoontastic reasons you too should set your next (real-life) romantic adventure in this Queensland island group.
1) It's picture-perfect.
The swirling turquoise water and white sand of Whitehaven Beach on Whitsunday Island make it one of the most photogenic (and most Instagrammed) beaches on Earth. Further afield, among the Great Barrier Reef, the equally famous Heart Reef is a staple on romantic greeting cards the world over. Most of the 74 islands in the group are largely untouched, while the coast on the mainland is lined with national parks. The glorious water-reflected sunrises and sunsets and starry night skies will refuel your soul. And if a storm rolls in, as they sometimes do, you get a deliciously dramatic backdrop while you cosy up inside your room, tent or cabin.
2) The activities
From snorkelling and diving in the bountiful waters to bareboat sailing for two, to swimming in secluded bays, to disappearing into nature on a walk, it's a choose-your-own-adventure for romantic bonding activities.
3) It's off the grid
There's something symbolic about holidaying on an island, especially a less developed one. It feels easier to cast off the worries of the real world and reconnect with yourself and your partner. Some resorts even come with the added bonus of poor internet access, though sadly they're gradually remedying that, like everywhere else in the world. (This remoteness brings its logistical challenges. One resort veteran I spoke to while researching my book says local helicopter pilots have been known to accept bribes to pick up bags of carrots from the supermarket on the mainland.)
4) The resorts
Speaking of resorts, there are accommodation options from all budgets, from packing a tent for a self-sufficient escape on unspoilt Whitsunday Island, to booking a double cabin on a catamaran for a few nights (on my last trip, I went out on iSail's cat Entice, which I can thoroughly recommend), to splashing out on a romance package at the well-appointed (and newly rebuilt) Hayman Island, to securing a villa at the indulgent boutique Elysian Retreat on Long Island. You can even overnight in a tent on a pontoon beside the Great Barrier Reef.
5) The romantic possibilities are endless…
The potential for romantic dinners and champagne toasting is endless, from a picnic or takeaways on a beach, to a casual bistro meal at Airlie Beach, to a candlelit three-course dinner in the open-air pavilion of the aforementioned Elysian Retreat. BYO romance.
Sigh. And now I want to go back again. Pretty sure the husband will be up for it.
---
Bronwyn Sell is many things—novelist, journalist, travel writer, bestselling non-fiction author, yogi, theatre nerd, soccer mum, wife, lover of wines in the sun with friends, perpetually terrified taker-of-creative-risks—but at heart she's an eternal romantic and optimist who loves playing with words and imaginary friends.
Her journalism and travel writing have won national awards in her native New Zealand. Her romantic thrillers (under pen-name Brynn Kelly) were published in the US, earning critical acclaim and a RITA Award™, the most coveted trophy in the romance genre.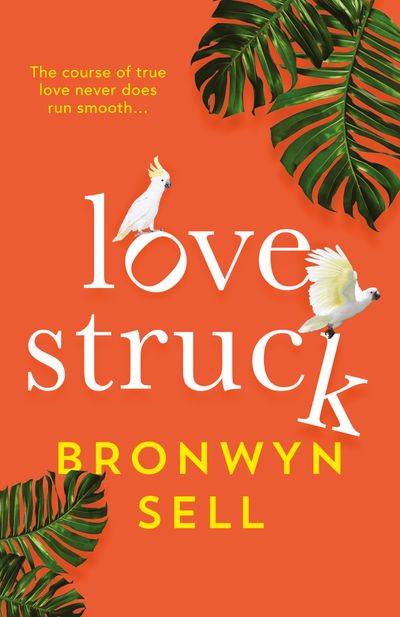 A clever, heartfelt romantic comedy about a charming family who live in the most romantic place on earth but can't catch a break when it comes to love. For fans of Marian Keyes, Star-Crossed and Offspring.
When a romantically challenged family gather at their Whitsundays resort for their first wedding in decades, Amy 'stuck in the friend zone' Lowery realises that her single tango-dancing mum and besotted groom-to-be dad have hotter love lives than she does.
But when she locks eyes with an alluring stranger, The Pull in her chest is undeniable. And the look in Josh Brennan's eyes definitely says 'more than friends' – but not in the way she hopes.
Loner Josh is ecstatic to meet his witty stepsister-to-be and stoked that the union of their two dads comes with the lively (if chaotic) family he's always wanted. No way will he admit to an inconvenient attraction to his insta-sister – not even to himself.
Elsewhere on the island, resident nice guy Harry is absolutely not going to fall for smart and sexy jilted bride Sophia, who is locked in the honeymoon villa trying to kickstart Operation Get Your Life Together. But a harmless flirtation never hurt anyone – right?
Throw in some sharp-witted siblings, a bevy of naval officers and a meddlesome gran determined to see at least one of her descendants happily wed, and the scene is set for a perfect storm that will leave no heart unscathed…