Penelope Janu's new book follows a romance writer who finds herself in her own real-life rom-com! To celebrate we asked her to review new romance adventure movie The Lost City which follows romance author Loretta who, through a series of misadventures, finds herself the heroine of a real-life romance drama searching for a lost treasure alongside her hunky cover-model Adam.
---
How good is it when, with middling expectations, you buy tickets to a big screen movie and then are delighted by how much you enjoy it?  The Lost City, released mid-April and currently on screens worldwide, is just such a movie, with a talented cast, laugh-out-loud moments, and a message we can all relate to: don't judge a book by its cover.
Sandra Bullock is Loretta Sage, a successful but reclusive writer of romance novels, and Channing Tatum is Alan Caprison, a cover model famous for his enthusiastic portrayal of Dash McMahon, the heroic fictional action-adventure character in Loretta's books. Alan is (not so) secretly in love with Loretta, but Loretta, still pining the loss of her husband and a career as an archaeologist, wishes Alan would simply disappear. Throw in a kidnapping by a villainous Abigail Fairfax (Daniel Radcliffe), and the antics of Loretta's delightful publicist Beth Hatten (Da'Vine Joy Randolph), and a few hilarious scenes featuring ex-Navy SEAL and CIA operative Jack Trainer (the still remarkably handsome Brad Pitt) and you have a movie that not only lovers of romance but plenty of others (just ask my husband!) are bound to enjoy.
So why does it work so well? There are a number of reasons, and these are my top four!
The Characters
First, Loretta and Alan might be polar opposites, but they're both nice people with nice-people frailties. Alan might be 'certified CPR' and 'certified Cross Fit' and have a host of other certificates in mountain climbing and lifting weights, but neither he nor Loretta have any experience of real-life adventure. Their ineptitude is not only amusing, it is endearing—they are relatable characters, and we can love them for not only their strengths but their failings.
The Chemistry
Second, the chemistry between Loretta and Alan, and their growing understanding of each other's motivations, builds slowly but surely throughout the movie. And the romance is more complex than it might appear at first. The movie is about falling in love again, about Loretta starting a whole new chapter in her life. And it also relates to how we judge others – the twist here is that Alan, the cover model, respects Loretta's readers and what they get out of her romance novels far more than she does. In fact, it's only when Loretta faces losing Alan that she truly appreciates the importance, and possibilities, of romance in her own life.
Celebrating Romance Writing
Third, I love the fact that Loretta is a romance writer, and the movie examines what romance means in both our reading and personal lives. I explore similar themes in my enemies-to-lovers novel On the Same Page, where a novelist, a contemporary Miles Franklin, starts writing characters that bear a striking resemblance to her nemesis publisher, Lars Amundsen.
Pure Escapism
Fourth, just like its predecessors, movies like Romancing the Stone and the Indiana Jones movies, The Lost City provides almost two hours of escapist enjoyment. Just like curling up and reading a romantic comedy novel, you'll find relatable characters, happily ever after endings, and a lot of fun!
---
ABOUT THE AUTHOR: Penelope Janu
Penelope Janu lives on the coast in northern Sydney with a distracting husband, a very large dog and, now they're fully grown, six delightful children who come and go. Penelope has a passion for creating stories that explore social and environmental issues, but her novels are fundamentally a celebration of Australian characters and communities. Her first novel, In at the Deep End, came out in 2017 and her second, On the Right Track, in 2018. Up on Horseshoe Hill was published in 2019, a novella, The Six Rules of Christmas, in 2020, and then Starting from Scratch was released in 2021. Penelope enjoys exploring the Australian countryside and dreaming up travelling and hiking breaks, and nothing makes her happier as a writer than readers falling in love with her clever, complex and adventurous heroines and heroes. She loves to hear from readers, and can be contacted at www.penelopejanu.com.
Don't miss Penelope's latest book On The Same Page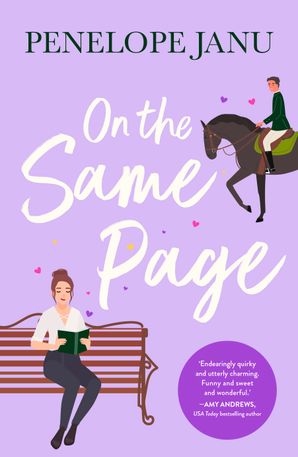 For readers of Mhairi McFarlane, Beth O'Leary, Lindsay Kelk and Sally Thorne comes this utterly charming and delightfully funny love story where opposites attract – or do they?
By day Miles Franklin, named after the famous author, is a successful lawyer. By night, in secret, she writes historical romance novels under the pen name Emma Browning. When 'Emma's' novels win one of Australia's biggest literary awards, Miles's perfectly ordered life begins to unthread at the bindings. Especially when Lars Kristensen, CEO of the publishing company contracted to publish the prize-winning books, insists on meeting the author.
Besides mutual antipathy and sexual attraction, socially anxious Miles and supremely confident Lars have nothing in common. Nothing. But the more time they spend together, the more blurred the lines between fact and fiction and love and hate become.
Miles is determined to both protect her privacy and to keep writing-even if it means mastering pole dancing, choreographing a love scene in the back of a horse-drawn carriage, and confronting the prejudices of her parents and publishers.
Like the heroines in her books, Miles has the grit to stand her ground. But Lars has the smouldering looks, arrogance and pride of all her romantic heroes rolled into one. And he is good at reading between the lines. Who is going win this battle of wills? Can Miles and Lars ever be on the same page?
'Endearingly quirky and utterly charming. Funny and sweet and wonderful.' -Amy Andrews, USA Today bestselling author