Author Stella Quinn is back, recapping the drama-filled final episode of Farmer Wants A Wife for 2021!
---
The finale opens with the classic Hollywood manoeuvre for covering a lot of emotional ground in a short space of time: the montage.
Manly farmers grip fences and stare moodily across sunlit paddocks; embarrassed snogs are exchanged in waterholes, on verandah steps, in the back of utes; Farmer Andrew reminds us he is hoping for his dream girl, Farmer Matt stares soulfully down the camera with his blue, blue eyes, and a woman quietly sobs into a mirror: 'I don't want to be part of the drama'.
Farmer Rob reminds us (could we forget?) that he's waiting for his lightning bolt.
Farmer Sam is dispatched with unseemly haste and we're left with our four contenders, who will each spend a day in the hometown of their two final choices. Natalie announces 'This is it!' and the finale is underway.
Four utes roll out of four dusty driveways amid scenes of hay being scattered for the cows (Matt) and horses' noses being kissed (Rob) and we're off … first stop, the seaside.
Farmer Matt visits Tara on the Mornington Peninsula
She is grinning when she sees him; she runs, in fact, and launches herself at him and it's clear her walking-out drama has been forgiven.
Tara's mum and dad are standing by in their matching sailboat outfits, her mum cries, and the vibe is so very different from farm life it does make me feel a little less aggro about Tara's on-farm dramas.
They take a couples walk on the beach and Matt tells her he's worried she'll take off if life on the farm gets tough. Tara agrees 'we struggled through some tough parts' – surely she's using the royal 'we' here? Excusing herself a little?
Farmer Rob visits Vici in her hometown, Byron Bay
We jump state to NSW with Farmer Rob, who's sporting the world's tallest hat for his visit to the country's coolest town. We have another montage – the two of them on horseback – and it is adorable. Rob is very (very) good at appearing to be totally into whoever he's with. They greet with a little kiss (the first I've seen for Farmer Rob) and, after some chitchat about crystals, Rob fails to endear the dog with his harmonica skills.
We meet Vici's friends at a gorgeous bar and Rob talks her up to the crowd: she's a good communicator, she's beautiful, she has a sense of humour – and the friends are eating it up. I stand by my comment from an earlier recap, why isn't this bloke on country radio – he can deflect any comment with a laugh and a tactful response. All that practice dodging lightning bolts, I expect.
It's time for Farmer Matt to visit Alex in Victor Harbor, SA
He meets her sister and grandma, and while he's making polite small talk we're treated to a –wait for it – montage of Matt and Alex getting closer on the farm. Alex talks about his 'warm presence' and then Nan takes Matt out to the patio table for a heart-to-heart.
She asks him what qualities he's looking for and he says (make a note of this for later) 'reliability' and 'trust'.
Nan gives him the nod. 'I wish you well.'
On the couples walk after the family meet-and-greet, Alex and Matt seem like they don't know each other well enough.
Farmer Matt's big decision time
Back on the farm, Matt gets into some deep thoughts staring out over the dam waiting for Alex and Tara to frock up.
He (or the producers) have knocked up a little wooden arbour trimmed with bunches of (I think) wisteria, and it's Tara who meets him there first.
Matt takes the formal approach to get the conversation rolling (was anyone else reminded of a Year 12 oral assessment piece? Run of the mill content, but an earnest delivery – I'd give him a solid B+). Tara walks up first and he tells her he's loved getting to know her, and how determined she is; he has loved seeing her gentle and soft side, he felt so at home with her family, BUT things that weigh on his mind include her walking away …
… and the producers cut the scene and we're left hanging about Tara, because now it's Alex's turn. She's looking ravishing in a gorgeous pink frock, but it's all to no avail because he's forgotten that trust and reliability are what he wants most. He tells Alex he has a strong connection with Tara that he can't ignore.
Alex (bless) tells him to follow his heart, and only puts the boot in a little when she hopes that Tara can provide him with the future he wants.
And … was it just me, or does Alex seem to be not too devastated? I liked the takeaway lesson she decided she'd had: 'I've learned to speak up a little more'. A lesson we could all use, yes? #respect
Meanwhile – switch scene back to Tara – she tells Matt she's thankful for the lows because they taught her that her feelings for him for real. Matt: 'Tara, I'm falling for you'. He knew it was her because 'as soon as she walked out of the car that fuzzy feeling kicked in'.
Farmer Wants the Fuzzies. Maybe I should give Channel 7 the heads up about their new show title.
Farmer Rob's turn to choose
Farmer Rob is on his farm in a pale blue suit looking long-faced … like a cross between a wedding singer and a funeral attendant. It's clear (isn't it? Are you all with me on this?) that Farmer Rob isn't choosing anyone. He tells us so in the scene set-up: 'I'm not going to settle for less than true love, and I have two children to think of'.
Kate the psychologist is pretty full-on with confidence as she heads out to the farm. She gives him a cheek kiss and he looks nervous, for once. He starts rolling out a lot of positive talk that is a dead giveaway for what's coming. After his effusive compliments wind down, he uses the 'mates' word, and that is that!
Vici is much more of an earthmother type (at one point I thought their similar arm tatts might be a bonding point) and his face does light up when she comes in, and there does seem to be a spark in his voice! And now they're holding both hands! Has Rob surprised us all???
But no. The spark in his voice peters out … he stops and sighs … he's realised they are quite different people and he'd be being dishonest if he said he thought they had a future.
She says 'wow' – she is stunned. She is silent! And gutted! And is she angry?
Rob has definitely felt the tension: 'sometimes the right decisions aren't easy to make,' he says, before the camera pans back to a long shot of him walking his fenceline … alone. #sadmusic
Farmer Will visits Kristina at Mt Gambier
Will goes to see his mates from FWAW 13 years ago to get their advice, and they say 'choose with your gut'.
He heads off to Mount Gambier, where he's met by cows in the front yard, and a dog rushes up to greet him, which goes to show how suited Kristina would be to farm life.
She asks him how he's feeling about meeting her mum, and he says he's nervous, but: 'I've got my flowers and my small talk – I should be right'.
Kristina's mum doesn't beat around the bush – either with the questions she has prepared for Will, or her opinion: 'I think you two make a really nice couple'.
They wander off through the fields for some private time and Will says he can see it – they were both made for the rural lifestyle.
Farmer Will and Jaimee in Melbourne
Melbourne is a big change of pace for Will. He meets Jaimee at a cafe where he's given a barista-made coffee and his black instant version is given a roasting (yes – that was a pun) and he says he's missed her. There's a bit of eye-gazing while we have – drumroll – a montage of Will and Jaimee moments.
Then it's BBQ time, and it's clear from the get-go that the sausages aren't the only thing going to get grilled. Jaimee's best friend Courtney jumps straight in: 'What makes you the right guy for her?'
Decision time for Farmer Will (aka Will and the Golden Velveteen Couch)
Come on, admit it, that golden couch in the paddock is a pretty good visual. Sure, it looks uncomfortable as anything, and Kristina's asymmetrical, high-slit frock necessitates an awkward fall-into-the-cushion manoeuvre, but as couches go, it is awesome.
I was a little surprised Will's dog hadn't gotten an invite. Maybe it was those white moleskins he'd poured himself into. White pants and kelpie pawprints aren't a match made in heaven and neither, it turns out, are Will and Kristina.
She rocks up looking gorgeous and proves herself to be the nicest person on the show: ' at end of the day I'll be happy if you're happy'. Will feels compelled to get in a long (long) list of how amazing she is, but it gets so long and drawn out the BUT is all but visible in the air.
She says, ' I hope that you're happy'. She is very gracious. She doesn't seem devastated.
Then Jaimee arrives, and she looks SO sweet as she sees him across the paddock, and her heart really DOES shine in her face, and even though she is savagely sunburned (for some unexplained reason) they hug each other exuberantly. Then we get the cuteness contest going: she says, 'I've been looking for you for a long time – you've made me laugh and smile every day,' and Will says, 'the last few years I've been quite guarded and defensive – meeting you restored my faith.'
Awwwww.
'I choose you if you'll have me,' he says. Awwwww again.
He is so happy! Those eyes! And – this is off on a tangent I know – but is this why he's the farmer who got the gig on the IGA ads? Because he's the keeper?
And now to the drama of the show
That's right, the Delegate, NSW delegation: Andrew, Ash and Jess.
Farmer Andrew begins his day of soul-searching with some furrowed-brow leaning against his tin shed, before heading off to Brisbane to spend the day with Ash.
Before he arrives, Ash reflects on how being left alone at the party event while Andrew was chasing after Jess made her feel, and Andrew must have known their day was not going to go well with that between them. He apologises and asks for her forgiveness, and Ash – beautiful Ash – says yeah, she 'was pissed off but let's enjoy our day'.
They switch out sheep shearing for Shufl (who knew that was a thing … I haven't been spending enough time in pubs … and yes, I triple checked the spelling). Ash must think it went well, because she tells the camera 'If he doesn't see that I'm the perfect pick … open your eyes'. AGREED.
Then Ash's brother rocks up, and maybe he's been watching too many cop interrogation shows, because he's got a good-cop bad-cop vibe going on. 'What do you like about Ash?' he says … and here comes the romantic answer. Wait for it … Andrew says 'she loves her footie, she loves a beer'.
(Okay, he also says she's genuine and has a heart of gold. True … all true.)
The brother then reminds Andrew what a rat he'll be if he doesn't pick Ash, by pointing out all the qualities Andrew asked for in his wishlist video. 'Mate: Ash is the one'.
Is Andrew hearing all this? Is he paying attention? Nope, it doesn't look like it. Reminds me of a FB comment I saw during the week, where someone suggested Andrew was doing his thinking with his zucchini emoji J
And it's back to Melbourne
Jess meets Farmer Andrew with her galpals, and (awkies) he turns up at the bar just as Jess is being grilled about her L-bomb. One of the gals skewers Andrew with her first question: 'what's this about kissing another woman?'
There's some odd penguin chat (is that how they talk in the Melbourne dating scene?) and we're left with unanswered will-they won't-they questions when Jess asks him about Ash, and dislikes his answer so much she flounces off.
Decision time for Farmer Andrew
We are treated to some farm scenery while Andrew in his ivory sportscoat surveys his domain, and the three Farmer Wants a Wife contestants whose story is not quite over tell us where they're at:
Jess: 'I really care about Andrew and I really want him to pick me'.
Ash: 'I do want to take his breath away'.
Andrew: 'I've found someone I have a very strong connection with and that I'm falling in love with'.
Ash rocks up first to the prettied-up picnic bench in the barn. She's looking amazeballs, but nuh – he's not feeling it. He's going with the too-many-compliments approach, which is making me nervous … 'I've learned a lot about love and it can't be forced … I thought you were the girl I was looking for BUT … my heart belongs to someone else'.
She cries. She tells herself to breathe. She's gutted. The producers give her a minute to gather herself (and scrabble around for a heartbreak song to use as she walks into the distance) and it's done. Ash has left the show: 'It is what it is. I can't change anything'.
Happily  ever after?
Andrew then surprises no-one by throwing his cap at Jess. The producers switch up the soundtrack to something triumphant and, it must be said, he does look pretty darn tickled when Jess arrives.
She says she's nervous, there is a bit of awkward silence, and then Andrew just says it straight: 'The truth is I never want to be separated from you; the thing is just I'm in love with you'.
And that, my friends, is a wrap. Farmer Wants a Wife 2021 is done (but for the reunion show next week, of course).
Has true love been found amid the hay bales? It'd be amazing if it could prosper in a reality TV show setting, but stranger things have happened, right? As Farmer Andrew reminds us in the closing scene: 'I guess you know when you know'.
Love a bit of Australian rural romance?
---
ABOUT THE AUTHOR: Stella Quinn
Stella Quinn has had a love affair with books since she first discovered the alphabet. She lives in sunny Queensland now, but has lived in England, Hong Kong and Papua New Guinea. Boarding school in a Queensland country town left Stella with a love of small towns and heritage buildings (and a fear of chenille bedspreads and meatloaf!) and that is why she loves writing rural romance. Stella is a keen scrabble player, she's very partial to her four kids and anything with four furry feet, and she is a mediocre grower of orchids. An active member of Romance Writers of Australia, Stella has won their Emerald, Sapphire and Valerie Parv Awards, and finaled in their R*BY Romantic Book of the Year award.
You can find and follow Stella Quinn via her website.
Love Australian rural romance? Check out Stella's debut book The Vet From Snowy River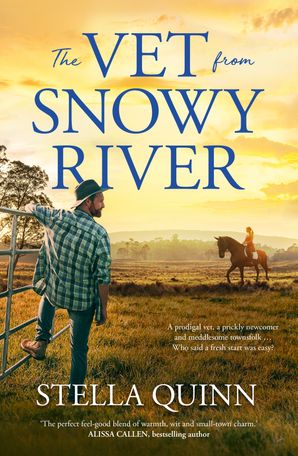 A hot vet. A rebellious teenager. And meddling but well-meaning townsfolk. Vera gets more than she bargains for when she runs off to a new life in the country … A fresh and funny rural romance, perfect for readers of Alissa Callen and Rachael Johns.
Vera De Rossi no longer believes in love …
And thanks to her ex-boyfriend­ she's also broke, jobless, and staring down the barrel of a court case that could land her in prison. Turning to her talent for baking, Vera opens a cafe in Hanrahan, a cosy tourist town in the foothills of the Snowy Mountains.
Josh Cody, once Hanrahan's golden boy, escaped sixteen years ago with gossip hard on his heels and a pregnant girlfriend in tow. Now he's back: a qualified veterinarian – and a single dad with a lot to prove. A new start and a grumpy teenage daughter … it's a lot to juggle, and there's no room in his life for further complications. But that's before he walks into The Billy Button Cafe and meets its prickly owner …
Reeling from the past, Vera has no intention of being sidetracked by the hot vet with a killer smile. But fate has a way of tripping up our best intentions and between a stray cat and a busybody with a heart of gold, this is a town – a family – unlike any other. And, whether Vera wants it or not, is there anything a family won't do to help one of its own?
PRAISE:
'The perfect feel-good blend of warmth, wit and small-town charm. This debut will leave you smiling.' Alissa Callen bestselling author of Snowy Mountains Daughter