Want to escape the oppressive heat of the Australian summer? Try these Mediterranean romances that will give you a truly romantic getaway to some of the most beautiful places on Earth…
Escape to…the rolling green countryside of Tuscany

The Italian's Ruthless Seduction – Miranda Lee
If Sergio Morelli wants something, he only has to click his fingers to get it. Except for Bella Cameron. No matter how much his stunning stepsister once drove him wild with lust, he never allowed himself to have her, believing she was a gold-digger like her mother.
Now, when Bella calls unexpectedly seeking refuge at their secluded family home by Lake Como, their unfulfilled desire resurfaces. No longer able to resist, their one night together only inflames their passion – and now Sergio wants more!
Bound To The Tuscan Billionaire – Susan Stephens
For gardener Cassandra Rich, working in the foothills of Tuscany is the perfect way to escape her past. Until the man of the manor graces the villa with his presence and Cassandra with his attention…
Marco di Fivizzano can't take his eyes off Cass. So when he requires a 'plus-one' for a gala, Marco will uncover who this fiery blonde is – over dinner, or in his bed! In Marco's arms, Cass blossoms, finding the freedom she's always craved…until she discovers she's pregnant and bound to the billionaire forever!
Bought By Her Italian Boss – Dani Collins
Gwyn Ellis is in big trouble. Scandalous photos of her have been released online, slandering her as an adulteress and threatening her hard-earned job with Donatelli International Bank. No one wants to hear how she's been framed…no one except her boss, the darkly sexy Vittorio Donatelli!
Vittorio will do anything to protect his company from scandal – he's kept the secret of his true parentage hidden for years. So if it means making stunning Gwyn his mistress to combat the vicious rumours, then he'll do it…with pleasure!
Escape to…the sun-soaked south coast of Spain

The Playboy Of Puerto Banús – Carol Marinelli
When she agrees to help out a friend, Estelle Connolly doesn't expect to end up as a date to a society wedding – or to catch the eye of the most powerful man in the room.
Innocent Estelle struggles to retain her sophisticated cover – especially when Raúl makes her an outrageous offer: the money to settle her family problems in exchange for a few months of her time as Mrs Sanchez! The contract has been signed, the Spanish honeymoon is arranged – but there isn't a clause to cover all the consequences of the wedding night…
His Ultimate Prize – Maya Blake
Racing driver Rafael de Cervantes is a devil behind the wheel – and in the bedroom – until a major crash puts him out of action. Rafael masks his crippling pain the only way he knows how…by seducing his beautiful physio, Raven Blass!
Raven is in hell. Resisting Rafael is hard enough without knowing she was responsible for the scars on his sculpted body. Once he discovers the truth he'll walk away. But will Raven risk a night in Rafael's bed?
For The Sake Of Their Son – Catherine Mann
No one knows Elliot Starc better than Lucy Ann Joyner. But after one reckless night of passion, their friendship is in tatters. And though women line up for the race–car driver's attention, none of them help him forget Lucy Ann.
But now he and Lucy Ann have a baby, Elliot wants a second chance. The chance to become the father he never had. The chance for best friends to become something more. But can Lucy Ann forgive the mistakes he's made and trust that he wants more than a marriage for the sake of their son?
Escape to…an Italian island

Summer With The Millionaire – Jessica Gilmore
Lady Araminta Davenport has never managed to settle down. A fiancé – but never a wedding. A business – but never her own. Now she's determined to turn her life around…which is why she's returned to Tuscany and the man she can't forget.
Luca Di Tore is married to his work. But, seeing Minty again, he remembers all the sunshine of the summers they spent as teenagers. When they take an impromptu road trip together Luca realises there's been something missing from his life…and she's right there in front of him!
In The Italian's Sights – Helen Brooks
Her fiancé has been stolen by her sister, she's lost in the remote country lanes of Italy and her hire car has broken down! Wondering what else will go wrong, Cherry Gibbs looks up to meet the searing gaze of Vittorio Carella.
Despite his having everything she has sworn to avoid, Cherry finds herself staying at her rescuer's villa. Soon she's intoxicated by the stunning surroundings and seduced by Vittorio's skilful touch. But this isn't reality. Vittorio could have his pick of Italy's social elite – so why has he set his sights on her…?
Flirting With Italian – Liz Fielding
Newly single Sarah Gratton is determined to enjoy her holiday – could a just–for–fun romance with dark–eyed Matteo di Serrone be the answer? This Italian count is ideal flirting material – if Sarah's brave enough to make a move!
Well, she might not be – but luckily Matteo is! Matteo decides to keep this mysterious woman close – no hardship at all, given their spine–tingling awareness of each other. It's like something out of a fairytale – until Sarah realises she's made the most rookie mistake of all: falling in love with her holiday fling…
Escape to…a Grecian summer paradise

Bought For Her Baby – Melanie Milburne
Greek billionaire Damon Latousakis is claiming a mistress – the same woman he exiled from his life four years ago. Charlotte Woodruff has never forgotten her heartbreak when Damon wrongly accused her years ago. But how much longer can she keep their child a secret?
When Damon finds out he has a daughter, his demands take a different turn: he paid for a mistress, but he'll leave with a wife!
His For A Price – Caitlin Crews
Greek tycoon Nicodemus Stathis has never been able to forget beautiful heiress Mattie Whitaker. And now, ten years of delicious tension later, Nic finally has her right where he wants her.
Mattie's once powerful family dynasty now lies in ruins, and only Nic can offer them a solution – a solution with vows! She might not have a choice, but Mattie refuses to be the sacrificial queen to his king. But Nic's slow, deliberate seduction wears down his new bride, and the word 'checkmate' lies on his lips like a promise…
Behind Palace Doors – Jules Bennett
Their marriage has all the makings of a great romantic movie: a beautiful Mediterranean setting, a handsome prince and fantastic sex. Too bad it's not real. When Prince Stefan Alexander weds Victoria Dane, the agreement between friends is supposed to be in name only to secure his crown. But it doesn't take long for buried passion to erupt…
Victoria gave up a lot for this seemingly fairytale life with Stefan, but all too soon she discovers she's fallen in love with the 'Playboy Prince'. Now Victoria must fight for what really matters. Because the one thing she can't give up is him.
Escape to… a dreamy French Riveria getaway
From Russia, With Love — Ingrid Weaver
Designer Marina Artamova wants to find her orphaned nephew, who has vanished into the Russian welfare system. When finally Marina locates Stefan, he's already been adopted by American David Anderson. She joins them on the cruise ship Alexandra's Dream — David's gift to the reserved boy before taking him to the US. Marina must focus on gaining custody of Stefan, despite her undeniable attraction to David. But Stefan's silence hides a secret about his parents' deaths…and that the man responsible will do anything to keep him quiet.
Scent of A Woman — Joanne Rock
When fragrance business Danielle is pressured to sell her shop, she sees an opportunity in attending an exclusive conference on Alexandra's Dream — she'll make contacts to support her! But it all comes to a halt when she meets Adam Burns, a representative from a US competitor who is determined to outmanoeuvre her.
Fighting off the advances of a competing fragrance company is hard enough, but resisting her attraction to Adam may prove to be the real battle — and mixing business with pleasure may just cost her both.
The Tycoon's Son — Cindy Kirk
Trish Melrose is on Alexandra's Dream to convince businessman Theo Catomeris to re-sign his contract with Liberty Line. Theo's estranged father gave her the task, but the attraction between them is becoming a distraction…
Theo's success suggest that he's a man with blueprints to good fortune, but absentee parents have made it difficult for to trust anyone. Now that his father has purchased the cruise line he used to work with, Theo is reluctant to sign the contract. But will Trish give him a new perspective on building a future and resolving his past?
Escape to…a cruise adventure along the Mediterranean

Breaking All The Rules — Marissa Caroll
Missing a huge scoop is a reporter's worst nightmare. That's reality for sports journalist Lola Sandler when she boards the cruise ship, Alexandra's Dream. During the break of a big scandal at home, Lola is watching waves break in the Mediterranean. Luckily for her, a bigger story is waiting for her on the ship.
Four years ago, pro golfer Eric Lashman walked off the green of the Masters Tournament and left professional golf forever. Now, he teaches golf on the cruise. When Lola recognises him, it's a chance for a career-making expose. But their attraction forces her to make a choice: write a news story or live a love story.
An Affair To Remember — Karen Kendall
Captain Nikolas Pappas is used to navigating the Alexandra's Dream through rough waters. But he could never steer his heart in the right direction since he ran out on the only woman he loved. The daughter of a shipping tycoon, Helena Stamos lived a life of privilege while Nikolas was a lowly deckhand…
Now, after fifteen years of heartbreak — as suddenly as he had left her — Nick is back in Helena's life. Though they have both moved on with their lives, the pull of their attraction hasn't weakened. But even if they can see beyond their past and resolve their different lifestyles — Nick left her once. What's to stop him from leaving her again?
Below Deck — Dorien Kelly
When Mei Lin Wang met social activist Wei Chan she knew it was fate. But three years later, she was a widow with a newborn son after a suspicious illness claimed Wei's life. Still convinced of their shared destiny, Lin will avenge Wei and continue his work, but she also protect her son from those responsible for her husband's death.
Since working on the cruise ship Alexandra's Dream, Lin hid her son below deck. It's a game of hide-and-seek with the ship's security officer, Gideon Dayan, who is interested in the mysterious Lin. But Gideon also sees his own haunted past when he looks at Lin…and she can't let her past go. Will they face the future together?
Escape to…a beautiful Italian coastal town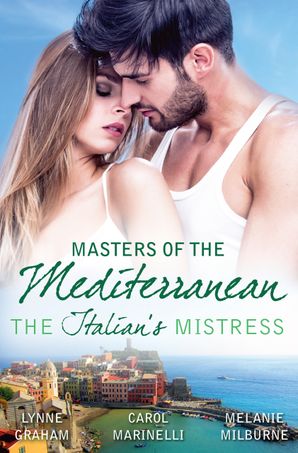 The Mistress Wife – Lynne Graham
Convinced that Lucca Saracino, her billionaire Italian husband, had been having an affair, Vivien left him – even though she was pregnant. Now Vivien has discovered that Lucca might not be guilty. She's determined to win him back, if only for the sake of their small child. But Lucca is in no mood for a tender reconciliation. He will have his wife again, but on his terms… as his mistress!
Wanted: Mistress and Mother – Carol Marinelli
When ruthless Italian barrister Dante Costello hires Matilda Hamilton, he sees an opportunity. Since the attraction between them is hot and intense, why not take Matilda as his mistress, as well? Dante has always kept his emotions firmly under wraps when it comes to relationships. But this time will he succeed when his desire for Matilda is pushing him to the edge of control?
Androletti's Mistress – Melanie Milburne
Duty forced Nikki Ferliani to leave the only man she'd ever loved – Massimo Androletti – and marry another. Massimo was left with the bitter memory of Nikki, the gold–digging seductress. Now she's widowed and broke, and the only person who can help Nikki is the very man she once betrayed…. Massimo has purchased her body for revenge, and she's paid with her heart. Little does he realize that Nikki's now carrying his child, and would have given him both for free…