I began working as an assistant in nursing (AIN ) in aged care in 1992. Our duties were to tend to the residents' personal daily care needs. There wasn't any formal medical training, as we reported everything, including any changes in the condition of the residents, to the registered nurses – RNs – who then passed on information to the doctor.
When I first started writing, one of the many invaluable pieces of advice I heard was to 'write what you know'. So, when it came to who my heroine would be and what she might do, I began looking into who cared for the sick or infirm way back in 1402 when my story was set. I discovered that when anyone was ailing, they would summon the healer.
Traditional healers were usually called on by the community they lived in to treat the ill, using healing methods and practices passed down from generation to generation. Unguents, tinctures and tonics were made using herbs and healing plants, before our modern-day pills, gels, syrups and creams were available. But during the Middle Ages, women healers and their ancient traditions were often given little respect. Some, often poor or illiterate, were tried for witchcraft and accused of dabbling in sorcery and bewitchment.
Imagine being a young Englishwoman pretending to be a skilled healer, charged with the task of healing a Scottish laird's sole surviving younger brother, alone, over the border in Scotland. Lynelle, the heroine in The Healer, is desperate to be acknowledged by the father who has shunned her all her life. She is alone and lonely, and when she sees the chance to win her father's approval, she exaggerates her healing skills. I could relate to the doubts Lynelle then had about treating someone. But I have RNs and doctors to report my concerns to. Lynelle had no one.
Using plants and herbs to heal and ease certain conditions is a skilled, ancient practice and continues to this day. I believe healing is also about offering more than remedies to make someone feel better. A gentle touch, a warm smile, time to listen and showing compassion can help someone forget they are ill for a little while. Like Lynelle, I feel honoured and privileged to have been able to care for so many amazing and fascinating people. As an AIN I feel I've made a difference in their lives and I still love what I do.
~
Below are photos of several plants Lynelle uses or mentions in The Healer.
(Note: please do not act on the suggested uses of plants without first seeking medical advice).
Meadowsweet can be used to treat fever or a headache. Its yellowish-white petals were strewn inside houses to utilise their pleasant smell.
Betony can be used for indigestion and intestinal problems. Lynelle mixed betony juice with honey as a mouthwash to ease an aching tooth.
This pretty pink flower is soapwort and is used as an expectorant, for bronchial catarrh, or produces a gentle wash for the skin and is good for acne and eczema.
And finally, as The Healer is mostly set in Scotland, I have to include a photo of heather. This gorgeous evergreen flowering shrub colours many Scottish hillsides and mountains but also has many uses. The dried flowers can be used for tea, the shoots to flavour beer, the fresh flowers to produce a delicious heather honey and dye as well as the twigs for brooms.
~
The Healer, book 1 of my Borderland Brides, will be released in print on 5 August 5 2020.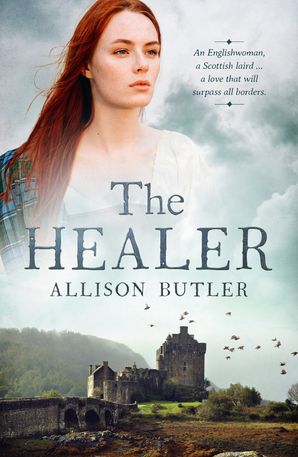 An Englishwoman, a Scottish laird … a love that will surpass all borders. A sumptuous romance in the spirit of Diana Gabaldon and Darry Fraser.
1402, the Anglo-Scottish border.
Lynelle Fenwick has been an outcast all her life. The daughter of an English lord, she was deemed cursed when her mother didn't survive childbirth. Raised by the village healer, who has since died, Lynelle truly is alone. When her younger half-brother is captured during a Scottish raid, she sees a last chance to redeem herself to the father who rejected her, and offers to be held captive in his place.
Across the turbulent border, Lynelle strikes a bargain with William Kirkpatrick, laird of Closeburn. She will spend two weeks inside the clan's castle tending William's younger brother who is in need of a healer's care. The laird has his own family curse to deal with, along with a deep distrust of healers – and Lynelle has exaggerated her healing skills to obtain her half-brother's freedom.
Despite their differences, William and Lynelle are drawn to each other … then an unexpected foe threatens to divide them forever. Enemies by birth and circumstance, they can only succeed together.
'So much better [than Outlander] … The Healer is my favourite Scottish romance of all time!' Night Owl Romance 
---
Allison Butler
Allison Butler is an author of Scottish historical romance. She spent her early years in country NSW building pretend castles with hay bales and leaping white posts with her army of two older sisters and a younger brother. Many years later, with her mother's influence, she discovered a passion for words and history, read her first historical romance and was inspired to create her own. She writes most mornings and cares for the elderly in the afternoons. Her love of travel has given her the gift of many amazing sights but none more heart-stirring than the rugged beauty of Scotland. Allison lives in a small town in NSW, Australia, with her very own Scottish hero. Their two beautiful daughters have left the nest to feather their own and have begun their own adventures. Allison loves spending time with family and friends, travelling, taking photos, reading, dancing like no one's watching and seeing the sights from the back of her husband's motorcycle.