To celebrate the release of her latest book, Don't Let Me Forget, featuring a heroine who must hide her true identity, we asked author Belinda Williams to round up her favourite hidden identity romance examples from movies, books and TV shows…
---
There's nothing like a little white lie to make a budding relationship all the more intriguing. I'll admit, maybe lying about who you are is more than a white lie. But it certainly makes a potential love affair more intense when the person you're falling in love with doesn't know who you really are!
This is the dilemma my heroine, Juliet, faces in my new release, Don't Let Me Forget, and you'll have to read it to find out how it works out for her. In the meantime, here are a few of my favourite hidden identity romances with a generous helping of suspense:
Movies
Safe Haven
Nicholas Sparks always writes a captivating story, and in this case the movie is just as good as the book. When Katie arrives in a small coastal town determined to make a new life for herself, she intends to keep to herself. Cue the good guy in town, in this case Alex (played by Josh Duhamel), showing the mysterious stranger some interest, and our leading lady has a predicament on her hands. Especially when another mysterious stranger arrives in town and starts asking questions that threaten to reveal her dark past.
Television
Outlander
I still haven't had the chance to read the books, so this is why I've nominated Outlander as my television pick. (And it may or may not also have something to do with our leading man, Sam Heughan.) I don't know about you, but when you find yourself falling for a Scottish Highlander and you're a former World War II nurse that has travelled back in time to 1743, it isn't really something that you casually drop into conversation. At least not without being sent to an asylum (or burnt at the stake as a witch).
Poldark
I love writing contemporary fiction, but give me a brooding historical hero and I'm his. In the first episode, I became hooked on the series after watching Poldark's love interest, Demelza, disguise herself as an urchin boy to escape her violent father. Enter Poldark, to the rescue to save the boy from a group of ruffians trying to steal his (her) beloved dog, and you've got a classic Cinderella story in the making.
Books
The Obsession by Nora Roberts

This is an appropriate title because I'm ever so slightly obsessed with Nora's romantic suspense books. In this one, our leading lady is trying to live a life away from the shadow of her father's horrible crimes, so she's changed her name and embraced a life of solitude. Except of course there's a guy in town who will get under her skin and threaten that solitude, as well as someone from her past determined to cause her harm.
What's your favourite hidden identity romance? Leave a comment below, I'd love to hear your suggestions!
---
Belinda Williams
Belinda Williams is a marketing copywriter who allowed an addiction to romance to get the better of her. She writes contemporary romance including romantic comedy and romantic suspense featuring good guys. She's occasionally tempted by bad boys, but prefers to write strong women characters and men with big hearts.
Her other addictions include music and cars. She's a music lover who sings lead vocals in a covers band and her eclectic taste forms the foundation for many of her writing ideas. She also has a healthy appreciation for fast cars and would not so secretly love a Lamborghini. For now she settles for her son's Hot Wheels collection.
When she's not obsessing over word count, she can be found counting laps at her local swimming pool or taking on yet another renovation project in her Sydney home, where she lives with her husband and son.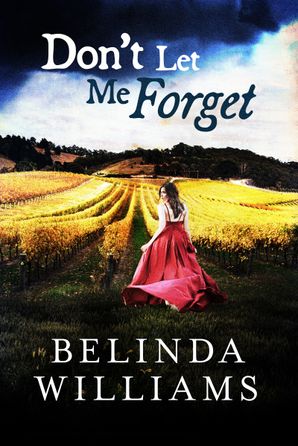 Would you remember the face of a killer?
After divorcing the heir to a media fortune, Juliet Temple chose to keep her high-profile surname to grow her elite event planning business. But when a young woman is found dead and Juliet is drugged at her latest celebrity party, not even the Temple name can protect her. Unable to remember what happened that night, Juliet finds herself in serious danger.
Juliet retreats to the Hunter Valley, where she becomes Jet Appleton, Rhodes Family Estate's wedding organiser. Martin Rhodes, winemaker and former detective, is tasked with watching over her, but his son, Dan, knows nothing of Jet's true identity–which is a problem because he's the sort of man who deserves her honesty.
As the dark ties holding her to Sydney close in, Jet begins to see her old life–including her controlling ex-husband–in a whole new light. Jet's longing to return to Sydney is proving to be a dangerous desire, and so are her growing feelings for Dan. But not as dangerous as the killer, who is still watching her every move . . .