In anticipation of February 14, I watched the 2010 movie Valentine's Day (directed by Garry Marshall). Like the hit 2003 movie Love Actually, Valentine's Day is made up of intersecting stories of love, which are each more or less neatly tied up by the end.
The (main) plot
Valentine's Day is set in set in a sparkling and non-congested Los Angeles, and the main plot revolves around 'Reed Bennett', a florist (Ashton Kutcher) whose girlfriend Morely (Jessica Alba), accepts his Valentine's-Day marriage proposal (only to change her mind a few hours later). Jennifer Garner is delightful schoolteacher Julia, Reed's close friend. In just one day, Reed and Julia's relationship blossoms. ('This girl is great. She's like sunshine,' Reed realises).  Particularly in this plotline, I felt the timeframe for this transformation was way too short? Reed proposes to Morely in their bed in the morning, while Julia wakes up in bed with her own boyfriend (played by Patrick Dempsey), who she thinks she's in love with (though he turns out to be, conveniently for our love story, a cheat). By the evening, Reed and Julia are declaring their love for each other.
Then again, it is Valentine's Day…
A second plotline deals with a more mature kind of love between Estelle (Shirley MacLaine) and Edgar (Héctor Elizondo), who are the grandparents of a cute little boy, Edison (Bryce Robinson), who is in Julia's class. In anticipation of renewing their vows after fifty years of marriage, Estelle confesses that she was unfaithful many years ago. The resolution of this conflict was heartfelt, recognising that true love is about loving the whole person, not just the parts you find attractive.
Yet another plotline involves Taylor Swift as an eighteen-year-old junior college student, and her boyfriend Taylor Lautner. It's a cheesy scenario, but this couple is really cute! ('She's beautiful, she makes me laugh, and she does my geometry,' says Lautner's character 'Willy'.) And, if you've watched the Twilight movies, you'll appreciate the comic significance of Taylor Lautner being too embarrassed to remove his shirt in public.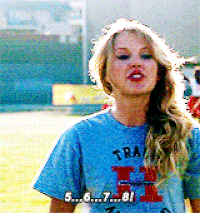 Stand-out scenes
The stand-out plot line deals with the eminently watchable Julia Roberts as a military officer, and Bradley Cooper as a wealthy executive, who begin a conversation on a fourteen-hour plane ride that results in arguably the most intimate of the pairings in the movie. Captain Kate Hazeltine is flying home to see someone special, while Holden is flying home to his partner Sean (Eric Dane), a professional football player who comes out of the closet in the course of the movie.
There is no romantic attachment between Kate and Holden, but there's respect, kindness, and ultimately trust. I loved these two, and I would have liked to have seen more of them. And I dare you not to well up when we discover that the special someone Roberts was heading home to see for only a heart-wrenchingly short leave of absence was her adorable young son (Bryce Robinson).
Other honourable mentions go to Jamie Fox and Jessica Biel (who has an Anti-Valentine's Day party, complete with piñata), and the always fabulous Queen Latifah.
In conclusion
The movie is cliched, but entertaining, built around a relatable theme of the desire to love and be loved. On the downside?  There were so many pairings of stars that there was little time for meaningful romantic connections between them, given their walk-on, walk-off roles. Stars like Anne Hathaway or Jessica Alba had nothing much to do.
Biggest cons
It struck me how the cast was almost uniformly slender, and I'm hoping this is an indication that in 2022 we are used to seeing more realistic bodies on our screens. I'd also hope that we wouldn't encounter some of the racial stereotyping found in Valentine's Day.
Biggest pros:
Valentine's Day is about sweet-scented flowers, chocolate, kisses, and the complicated business of love. So, if you're one of the millions who celebrate Valentine's Day, you're likely to enjoy this light-hearted exploration of love and romance.
---
ABOUT THE AUTHOR: Penelope Janu
Penelope Janu lives on the coast in northern Sydney with a distracting husband, a very large dog and, now they're fully grown, six delightful children who come and go. Penelope has a passion for creating stories that explore social and environmental issues, but her novels are fundamentally a celebration of Australian characters and communities. Her first novel, In at the Deep End, came out in 2017 and her second, On the Right Track, in 2018. Up on Horseshoe Hill was published in 2019, a novella, The Six Rules of Christmas, in 2020, and then Starting from Scratch was released in 2021. Penelope enjoys exploring the Australian countryside and dreaming up travelling and hiking breaks, and nothing makes her happier as a writer than readers falling in love with her clever, complex and adventurous heroines and heroes. She loves to hear from readers, and can be contacted at www.penelopejanu.com.
Don't miss Penelope's upcoming rom-com On the Same Page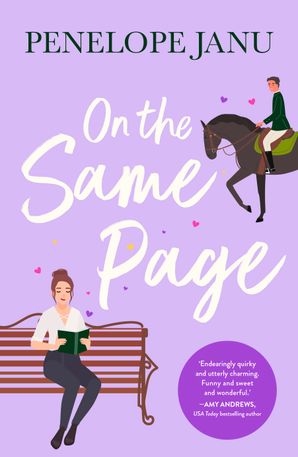 For readers of Mhairi McFarlane, Beth O'Leary, Lindsay Kelk and Sally Thorne comes this utterly charming and delightfully funny love story where opposites attract – or do they?
By day Miles Franklin, named after the famous author, is a successful lawyer. By night, in secret, she writes historical romance novels under the pen name Emma Browning. When 'Emma's' novels win one of Australia's biggest literary awards, Miles's perfectly ordered life begins to unthread at the bindings. Especially when Lars Kristensen, CEO of the publishing company contracted to publish the prize-winning books, insists on meeting the author.
Besides mutual antipathy and sexual attraction, socially anxious Miles and supremely confident Lars have nothing in common. Nothing. But the more time they spend together, the more blurred the lines between fact and fiction and love and hate become.
Miles is determined to both protect her privacy and to keep writing-even if it means mastering pole dancing, choreographing a love scene in the back of a horse-drawn carriage, and confronting the prejudices of her parents and publishers.
Like the heroines in her books, Miles has the grit to stand her ground. But Lars has the smouldering looks, arrogance and pride of all her romantic heroes rolled into one. And he is good at reading between the lines. Who is going win this battle of wills? Can Miles and Lars ever be on the same page?
'Endearingly quirky and utterly charming. Funny and sweet and wonderful.' -Amy Andrews, USA Today bestselling author