We asked some of our favourite authors to recap a classic romantic or romantic-comedy film, and see whether it lives up to the hype. Here Clare Connelly recaps 1991's Green Card.
---
Green Card is a movie I'd only seen once but I recently re-watched it with my mum and there is so much to adore about this 1991 film. Written, directed and produced by Australia's Peter Weir, and scored by Hans Zimmer, it's the story of Frenchman George (Gérard Depardieu) who seeks an American green card and a New Yorker, Bronte, played by Andie MacDowell, who needs a husband-on-paper to get the apartment of her dreams.
I'm a sucker for the marriage-of-convenience trope. There's just so much room for tension, and of course it's a perfect way to bring together two completely different souls and watch them find their common ground.
This is the perfect 'convenient' marriage, arranged by a proxy, with no strings and nothing expected of one another. Until, that is, the Immigration Service starts snooping around and George and Bronte – two ill-matched strangers – have to move in together and learn all they can to fool the visa authorities into believing they're a happily married couple! He's a slob, she's not. He's a meat-loving Frenchman, she's a vegetarian. He's big and a bit clumsy and she's petite and considered in all that she does.
This is just an incredibly sweet story, made all the more likable because George is far from the usual casting for a romantic hero. Charming and roguish, sure, but also, as Bronte calls him, a 'buffoon'. He's had a rough life, spent time in prison, and is the quintessential opposite to Bronte's dainty vegetarian boyfriend. New York is George's fresh start, and as the movie progresses, we want – more than anything – for him to get his heart's desire.
The path to love though never runs smooth and there are many moments of laugh-out-loud, excruciating embarrassment as Bronte and George run around New York doing their best to avoid discovery. Her straight-laced parents and tree-hugging boyfriend can never find out that she married some random man! Bending over backwards to save face becomes increasingly difficult as their fake marriage morphs into something much more genuine.
There's a third character worth mentioning in this romance, and that's the sets. They are incredible. Bronte's apartment is a tribute to boho-chic, all linen, flowers, and moody sunshine – I want to move in!
The ending though is not what I'd expected or – if I'm honest – hoped, and as the credits rolled, tears were streaming down my face. I realised why I'd only seen this movie once! Don't get me wrong, the ending gives sooo much – it's poignant and while as a teenager I felt it wanting, as an adult I appreciated the nuance of the way things played out. This is a feel-good romance that is visually stunning. Enjoy!
---
Clare Connelly
Clare Connelly was raised in small-town Australia among a family of avid readers. She spent much of her childhood up a tree, Mills & Boon book in hand. Clare is married to her own real-life hero and they live in a bungalow near the sea with their two children. She is frequently found staring into space – a surefire sign she is in the world of her characters. She has a penchant for French food and ice-cold champagne, and Mills & Boon novels continue to be her favourite ever books. Writing for MIlls & Boon is a long-held dream.
Hired by the Impossible Greek by Clare Connelly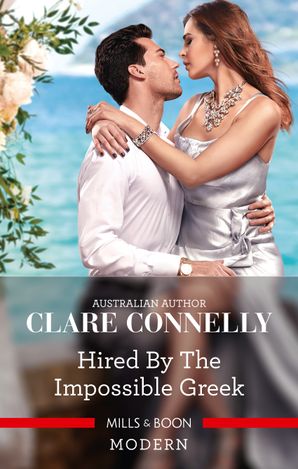 One summer on a private island…with her ultimate temptation!
Scientist-turned-schoolteacher Amelia Ashford warily agrees to a summer job in Greece caring for Santos Anastakos's young son. But her priority is the welfare of the little boy, not the outrageous and irresistible billionaire who hired her. Even if their chemistry is, scientifically speaking, off the charts!
Santos doesn't believe in romantic love — his father has eight ex-wives. He does believe in tantalising pleasure, and with surprisingly innocent Amelia in his luxurious Greek villa, it's just a bedroom door away! But their incendiary passion will test Santos's ruthless control more than he ever anticipated…