We asked some of our favourite authors to recap a classic romantic or romantic-comedy film, and see whether it lives up to the hype. Here Daniel De Lorne recaps the 1990 classic Ghost
---
When I was asked to do a recap of a romantic movie, I had to confess that I hadn't seen many and the ones I had seen tended to include either Hugh Grant or Julia Roberts (or both). But I was game for something new (or old, as it turns out).
I was tempted to choose You've Got Mail or To All the Boys I've Loved Before but instead I chose Ghost.
I'd never seen it and the only thing I really knew about it was the pottery wheel scene – which turns out didn't happen exactly as I thought it did.
Ghost poster via IMDB 
Why Ghost? I'd seen Whoopi Goldberg on RuPaul's Drag Race a few nights before, which led to us watching Boys on the Side, so I continued the Whoopi theme.
A bit of background…Ghost was released in 1990 and was that year's second highest grossing film. Whoopi Goldberg won an Oscar for Best Supporting Actress, and it also stars Demi Moore and Patrick Swayze so that's gotta be good, right? RIGHT?
So, here's my take on Ghost. (Feel free to @ me, Ghost-lovers. I can take it.)
The Swayze
Fair credit, Swayze is swoon-worthy and he delivers on what the audience wants from him from the very beginning.
He is shirtless when the movie opens, he's got a beautiful body and nice biceps, and he lifts Molly (Demi Moore) a la Dirty Dancing-style just for the stans.
And I'm not sure if you've noticed but he's got a really pretty mouth, which is one of the reasons he was so good in To Wong Foo.
https://media.giphy.com/media/5VqRaXHDuMobS/giphy.gif
But beyond looking pretty and really wanting to save his wife from a murderer (admirable especially when you're dead), I didn't think Sam had much else going for him.
I mean, he was a Wall Street banker during the late 80s; surely that was enough for the demons to come for him after he died…
Is this a love story or what?
At two hours long, Ghost managed to fit in a love story, a ghost story, a comedy, and a crime thriller. I didn't love that aspect of it. Even the director admitted that's what they were going for.
The only part that I really loved was the comedy angle – brought to you by Whoopi. Honestly, she SAVED this film for me. Speaking of Whoopi…
Whoopi for Whoopi!
We don't meet Oda Mae Brown until 40 MINUTES INTO THE FILM. She plays the charlatan-cum-clairvoyant who helps Sam/Swayze with his mission to save his wife and bring unholy vengeance down on his 'best friend' Carl and murderer Willy Lopez.
Her expressions, lines and timing were to die for, and the pink outfit she wears to the bank GAVE ME LIFE. Ode Mae made this movie, she deserves ALL the Oscars, and I would even watch Ghost again just to see her performance.
'Molly, you in danger, girl.'
This movie made Demi Moore so fair play to her, it's just a shame that she's such a background character in all this. She doesn't get to save herself and she gets pushed around a lot by the guys in her life.
On the plus side, she at least had her own career as an artist and I really felt she was gutted about Sam dying.
That scene
No word of a lie, I thought the pottery wheel scene took place at the end of the movie and was physically between Molly and Oda Mae while Sam possessed her. So I was really surprised to see it happen so close to the start of the movie when Sam's still alive. (I thought it might get repeated later on as a nice moment of mirroring but no.)
It didn't do a hell of a lot for me – but perhaps that's because it's so blatantly a metaphor for something else – but it really is erotic. Four out of five stars.
(I also want to know how they got so clean so quickly that they could then have the make-out scene in the living room straight after…but I'll let it slide.)
Special effects back in the day
There are two things that really date the film: the computers and the special effects.
The computers I could live with but the special effects – which would have been cutting edge for their day – looked like they were just trying to show off.
'Look at Sam pass through the door!'
'Look at the penny floating through the air!'
'Argh! Growling shadowy demons!'
I laughed and rolled my eyes (and wished Oda Mae would come back).
Final verdict
I made a lot of notes while watching this film and luckily for you, I've left most of them out. In the end, I appreciate why the pottery wheel scene is so iconic. That aspect alone has stood the test of time.
I think Oda Mae could have done with another hour on screen, and perhaps some more judicial editing could have helped keep it to an hour and a half without losing anything.
The ending made me laugh (particularly when Carl dies) and it kind of just…stops…when Sam goes to heaven. It's also not a true romance so that was a surprise.
Anyway, I've seen it now. I didn't love it, but it had some redeeming features and I didn't entirely regret spending two hours on a Friday night watching it.
---
Daniel De Lorne
Ruin. Romance. Redemption. That's the magic trifecta Daniel de Lorne promises readers of his books. Whether it's irresistible vampires, paranormal paramours, or hot everyday men, Daniel's books go for the heart. And the stomach. And the spleen (just for good measure).
In his other life, Daniel is a professional writer and researcher in Perth, Australia, with a love of history and nature. All of which makes for great story fodder. And when he's not working, he and his husband explore as much of this amazing world as they can, from the ruins of Welsh abbeys to trekking famous routes and swimming with whales.
To get to the real heart of the matter, visit Daniel's website.
Check out Daniel's upcoming book Set The Stage from the anthology One From The Heart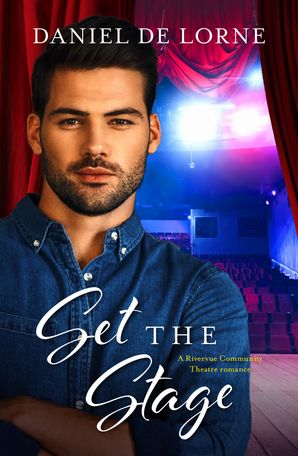 He's the Banksy of the international theatre scene – daring, anonymous, renowned. So when playwright 'Draven' bequeaths his latest play to the rural Rivervue Theatre, the stage is set for drama.
While the redevelopment brief for Rivervue Community Theatre moulders on his desk, a phone call from a unrequited past love sends architect, Gabriel Mora, running back to his artsy hometown. Afraid of worsening his mother's health, Gabriel is forced to hide his involvement in the redevelopment. It's just one more secret to keep, along with his feelings for a certain red-headed stage manager.
Bruce Clifton can build anything. But the jobs mean nothing if he's not getting paid. On the cusp of losing his home, Bruce needs to find a way to call in those debts without showing his community how much trouble he's got himself into. With Gabriel's return to town stirring up past hurts, soon it's not just his home Bruce has to worry about losing, but his heart.
Can Bruce and Gabriel work together for the good of Rivervue, or will their hope for a second chance exit stage right?