'I'm back, you bastards'
'Is that . . . Dior?'
These opening lines set the scene for Jocelyn Moorhouse's fabulous 2015 film adaptation of Rosalie Ham's novel 'The Dressmaker'.
The story of vengeance and healing begins as Myrtle 'Tilly' Dunnage, played by Kate Winslet, returns from Paris to her hometown of Dungatar. A remote speck of the Australian countryside, the town is filled to overflowing with toxic characters and dark secrets.
Tilly is back to find the truth about the partial memories that plague her from a traumatic childhood event that saw her removed from Dungatar. Hoping to get help from her mother, she instead finds that Mad Molly, played by the amazing Judy Davis, is living in a sad state of health and hygiene and doesn't remember she even had a daughter.
While this all sounds terribly sad, the movie has such a wonderful quirkiness that helps to lighten the darker moments that run through it. The cross-dressing police officer, played by the ever-wonderful Hugo Weaving, delivers some of the best moments of the film. Add in a Hemsworth for good measure and you've got sexy blue eyes and romantic elements as well.
All of the performances by a mostly Australian cast are exceptional. Sarah Snook is brilliant as the 'ugly duckling turned swan', although the outer transformation doesn't quite permeate that hard-ingrained toxicity that seems to infect the towns folk.
But let's not kid ourselves – everyone knows the true stars of this film are the costumes. I was fortunate enough to have seen the travelling costume exhibition at Ayers House in Adelaide, and these gowns that shine bright against the harsh brown Australian landscape like a character in their own right are simply to die for. Tilly's red and black numbers at the local football final have tongues hitting the footy field. And look out for Gert's silver ballgown and her exquisite pleated-sleeved number as Tilly's designs turn Dungatar into a Paris fashion runway.
Tilly eventually finds her truth and gets her hard-won vengeance but not without further terrible heartache. Poignant, hilariously funny at times, and profoundly sad, the exquisitely acted, filmed, costumed, directed and scored The Dressmaker is one of my all-time favourite films, and one of the best Australia has ever produced, in my opinion.
---
About the author: Cheryl Adnams
Cheryl Adnams lives in Adelaide, South Australia. She has published four Australian rural romance novels and two Australian historical novels. Cheryl has a Diploma in Freelance Travel Writing and Photography and has lived and worked in the United States, Canada and spent two years with a tour company in Switzerland and Austria. Her passion for Italy, volcanology and cycling have made their way into her stories and her favourite writing retreats include Positano on the Amalfi Coast and Port Willunga Beach just south of Adelaide. When she's not writing, Cheryl is still creating in her busy full time job as a trainer and learning designer.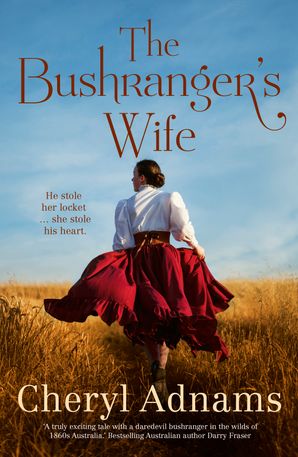 He stole her locket … she stole his heart.
Central Highlands of Victoria, 1861
Jack the Devil's reputation precedes him. The most notorious bushranger on the Central Highlands, nothing throws him off his game … until he holds up Prudence Stanforth and her grandmother. Jack can't help but be captivated by the feisty Pru, with her sweeping red hair and complete lack of fear.
Weeks later, Pru crosses paths with the respectable businessman Jack Fairweather, and it's not long before she recognises him as the bushranger who stole her beloved necklace. His price for the locket's return is her silence … and a kiss. A kiss that sparks something inside them both.
When Pru discovers her grandmother has been keeping a devastating secret, running away with Jack the Devil is the perfect escape for her broken heart. The dangerous nature of his less-than-salubrious occupation is a poetic contradiction to her sheltered upbringing and only fuels their passion. Until that danger becomes a reality. Between the return of dark elements from Jack's past and authorities intent on his capture, Jack and Pru must fight for their future together … or risk losing everything.
A rollicking historical tale about following your heart, finding home in unexpected places – and bushrangers – for readers of Darry Fraser and Alison Stuart.