It's the opposite of love at first sight…or is it?
Dairy farmer Tabitha Cooper-Jones has a heart of gold, yet she's the eternal bridesmaid. Everyone's best mate. Despite facing some serious challenges over the years, she's built a successful ice-cream business and cafe, she's adored by her family and is an integral part of her hometown – there's just one thing missing from her life. But the last thing Tab wants is a man – or worse, love – to stop her achieving her dream.
In town for a temporary teaching contract, Fergus McWilliams thinks the small community of Walsh will be the perfect place to stay under the radar but he couldn't be more wrong. Suddenly, the kids' cricket team coached by Ferg is inundated with female supporters – single female supporters – and that's only the beginning.
The only woman who doesn't seem to have her sights set on Ferg is Tabitha. Despite a disastrous first meeting and a visit from a past love, circumstances keep throwing them together. Neither can deny the sparks between them, but can friendship even be possible for these two strong-willed people?
A moving story of overcoming obstacles and learning to love, from ABIA award-winning author Rachael Johns.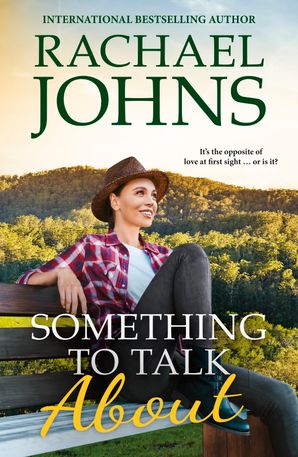 Chapter One
Welcome to Walsh ~ Population 1381
As Fergus McWilliams drove into his new life he wondered if his arrival meant the population was now 1382. He turned to look at the cat sitting resentfully in her carry box on the passenger seat.
'Does that include animals, do you think?'
Mrs Norris gave him a look of disdain and then turned around so he was looking at her fluffy tortoiseshell butt.
'I guess not. The animals down here probably outnumber the people a hundred to one if the cows in the paddock we just passed are anything to go by. And what happens when someone is born or dies? How often do you think that sign gets updated?'
Judging by the faded colour and the way the paint flaked at the edges, probably not that often.
He shook his head as he realised that not only was he talking to a cat, but also asking her the kinds of questions the kids in his classes would ask. That's what happened when you spent the majority of your time with children: you started thinking like them. Then again, that was probably a good thing—kids, he'd decided, were far better humans than their adult counterparts.
The advertisement for a Year 3 and 4 teacher at the small primary school in the dairy farming community of Walsh, three hours south of Perth, couldn't have appeared at a better time. Ferg needed a fresh start—away from the gossip and pitying glances of his colleagues, neighbours and so-called friends—almost as much as the small school needed a teacher. Their current principal, Car-line Saunders, had been recently diagnosed with cancer and while she was on sick leave, their usual Year 3/4 teacher was stepping up into the role.
Fergus slowed the car as the lush winter-green paddocks that bordered the main road through town made way for houses and then a row of shops on either side. It was like he'd driven out of Perth and back in time forty years—he spied a post-office, a café called 'A Country Kitchen' (that according to its sign out the front promised you the best coffee in the south-west), a hardware store, an IGA supermarket, a pub, an agricultural supplier, a vet and a yarn store. The latter seemed surprisingly busy for a Saturday morning, with dozens of people milling about outside.
Ferg guessed there wasn't much to do in the country but knit, not that he planned on taking it up as a hobby. Glancing at the time and seeing there were still twenty minutes until he had to be at the school to meet Joanne Warburton, the acting principal, he decided he wouldn't mind stopping and testing that coffee prom-ise. Unlikely the coffee would be up to the standards of the local café he'd left behind in Perth but he'd need somewhere to get his morning caffeine hit on the way to school. Not even the best of teachers could be expected to face a class of thirty without at least one coffee in their system, not that there'd be thirty kids in his new class. Small class sizes were one of the benefits of country teaching.
Late September, the temperature was mild, so Mrs Norris would be fine in the car for a few minutes with the windows ajar. She wouldn't like it any more than she'd liked being cooped in a box on the three-hour journey, or the fact he was now her primary caregiver, but … she'd live.
However, within minutes of trying to find a parking spot, Ferg realised it wasn't only the yarn store that was busy but the whole damn town. Vacant parking spots were non-existent. It felt like each and every one of the 1381 people were in town this morn-ing, all of them wearing identical red and white scarves and bean-ies, making it like a page in a Where's Wally book. Wasn't this supposed to be a small, sleepy rural community?
Long ago, he, his mum and his twin sister had driven through Walsh on one of those very rare family holidays they'd taken when he was a kid, and he remembered it as a blink-and-you'd-miss-it town with next to no life. The perfect place to hibernate for a few months while he planned his next move. Today, Walsh appeared anything but quiet. In addition to all the Wallys and Wandas, every shop had red and white balloons and streamers littering its front windows and the queue to the café was out the door. There had to be some kind of game happening. He'd heard country towns went rabid for sport.
Mourning the loss of the coffee that never was, he continued down the main street and soon came upon the school. He turned into the empty car park and took in the old buildings, which looked like something out of Seven Little Australians. In the play-ground there was one of those big, modern, climbing web things, but also some monkey bars, an actual roundabout and the kind of tall steel slide with no sides that could burn a hole in your pants on a hot day. The type of equipment that had been banished years ago in the city.
Ferg put the windows down a bit for Mrs Norris and climbed out of his wagon to look around while he waited for Joanne. He'd barely made it past the front gate when a silver four-wheel drive, followed by a dirty, once-white ute, entered the car park.
'Hello.' A middle-aged woman with wavy shoulder-length dark hair and a ridiculously large smile leapt from the four-wheel drive. A red and white striped scarf flapped in the air as she waved her arms excitedly and hurried towards him. 'You must be Fergus?'
'Yes,' he replied as a younger woman burst from the ute and jogged to keep up with the other. She too wore red, white and chirpiness.
The older woman landed beside him and thrust out her hand. 'I'm Joanne. So lovely to meet you.'
'You too.' He nodded and accepted her hand.
'And this is Beck, our school receptionist. Although she's much more than just a receptionist. We'd all flounder without our dear Rebecca.'
'Good to meet you both.' He smiled as he shook her hand as well, noticing that in addition to the scarves, both women were wearing T-shirts with the words 'Walsh Wanderers' and a match-ing logo stamped on their chest pockets.
'You must excuse us for being slightly late,' Beck said. 'We've been down at the oval helping in the canteen, getting ready for the big game.'
'First time the Wanderers have been in the footy grand final for thirty-seven years,' Joanne said as if he was supposed to know who these Wanderers were. 'And their last final win was thirty-nine years ago.'
Beck nodded. 'This is monumental. A lot's riding on today. My hubby's on the team and is beside himself with nerves and excitement.'
'Do you play footy?' Joanne gave him a once-over as if she was eyeing up his potential.
'Nope. Fraid not.'
Joanne showed momentary disappointment, then shrugged. 'Never mind, season's practically over anyway. But you should come along and watch the game. It'll give you a chance to meet the locals. We haven't had a male teacher in years. You're going to give all the mums something to talk about, that's for sure.'
'Especially the single ones.'
As Joanne and Beck exchanged an amused glance, Ferg shifted from foot to foot; were they trying to make him feel uncomfortable? 'Plus, there's always a good feed,' added Beck, as if this would twist his arm.
'Well …' He cleared his throat. 'Thanks for the offer, but I think I'd rather get settled in this afternoon. I'm sure there'll be time to meet everyone when school starts.'
'Oh, you won't have to wait that long,' said Joanne. 'Now, do you want to check out your classroom or just head straight to the farm?'
'Farm?'
Beck chuckled. 'Didn't Jo tell you? Don't worry, the land is leased by the two farms on either side and the cottage is very homely.'
'It's Mrs Lord's house. She's only recently had to move into the nursing home but has lived in that place since she got married at twenty-two. Lucky for you or you might have had to sleep on my couch or take a room at the hotel.'
Beck made a face. 'They had a bedbug infestation recently—not surprising really, they haven't replaced the beds since the nineteen-fifties.'
Ferg knew the house of the principal wasn't available as she was still living there with her husband, and there wasn't any other education department accommodation available in town, but he'd assumed he'd be staying in town. Never mind, as long as he wasn't expected to milk any cows, he didn't care where they put him. 'Since you two are busy with the football, maybe you could just leave me the key to the cottage and give me directions?'
'Oh no, we wouldn't do that,' said Jo. 'Beck and I will show you out to your new home. We've got an hour or so till the game starts.'
'Thanks.' Ferg hoped he didn't sound too unappreciative and tried to maintain an acceptable level of friendliness as the two women gave him the school tour, but he really just wanted to be alone again. For a place with only four classrooms, a big room that housed the library, music and art areas, and a small office/staffroom, it took longer than he'd have hoped due to the local history Joanne and Beck provided and the numerous questions they asked. If they ever lost interest in their current jobs, both of them could have promising careers in investigative journalism. It was only when he remembered Mrs Norris in the car they finally hit the road.
After about ten minutes following Joanne's four-wheel drive down roads in dire need of some TLC, they turned on to a gravel track. Fat black and white cows in the paddocks eyed the cars sus-piciously as they drove past and then the track widened and a little cottage appeared in front of them. With its tin roof, faded blue weatherboard exterior, wooden rocking chair on the verandah and established fruit trees out the front, he guessed it was built sometime in the early 1900s. Jools would have been in heaven in a place like this.
But he didn't want to think about Jools.
He parked alongside Joanne, then went around to the passen-ger door to retrieve the cat box.
'Aw, isn't she the sweetest thing,' Joanne cooed as she peered into the box under his arm. 'Is she friendly?'
'Not at all.' The only person Mrs Norris liked was his ex. Pity said ex had decided she liked somebody else better than the both of them. Just as well misery loved company.
'What type of cat is she?' Beck asked.
'A Maine Coon,' he said as Mrs Norris's paw swiped at him through the bars. 'I should probably get her inside before she claws me to death.'
The women chuckled and started up the rocky garden path to the cottage. Joanne opened the door without using a key.
'It's not locked?' he asked, the scuffed floorboards creaking as he followed the others inside.
'Nobody bothers locking up out on farms, most of the crims round here are too lazy to come this far. Mrs Lord couldn't even tell us where the keys were.'
Placing the cat box on the floor but not releasing its occupant, Ferg looked around. He imagined this was what his grandmother's house might have looked like … if he'd ever had a grandmother. A crochet rug hung over the back of a floral sofa that looked as if it had been bought mid last century. The walls were covered in black-and-white photos and watercolour paintings in tarnished gold frames. A glass cabinet filled with trinkets stood along one side of the living room and a bookshelf overflowed with hardbacks. And likely dust.
The décor wasn't exactly to his taste, but his contract was only for six months.
'This will do nicely,' he said.
'Feel free to move or box anything up,' said Joanne. 'Mrs Lord won't be coming home sadly—she has Alzheimer's and she doesn't have any family. She and the late Mr Lord were never blessed with children. Make yourself at home.'
Ferg didn't know where he was supposed to put any of the stuff if he did clear it out, but decided not to ask in case it prolonged the conversation. He was working out how to politely send the women on their merry way when Joanne glanced at her watch.
'Look, we hate to dump you and run, but the game will be starting soon and we don't want to miss the bounce. Sure you don't want to come?'
'No, I'd rather get settled in, but thanks. It was kind of you to escort me out here.'
'No worries.' Beck smiled. 'It's easy to get lost when you don't know the roads.'
'Well then,' Joanne said, 'you get settled and Trev and I will have you round to dinner in a few days. I'll invite Beck and the rest of our staff so you can get to know everyone before school starts.'
'Thank you.'
He waved them off and, as the four-wheel drive grew smaller, let out a long slow breath. Aside from the occasional murmur from the cows in the paddock close to the house, there was abso-lute silence. He'd gotten used to quiet (except when at school) over the last few weeks and told himself it was better than mean-ingless chatter, or worse, pretence. And the air felt so fresh! Maybe he'd like living in the country after all.
Heading back inside, he approached Mrs Norris's box as if she were a lion.
'Hey there, gorgeous girl.' Although she might be pretty on the outside, there was nothing beautiful about her on the inside, but Ferg attempted sweet talk anyway.
Holding his breath, he released the latches to open the door of the cage and stepped back. Mrs Norris glared at him as she slowly reached one paw out of the box and took a tentative step towards freedom. She hissed at him and then ran straight under the coffee table.
'Trust me,' he told her, 'life hasn't exactly gone according to my plans either, but we just gotta make the best of a shitty situation.'
Then, leaving her to sulk in solitude, he went into the kitchen to make a coffee.
Chapter Two
'Oh my God! They won!'
As the siren sounded, the townfolk erupted in cheers and screams, her sister-in-law Meg jumped up and down like a kid on Red Bull, and Tabitha Cooper-Jones stifled a yawn. It wasn't that she wasn't excited about the local team's first grand final win in thirty-nine years—she loved football as much as the next person and had even played until she'd lost her arm—but it had already been a long day.
That morning, she and Meg had been working at their tea rooms in nearby Rose Hill, where Tabitha now lived. It had been one of their busy mornings, with the supporters from the other footy team stopping by for a drink, scone and/or ice-cream on their way to Walsh. Things had died off just after the lunch rush due to everyone being at the game and so they'd decided to close early. Tab had sent Meg off so she wouldn't miss the starting siren and cleaned up the day's mess herself. Afterwards she'd been sorely tempted to sneak upstairs for a nap, but she'd never hear the end of it if she didn't at least make an appearance at the oval.
'Aunty Tab, Aunty Tab! Did you see Dad kick that goal? We won because of him.'
She chuckled as her almost ten-year-old nephew threw his arms around her waist. 'I most certainly did. You must have been giving him some pointers.'
Ned laughed. But while he had a talent for footy and was bet-ter than most his age, Tab attributed her brother's performance to something else entirely. He'd been an awesome single dad to Ned since the death of his first wife, Leah, and had maintained his passion for dairy farming, but in every other aspect of life he'd operated almost on autopilot. His best mate Funky had voiced his fears to Tab that Lawson was in danger of becoming a recluse, but neither of them had had a clue what to do about it.
And then Meg had driven into Rose Hill.
Her moving into a haunted house in what had practically been a ghost town had been the talk of the town for a while and, when local busybody Adeline Walsh dug up dirt on Meg, it had been quite the scandal.
But Lawson had been smitten in spite of her not-so-glowing past.
It made Tab's heart sing to see how good he and Meg were together, and she loved the tight-knit team of three they'd formed with Ned. Tab was pretty sure that even Leah couldn't have picked a better stand-in mother for her son. Tab had been well and truly relegated to the position of aunty, and while she loved the role and the opportunities it brought to spoil her nephew, her brother's happily-ever-after had made her re-evaluate her own spinster status.
'Come on, let's go see Dad.' Ned tugged her and Meg towards the team who were now shaking hands with the opposition.
'I'm not sure we'll even be able to get near him,' Tab replied, but let him drag her nonetheless. Adeline was already there taking photos for the Walsh Whisperer and the rest of the town were crowding in around their heroes.
Music had just kicked off from the loudspeakers—the Wander-ers theme song on repeat—and someone nearby cracked a bottle of bubbly. The atmosphere held the promise of a party and Tab guessed it would be a late night for the players and their sup-porters, which accounted for pretty much everyone who lived in Walsh. Many past residents had even returned for the big day. The oval was packed; there wasn't space for one more ute around its perimeter and the recently refurbished recreation centre was already filling with people trying to be first in line at the bar.
Ned let go of their hands to weave through the hordes and while Meg hurried after him, Tab chose to hang back. The sweaty stink of all the players was already wafting towards her, making her nauseous.
'Can you believe it?' Tennille Wellington came up beside her, her usual sunny smile on her face. She was pushing a baby in a pram and wrangling a squirming toddler on her hip—with six kids, she and her husband Boots were halfway to creating a team of their own. 'They won!'
Tab tried to summon a smile. 'It's fantastic.'
'Are you okay?' Tennille's forehead scrunched up in concern. 'Yes. Of course. I think I just need something to eat.'
'Come on then.' Tennille nodded towards the building. 'Let's go grab a plate before the kids scoff it all.'
The club already buzzed with people and Tennille was quickly distracted trying to stop her kids from stealing too much choco-late cake off the long trestle table, heavy-laden with baked goods from the CWA.
Tab took a moment, leaning back against a wall and trying to catch a few moments of open-eyed sleep while she waited for Lawson, Meg and Ned to make it inside. She'd give her big bro a congratulatory hug and then offer to take Ned home, so he and Meg could make a night of it.
'How's the form, mucker?'
The voice of Ethan, their high-spirited but conscientious farm worker, interrupted her vertical nap. In the few years he'd been in their employ, he'd taught Tab a fair share of Irish slang, so she knew 'mucker' was actually a term of endearment.
'Did ya see me fine form out there? Not bad play for a boy from Galway.'
'Not bad at all. Guess you and Lawson will be in for a big night.'
'You betcha. Ya seen Kimmy?'
'Sorry.' She shook her head. Ethan had fallen head over heels for Kimmy, the new vet, when she'd come out to the farm to help with a difficult birth. Luckily the feeling was mutual. Not that Tab would admit it to anyone, but she'd been surprised by their hook-up as she'd suspected Ethan had a thing for her. But he just saw her as a good mate, like every other bloke in town.
'Never mind, she'll be somewhere round here. Now, what can I get you to drink?'
'I'm right at the moment. You go find Kimmy.'
It wasn't long before the rest of the team poured into the build-ing and Tab offered up congratulations to Funky and a number of other guys she'd grown up with before Lawson accosted her. He swung her round, making both Meg and Ned giggle.
'We did it, sis,' he said as he hugged her.
'Well done.' Tab tried not to recoil at the smell of sweat that 'We did it, sis,' he said as he hugged her.
'Well done.' Tab tried not to recoil at the smell of sweat that permeated her brother's skin. There were showers in the change rooms that the team could avail themselves of, but she guessed that would waste valuable drinking time … and when they had a grand final win to celebrate, time was precious.
'Dad, can I go see my friends?'
Lawson released Tab and nodded. 'Sure, mate, but come check in with one of us every half an hour or so.'
Tab knew that once the food had been devoured, the kids would escape outside and get up to who knows what mischief on the playground next to the oval. With all the excitement going on, it looked unlikely she'd be able to use Ned as an excuse to leave early. He wouldn't want to go home and miss out on all the action with his little mates. Maybe she could feign a headache.
'Right, I'm getting drinks,' Lawson exclaimed as Ned disap-peared. He looked to Meg. 'Do you want a lemon lime and bit-ters?' When she nodded, he turned to Tab. 'And what does my other fave lady want? Champers, wine or beer?'
She hesitated a moment. 'Bubbles, please.'
As Lawson headed for the bar, Tab and Meg mingled with the crowd, everyone reliving the high points of the game.
'I can't believe it was so close.'
'We were four points down,' said Terrence, a middle-aged farmer who'd been on the team the last time they won. He spoke as if he was the only one who'd seen the game. 'Then Lawson took a mark just before the siren.'
'He'd never have lived it down if he missed that goal,' said someone else.
They all laughed and Meg said, 'But he made it.'
'He sure did,' Terrence agreed, raising his beer in the air. 'And now he'll go down as a local footy legend.'
It was a good twenty minutes before said legend returned with the drinks.
'Attention, everyone!' Coach Macca, also a local councillor, stood on a milk crate in the corner of the room and shouted at the crowd. The din died down and all eyes turned to him as he sang the praises of his team, made individual references to particular players and then raised a toast to the men who'd broken Walsh's winning drought. 'To the Wanderers. A bunch of men who train hard, play hard and win! You all deserve a drink. Or ten.'
The crowd raised their glasses in agreement.
'Why aren't you drinking?' Adeline accused Tabitha, as if not doing so was a cardinal sin. Of course the town's eagle eye wouldn't miss a thing.
Tab ignored her, hoping nobody else had heard. But no such luck.
Funky leaned around Adeline. 'Yeah, Tabs, why aren't you toasting our win?'
'I'm driving,' she replied.
Adeline snorted. 'That's never stopped you before. And I don't know if you noticed, but Walsh just won the grand final—it would be mean-spirited of you not to toast them.'
'I'm not feeling well,' she hissed, hating that she felt compelled to say anything. It wasn't Adeline's or anyone else's business what she did or didn't put into her mouth.
'You're not pregnant, are you?' Adeline laughed as if she'd just made a huge joke.
Tab waited a second too long to laugh it off and felt her cheeks heat to boiling; no doubt they were now the colour of the Wander-ers' red. 'I'm …' She meant to say of course not, but she'd never been a good liar and instead found herself saying, 'Yes, actually I am.'
Meg gasped, Adeline's mouth fell open, Lawson frowned, and all other eyes in their little grouped bulged. Her friends and fam-ily were silent from shock a few long moments and Tab's heart beat so loudly she swore she could hear it.
This was not how she'd planned on announcing her news. The idea had been to wait until her twelve-week scan in just over a week and then if all was well, tell her family the news first. Beyond that she'd only given brief thought to. Well, that was something she wouldn't have to worry about anymore. Now Adeline had this bit of juicy gossip, it'd be round the building faster than an epidemic of chicken pox.
'Tabitha.' Lawson glanced at his near empty glass as if maybe he'd had more to drink than he remembered. 'Did you just say you're pregnant?'
'Yes,' she confirmed. 'I am. Eleven weeks to be precise. I'm sorry, Law, I was going to tell you guys when I got to twelve weeks. I didn't want to jinx anything.'
'It's alright, I just …' Lawson struggled to finish the sentence. 'We're surprised, is all,' Meg continued. 'But congratulations. Are you happy?'
Tab felt her shoulders loosening and even the nausea easing a little. 'Yes.' She put her untouched champagne glass down on a nearby table and smiled genuinely for the first time that after-noon—she felt better now it was out in the open. 'I've never been happier in my life. I can't wait to be a mum.'
'Who's the father?' Adeline asked the question everyone wanted to know. 'I didn't know you were seeing anyone.'
She probably couldn't imagine anyone would want to sleep with Tabitha unless they were off their face, and she'd probably be right. Tab had known most of the blokes her age her whole life and they regarded her as just one of the guys, had done even before her cancer. She'd long ago resigned herself to the fact she wasn't des-tined to find Mr Right and settle down, but that didn't stop her craving a baby. And, being a modern, independent, self-sufficient woman, she'd decided to take control of her own destiny.
'Maybe Tabitha would rather not discuss that here,' Meg said.
'No, it's fine,' she found herself saying. She'd decided to be completely honest about her baby's origins, hoping that by the time he or she was old enough to understand, any negative gossip would have passed. She took a quick breath. 'I don't know exactly who the father is; I conceived in a clinic using donor sperm.'
If people had been stunned with the news that she was pregnant, this announcement took their shock to a whole other level. They all stared as if horns had just sprouted from her head.
Funky was the first to speak. 'Why didn't you ask me if you needed sperm? I'd have been happy to have a baby with you.'
'Yeah.' Ethan nodded, a rare frown creasing his brow. 'I'd wank in a jar for you any day, Tabs.'
No one laughed and Kimmy elbowed him in the side.
'Thanks, guys,' Tab said. They almost sounded hurt that she hadn't asked them, and to be honest, she'd given the possibility a great deal of thought, but in the end, she wanted this to be entirely her baby. Sure, one day when the kid was old enough they could get the name of the donor from the register but Tab hadn't wanted to complicate the situation by raising a baby that was biologically also part of someone she knew. And she hadn't wanted her friends to feel obliged. This way she'd avoided any awkward conversa-tions and wouldn't have to answer to anyone else about decisions regarding her baby.
'I appreciate that, I really do, but it was just easier this way.'
'What happens if you meet someone? You're still young, and …'
Kimmy smiled mushily at Ethan, 'you never know when love is just around the corner.'
Tab almost laughed. It had been ten years since she'd had an actual boyfriend; she was realistic enough to know when to admit defeat. And she'd always wanted to be a mum, but lately the urge had grown stronger. Now that Lawson, Meg and Ned had formed a little family of their own, she sometimes felt a bit excluded and craved a family of her own. 'Well, if that happens, then whoever the lucky guy is will just have to understand I'm a package deal. At least I won't have an annoying ex still lingering like many single mums.'
'That's true,' Funky said with a chuckle. 'Remember when I dated that single mum from Harvey? Her ex tried to run me off the road.'
'Wanker,' Ethan said. 'He should have treated her better if he didn't want anyone else to have her.'
'Anyway.' Adeline cleared her throat. 'How much thought did you give this exactly? I'm surprised the doctors allowed someone with your physical disability to attempt such a thing without a part-ner. How are you going to look after this poor baby with only one arm? How do you plan on changing a nappy? What if you drop it?'
Tab's hackles rose. Adeline had always been a pain in the arse, but ever since she'd lost Lawson to Meg (at least that's how she saw it), she'd been unbearable.
'I've probably changed more nappies than you,' Tab snapped, her blood boiling, even though Adeline was merely voicing what many others were probably thinking.
But it wasn't like Tab had made this decision on a whim—the clinic where she'd undergone artificial insemination wouldn't have allowed it. In accordance with their guidelines, she'd had extensive counselling sessions, including ones about how she would manage parenting with her disability, about the support she'd have and what would happen to her baby if she died. Even without asking, she'd known that Lawson and Meg would step in if that ever happened, just as she would with Ned. She'd even undergone genetic counselling and testing to ensure she wasn't carrying a faulty gene that might account for her cancer and be passed on to her child. Thankfully, all had come up clear.
Still, Adeline's intrusive questions unnerved her. 'Name one thing you can do that I can't do better? Go on,' she demanded.
Adeline stepped back as if she thought Tab might be about to punch her. 'I … I …'
Lawson stepped between the two of them. 'Shut up, Adeline. No one cares for your opinion. Tab will make a fantastic mum and she'll have me and Meg for support, just like she's there for us with Ned. So maybe it's time you start minding your own business.'
'Here, here,' said a voice from behind.
Tab wasn't sure who it belonged to but she appreciated the sentiment. She was pretty sure that after the shock wore off, she'd have the backing of everyone else in town. And she didn't care for Adeline's interference in her child's life anyway.
'Fine. I have photos to take.' Adeline lifted her camera and flounced off in a huff.
'Good riddance,' Funky said, then turned to Tab and gave her a hug. 'I'm stoked for you. So stoked I'm off to get another beer.'
'Thanks.' Tab laughed as he pulled away and then accepted more congratulations from the rest of the small crowd that had gathered around them.
Finally, she looked to her brother and Meg. 'I'm sorry, Law, I wanted to tell you guys first in private and I certainly didn't mean to take away the glory from your impressive footy win.'
'I don't give a damn about that and you know it.' Lawson put his arm around her. 'All I care about is that this is right for you. I wish you'd talked about it with us first though, we could have been there to support you through the whole process.'
'I know. But this is something I had to do for myself.' Tab didn't tell them she'd been scared they might have tried to talk her out of it, tried to convince her to give fate a few more years to find her a partner to parent with. She knew how hard being a single parent could be, but her circumstances were different to what Lawson's had been—she was going into the adventure with her eyes wide open.
'I understand,' he said.
'Me too,' Meg added, 'but tomorrow you're coming over for dinner and you're going to tell us everything. I want to know all the details.'
'Deal. Although here's hoping I can have a little nap after the lunch rush, otherwise I'm liable to fall asleep on my plate.'
'So that's why you've been so tired lately?' Meg mused. 'Maybe we should talk about hiring some more casuals to help us out at the tea rooms. We'll need some extra help when the baby arrives anyway.'
'That's a good plan,' Lawson agreed. 'But right now, we'd bet-ter find Ned and tell him he's going to be a cousin before he hears it on the grapevine.'
'Good idea,' Tab said.
And then, flanked by her brother and Meg, she went outside to look for her nephew, thinking how lucky she and her baby were to have such a wonderful family. She didn't need anyone else.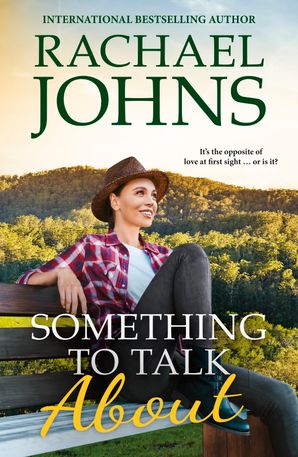 Something to Talk About by Rachael Johns will be available in-stores and online from the 20th of April 2020