Ranking the Top Ten Men in Uniform from film, TV and books was trickier than anticipated. It wasn't just narrowing it down to only ten, but figuring out what it was, specifically, that made each one so attractive. I realised that although smouldering good looks go a long way to making a man sexy, it's his character, his brand, his role, that puts him over the top (and onto this list). Since we're here for some smoulder I'm going to countdown, striptease style, from ten to one.
10. Tom Cruise in A Few Good Men
Tom Cruise likes a naval uniform. And why not, he rocks it. As the young naval lawyer in A Few Good Men (who could forget the courtroom scene where he takes down Jack Nicholson) and then again as the fast driving (and flying) naval pilot Maverick in Top Gun. Tom looks good as a rebel in white. Yes, IRL Tom has a somewhat ah, unusual personal life and parenting style, which impacts his brand, but not enough to kick him off the list altogether. I still feel the need, the need for naval whites.
9.5. Superheroes & Pirates
Did anyone else find Jared Leto as The Joker sexy? Or am I the only one who appears to have a fetish for green haired, gun toting lunatics? Actually, I don't think a costume counts as uniform, if it did, I would have to start talking about Michael B Jordan in Black Panther, Jason Momoa as Aquaman or Orlando Bloom as a pirate and I'd completely lose my train of thought. What was I saying? Oh, number nine.
9. Ryan Reynolds in R.I.P.D
There's nothing quite like a man who can make you laugh, and while Ryan Reynolds was only in a police uniform for two minutes before he was murdered in R.I.P.D, he was still super cute. When women say a sense of humour is sexy, this is what they're talking about. You know you're rocking it when you're dead and you're still hot.
 8. David Boreanaz in Bones
FBI Special Agent Seeley Booth played by David Boreanaz in Bones is my number eight. There's something very masculine about a built man with a badge who shoots at ice cream trucks (Greensleeves is enough to drive anyone crazy), respects his therapist and is prepared to admit he can be bested by a woman with a test tube (and her friends). Boreanaz now plays a Navy Seal on SEAL Team (do you see a pattern?). It's okay, but it's not a patch on the cerebral and female driven Bones.
7. Brad Pitt in Se7en
Any top ten list must have some Brad, and Brad Pitt in Se7en at number seven seemed appropriate. And let's face it if a serial killer came after you, you'd want your cop husband to avenge your death, right? Mind you if your husband was Brad Pitt you'd try a lot harder to stay alive. Poor Gwyneth.
6.5. Henry Cavill in Enola Holmes
I'm going to put an alternate in here because Se7en is a brutal movie and after surviving 2021 (and 2020) many of you might not want to dive into that particular rabbit hole, even if it does have Brad Pitt in it. My alternate is Henry Cavill as Sherlock Holmes in Netflix's Enola Holmes. Cavill is positively gorgeous in the role, and not just because he's physically gorgeous, but because he's super brainy and his (eventual and enlightened) support of his fabulous sister's sleuthing career (a somewhat unconventional career choice for a sixteen year old in 1884) is dead sexy. Bring on the sexy sleuth!
6. Ranger from Janet Evanovich's Stephanie Plum series
It turns out men who are uniform adjacent are also pretty hot. Detectives, PIs, bounty hunters, you get the idea. To be fair, most of these characters were in uniform prior to their new jobs. Take Ranger from Janet Evanovich's Stephanie Plum series, who comes in at number six. Bounty hunter, Ranger, used to be, yep you guessed it, in the Army Rangers. Throughout Evanovich's twenty-eight books the scrumptious Ranger has gone from lone wolf bounty hunter attempting to mentor Stephanie to a protective dad running a high tech and somewhat luxurious security firm, and his growth has only made him more attractive. Protective. Check. Hot. Check. Willing to let Stephanie run her own race (no matter how many cars she destroys). Check. Rich. Check. Plus, he has a maid who does Stephanie's washing and brings her breakfast. Now that's hot. Plus, in almost thirty years Ranger hasn't aged a day! Ah, the glories of being a character in a book. He might be imaginary, but he's still smoking.
5. John Cho in Cowboy Bebop
I'm staying in bounty hunter territory with John Cho who plays space bounty hunter, Spike Spiegel in Netflix's futuristic Cowboy Bebop (based on an anime of the same name). Yes, the show's a little weird, but it's also extremely entertaining and I could watch Cho All. Day. Long. What's not to love about the space cowboy: he's fast, he's loyal, he's cute and he no longer kills people for a living. Plus, ask anyone under the age of twenty and they'll tell you that anime characters are where it's at. While I'm not young enough to find an actual cartoon character attractive I'm very comfortable crushing on the live action version.
4. Tom Selleck as Magnum PI
While we're cop adjacent, let's get historical for a minute: Tom Selleck as Magnum PI. Magnum is fiercely loyal, cheeky, funny, he protects those who are down their luck, lives on an incredible estate in Hawaii and drives a red Ferrari. Was he previously in uniform? Yep. Magnum was formerly a navy seal (what is it with the Navy?). Although Tom doesn't have Ranger's luxury of making time stand still (because he's a human actor and not a character in a book), Tom Selleck does a pretty great impression of an immortal.
3. Simon Baker in The Mentalist
This is my last cop adjacent. Promise. Simon Baker was sizzling as the snappily dressed, but essentially unhinged California Bureau of Investigation (CBI) consultant Patrick Jane in The Mentalist. The fact that Jane never once wavered on his course to kill the man who murdered his family through seven series of The Mentalist, risking life and limb on the regular, makes him dedicated and delectable. Plus, he gets extra points for being Aussie.
2. Keanu Reeves in Point Break & Speed
No list of wonderous men would be complete without Keanu Reeves. Who could forget Keanu as FBI agent Johnny Utah in Point Break or as a cop in Speed. Sadly, he doesn't wear a uniform very much in either film. On the upside we get to see him in water, so, I think we're still ahead. Keanu's rep as a complete sweetheart means he'll make it onto every list I ever write until the end of time.
1. Aaron Pedersen in Mystery Road
Okay, number one. Aaron Pedersen as Detective Jay Swan in Mystery Road is THE hottest cop ever. And although more criminal than cop in Jack Irish, his enforcer with a heart of gold is a winner there too. I feel like he'd be able to take you on a picnic and defend you in a knife fight. Or even teach you how to use a knife in a knife fight (while simultaneously defending you in said knife fight and laying out a picnic rug). Swoon.
Turns out there's a reason so many male strippers dress up as cops and actors take parts as Naval officers. There's definitely something sexy about a man in uniform. Whether it's an actor in a movie or a TV show, or a character from a novel or anime, a man in a uniform is a delight to behold.
Judge's decision is final. No correspondence will be entered into—except if you think Detective Searing or James Smith or Jed the Giant Fireman from Heiress on Fire or Murder Most Fancy are hotter—then you might be right. If you'd like to continue this discussion or lobby for a list of ladies in uniform catch me on Insta or FB @missmccourt.
---
ABOUT THE AUTHOR: Kellie McCourt
Kellie McCourt has worked as a national and international television anchor, scriptwriter, producer and reporter. Kellie is also an experienced print journalist and magazine editor.
She has a double BA in Journalism and Creative Writing from Curtin University, studied journalism in SE Asia and completed a postgrad scholarship program at UNSW. Alas, her mother is still waiting for her to 'get a real job', like a lawyer. Or an accountant.
Kellie had a misspent youth as a wayward socialite, and loves shoes, friends, reading, shoes and baked goods.
Kellie is passionate about creating entertaining, gender empowering stories. She lives in Sydney with her two amazing young daughters, and two poodles.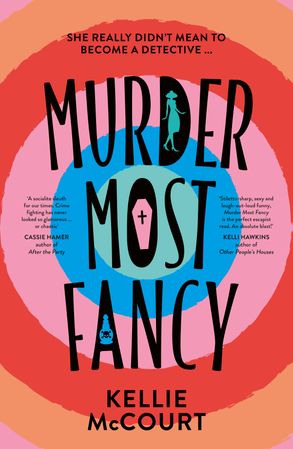 She's not responsible for the corpse this time. Okay, maybe just a little bit. Our favourite socialite and felon are back in a madcap new sleuthing adventure … for readers of Janet Evanovich and Kerry Greenwood.
She really didn't mean to become a detective …
Home for just 48 hours, billion-heiress Indigo-Daisy-Violet-Amber Hasluck-Royce-Jones-Bombberg has already committed two (completely understandable) felonies, reignited a childhood feud, been (possibly) humiliated (again) by her first love, and fallen over a nameless homeless dead man. All while strolling in her grandmother's garden …
Grandmother's kindly neighbour, Dame Elizabeth Holly, wants to spring the anonymous corpse from the coroner's freezer. She's convinced Indigo and her parolee personal assistant Esmerelda can unearth the man's identity, thus allowing his burial. Meanwhile Grandmother wants the unlikely duo to locate Dame Holly's possibly missing gentleman friend. Dame Holly's miserly granddaughter and not-so-bright son don't want her involved with any man – dead or alive.
Are the cases related? Why are they receiving clues from an unknown helper? Should they cooperate with Detectives Searing and Burns, who tried to arrest Indigo for blowing up her plastic surgeon husband last summer? What is Esmerelda's secret? It's not so bad to undress a detective. Twice. Is it? How illegal can it be, really, to break into a top-secret government facility?
They're not annoying a ruthless organised criminal on purpose, they're just trying to help …