R.J. Groves's latest book Say You'll Be Mine is about a marriage of convenience between two old friends, that may or may not lead to something more…
To celebrate its release she told us her 6 favorite marriage of convenience themed rom-coms!
---
Marriage of convenience is a particular trope that gets me every time. A combination of forced proximity, sometimes starting with a dislike for each other, and an arrangement where both parties get something out of it and will absolutely NOT fall in love – what's not to like about that? Marriages of convenience seem to have been a lot more common in previous days than they are now, however that doesn't mean they're non-existent. The reasons just get more complicated!
In my new book, Say You'll Be Mine, Jannette and Shannon find themselves in a position where both of them could benefit from a marriage of convenience. For Jannette, it's in an attempt to shake a stalker who she hasn't yet been able to identify, and for Shannon, it's to have access to an untapped inheritance from his traditionalist grandfather. The biggest rule of their marriage? Don't fall in love. That might be a bit easier to do if they both weren't already nursing feelings for each other that had never quite left them. While most marriages of convenience tend to start off with the couple barely knowing each other and having zero feelings for each other, Jannette and Shannon have known each other a long time, even though they've been out of contact with each other for most of it.
Below is a list of some of my favourite marriage of convenience movies. Just like in Say You'll Be Mine, some are contemporary, while others are more traditional.
The Proposal (2009)
The Proposal is probably one of the most popular contemporary movies around, and for good reason too! Not only is it romantic, but there is so much humour in it that it basically defines the term 'rom-com'. Executive editor-in-chief Margaret (Sandra Bullock) discovers she's about to be deported, so she ropes her assistant Andrew (Ryan Reynolds) into agreeing to marry her. What does he get in exchange? He gets promoted to editor and she publishes his book. Only problem is they just can't get along to start with, which only leads to entertaining banter between them. There are so many twists and turns in this movie, including them coming clean about their faux relationship, and eventually they end up falling in love and getting engaged for real.
What Happens in Vegas (2008)
Another contemporary rom-com, What Happens in Vegas features a marriage of convenience that starts out as an accident. Joy (Cameron Diaz) and Jack (Ashton Kutcher) meet by chance when they both take a trip to Vegas. After a drunken night together, they wake up married, realise it was a mistake and agree to divorce. And then three million dollars comes into the equation and a judge rules that they need to show that they've been working on their marriage for six months before their divorce can be granted and they can split the money – but that doesn't mean they have to like each other in the process. It's yet another humorous movie with a perfect duo to provide entertainment and fun. And of course, a happy ending.
Green Card (1990)
Another movie starring polar opposites, Green Card is the story about Bronte (Andie MacDowell) and Georges (Gérard Depardieu) who form a marriage of convenience so that he can get his green card and she can rent her dream apartment, one that is only available to married couples. When they're forced to live together to prove that their marriage is real, at first they can't stand each other. But like all our favourite marriage of convenience movies, eventually they fall in love.
Loco Love (2003)
This would have to be one of my favourite marriage of convenience movies. When Donald's (Roy Werner) wife leaves him and takes his restaurant with her, he doesn't know what to do with himself. It's just his luck that his gardener wins the lottery and offers him something he just can't refuse – that Donald can have a restaurant as long as he marries the gardener's hot-tempered sister, Catalina (Laura Elena Harring), so that she can get her green card. Throw in the whole family moving in with Donald and the story is set up for amusement, tension and romance, especially when the married couple start to develop feelings for each other. There are so many sweet moments in this movie that I could happily watch it over and over again.
Love Comes Softly (2003)
Based on a book series by Janette Oke, Love Comes Softly tells the story of Marty (Katherine Heigl) who has just entered frontier life with her husband, but he dies shortly after their move. Suddenly finding herself in a difficult situation, she agrees to marry a recently widowed local man, Clark (Dale Midkiff), for security over the winter, and in exchange, she'll help raise his daughter, who is hostile towards Marty at first. Of course, the more time she spends with Clark and his daughter, the more Marty finds herself falling in love with them both.
Loving Leah (2009)
Loving Leah is a perfect example of a contemporary marriage of convenience with tradition weaved into it. According to Jewish law, Jake (Adam Kaufman) must honour his deceased brother by marrying his brother's widow, Leah (Lauren Ambrose). The marriage benefits Leah in that she can leave her mother's home and be independent. Their relationship starts out as platonic, but we're not left disappointed with them eventually falling in love with each other.
Contemporary or traditional, there's something each of these movies featuring a marriage of convenience have in common—our hero and heroine fall in love in the end.
---
ABOUT THE AUTHOR: R. J. Groves
Australian author R.J. Groves has been passionate about writing since she could put pen to paper and can usually be found jotting plots and stories down on anything she can get her hands on. Describing herself as a mum, wife, author, and coffee lover, her other passions include music, cooking, books, adventures, and searching for plot bunnies in even the most mundane activities.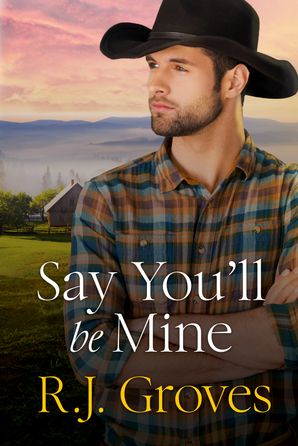 A city girl. A cowboy. A marriage of convenience.
Jannette Tanner is ready for the next step of her life plan – a baby. But when she's called back to her family farm to help her brother, she suddenly finds herself unsure of her plans. Especially when she sees her brother's best friend for the first time after seventeen years and discovers those secret childhood feelings for him have only grown stronger.
Shannon Hopkins is happy and content with his life – or so he'd thought. It wasn't until his best friend's little sister showed up that he realises there's been a big hole in his life. And the longer Jannette is around, the smaller that hole feels. Only problem is, she'll be headed back to the city before too long, and he'll be the sorry fool left heartbroken in the country.
But when it seems that Jannette might have a stalker and Shannon finds himself needing to marry to access an inheritance from his traditionalist grandfather, there's only one possible solution – a marriage of convenience.
How could that not be a good idea?