The final eight episodes of season 5 drop on 28 May and I know what I desire … a full Lucifer re-binge from season 1 episode 1 to get me emotionally in the zone.
Where are we at with the heartbreak? With the devil face, with the burning wings, with the crazed drives through LA streets in the black convertible only to find he's lost his chance of love with Chloe. Again.
Don't have time to re-binge? Don't worry … I've strapped on my holster and done some detective work and here's my findings: Lucifer's blackest 6 #heartbreak moments.
Heartbreak #1 – Lucifer shows Dr Linda his devil face
Dr Linda begs him to help her understand who he really is in S2 E6; to be completely honest with her. He allows himself to be talked into it – he trusts her to know what she needs.
The camera focuses in on her face – which has gone blank, and shaky – then on his. He smiles … tentatively … you can tell it feels good to not have to hide himself … but then his brow furrows. He realises he has broken his therapist.
He nods, and walks slowly from the room, his face bleak. #heartbreak
Heartbreak #2 – Pulling on the heartstrings? Or is it puppet strings …
We need some context for this one. We've finally had a kissy moment, but Lucifer retreated, telling Chloe she deserved better. Fast forward to S2 E12 when Chloe is frantic about Lucifer being hurt by the poisoner. He smiles at her. Like, sweetly. Like, he cannot believe this moment is coming true for him. He says, "This is real, isn't it?"
He is so ludicrously happy and filled with joy and then … his mother tells him that Chloe is a plan of his father. Her feelings for him cannot be real. He is devastated, he roars over to Chloe's to rage at her, but she turns toward him and … she's been poisoned! #doubleheartbreak
Heartbreak #3 – On the outside, looking in: "I want her to choose me"
So many times, Lucifer ran from what he truly desired … until S3 E21 when Dr Linda convinces him he truly does have free will. But the one time he chooses not to run? The drive through rain-slicked streets – the wind dishevelling his black, black hair –the race up the stairs to Chloe's apartment because finally he's ready, finally he's putting love ahead of fear that she will find him unworthy …
Then this happens: Lieutenant Pierce AKA Cain is on bended knee. His hand is lifted to Chloe, and the sparkle of a diamond winks in the living room light. And where's our favourite Devil?
Outside. Looking in through the window. #heartbreak
Heartbreak #4 – No more metaphors
In the S3 finale Lieutenant Pierce's identity as the Sinnerman and murderer of Charlotte is revealed to Chloe. She says to Lucifer: when we've brought him down, you tell me everything. No more metaphors.
He is ready. He finally believes Amenadiel is right: his wings and his devil face are an expression of how he feels about himself, and he feels good about himself, finally.
Then Pierce gets all stabby in an EPIC scene in which Lucifer plunges through breaking glass, wings-akimbo and steaming with vengeance, and in order to save Chloe, Lucifer must do what an angel cannot do: he must kill a human.
He turns to Chloe –and we know, because his devil face is back, how killing Peirce has destroyed him. And Chloe sees his true face.
The scene ends. We're on tenterhooks … what will she freaking say??? The scriptwriters TAUNT us with a fluffy first episode of S4 with zero Lucifer/Chloe moments.
The black moment comes with he sets his hand on her shoulder and she twists away. #heartbreak
Heartbreak #5 Chloe and the chalice
In S4 E3 Lucifer finds out from Father Kinley that Chloe has been working with the creepy Father Kinley to poison him and send him back to hell. It's a blow.
But what's worse is yet to come … when he tells Chloe she can talk to him about any concerns she has, she LIES and says she has told no-one about him.
Lying, to Lucifer, is the ultimate betrayal … and when he pushes her for a reason, she admits she finds him terrifying.
He puts on his devil face and asks her if she can accept him … and Chloe hesitates. #heartbreak
Heartbreak #6 – Return to hell
Have electrolytes handy before watching S4 E10 … tears will fall.
Lucifer and the gang save baby Charlie from becoming the new king of hell in a last-gasp battle, but he understands he has to sacrifice his life on earth to keep the demons in check. He says the line that broke the internet: "My first love was never Eve. It was you, Chloe. It always has been.'
And then he's on the throne of hell. All alone. #intenseheartbreak
Love the black moments of heartbreak in a romance that come before the Happy Ever After? Me too … check out some of our latest!
---
ABOUT THE AUTHOR: Stella Quinn
Stella Quinn has had a love affair with books since she first discovered the alphabet. She lives in sunny Queensland now, but has lived in England, Hong Kong and Papua New Guinea. Boarding school in a Queensland country town left Stella with a love of small towns and heritage buildings (and a fear of chenille bedspreads and meatloaf!) and that is why she loves writing rural romance. Stella is a keen scrabble player, she's very partial to her four kids and anything with four furry feet, and she is a mediocre grower of orchids. An active member of Romance Writers of Australia, Stella has won their Emerald, Sapphire and Valerie Parv Awards, and finaled in their R*BY Romantic Book of the Year award.
You can find and follow Stella Quinn via her website.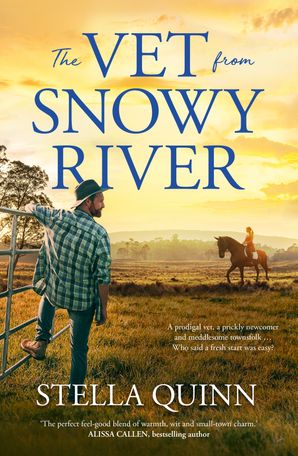 A hot vet. A rebellious teenager. And meddling but well-meaning townsfolk. Vera gets more than she bargains for when she runs off to a new life in the country … A fresh and funny rural romance, perfect for readers of Alissa Callen and Rachael Johns.
Vera De Rossi no longer believes in love …
And thanks to her ex-boyfriend­ she's also broke, jobless, and staring down the barrel of a court case that could land her in prison. Turning to her talent for baking, Vera opens a cafe in Hanrahan, a cosy tourist town in the foothills of the Snowy Mountains.
Josh Cody, once Hanrahan's golden boy, escaped sixteen years ago with gossip hard on his heels and a pregnant girlfriend in tow. Now he's back: a qualified veterinarian – and a single dad with a lot to prove. A new start and a grumpy teenage daughter … it's a lot to juggle, and there's no room in his life for further complications. But that's before he walks into The Billy Button Cafe and meets its prickly owner …
Reeling from the past, Vera has no intention of being sidetracked by the hot vet with a killer smile. But fate has a way of tripping up our best intentions and between a stray cat and a busybody with a heart of gold, this is a town – a family – unlike any other. And, whether Vera wants it or not, is there anything a family won't do to help one of its own?
PRAISE:
'The perfect feel-good blend of warmth, wit and small town charm. This debut will leave you smiling.' Alissa Callen bestselling author of Snowy Mountains Daughter