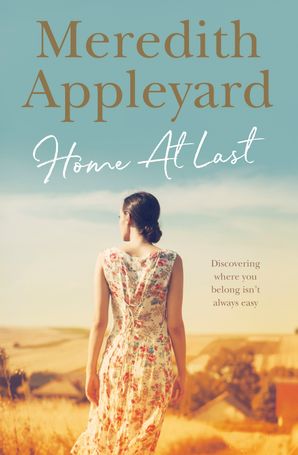 Meredith Appleyard, author of Home at Last, writes about her experience working for the Royal Flying Doctor Service and how it has influenced her latest novel.
Flying solo can be harder than it looks … A warm-hearted rural romance about finding your way home.
Flying solo for the first time had been the greatest high of Anna Kelly's life. So when the chance of a dream job as a pilot with the Royal Flying Doctor Service comes up she takes it, even though she has to leave her home in Adelaide and move to remote Broken Hill – a place she had hoped she would never see again.
The bad memories the town provokes remind Anna why she keeps men at arm's length but as her work proves fulfilling, her housemate becomes a friend and a warm community grows around her, Anna is surprised to discover that Broken Hill is starting to feel like home.
But there is no such thing as plain sailing and with errant mothers, vengeful ex-patients and determined exes on the prowl, life is becoming increasingly complicated. More than that, the distractingly attractive Flight Nurse Nick Harrison seems keen to get to know her better, and he has a way of finding a path through her defences. But will he still want her if the truth comes out?
My career as a registered nurse and midwife took me to far-flung and interesting locations. The time I spent working for the Royal Flying Doctor Service (NSW Section Broken Hill) in the late 80s and early 90s was one of my most memorable and challenging experiences.
I started in Broken Hill, and then transferred to the Moomba casualty centre. Moomba is in the oil and gas fields of the Cooper Basin, in far north SA. I was a FIFO: a fly in, fly out worker, back before we were called that. We worked fifteen days straight and had thirteen days off; much to the envy of my friends.
The modern, well-equipped casualty centre was staffed seven days a week by two registered nurses/midwives. The closest doctors were hundreds of kilometres away in Broken Hill or Port Augusta.
We provided an emergency and primary healthcare service to about 1000 mining workers, spread across the Cooper Basin. Whatever happened, we were it, though we were supported by the RFDS doctors over the phone or radio. When necessary our RFDS colleagues flew out to retrieve the sick or injured.
We also provided an emergency service for nearby cattle stations and tourists passing through, that's why we needed to be midwives!
We had a fully outfitted ambulance, and the company helicopter at our disposal for remote retrievals. And we had our fair share of them: trauma from road crashes, industrial accidents, burns, heat stress, snake bite, with the odd heart attack and acute medical illness thrown in.
On the oil rigs the work was hard, the drill platforms dangerous, and amputated fingers an occupational hazard. I remember sending a roughneck (the common name for a member of an oil-drilling crew!) to hospital on the company plane with his severed finger packaged in a lunchbox.
I'll never forget trying to stabilise a young station hand who'd rolled his vehicle, and the helicopter pilot urging me to hurry up because it was dark and the wind was getting up.
And one of the saddest things I did was pick up the body of a young pilot killed when his mustering plane crashed.
But it wasn't all an adrenaline rush. We taught first aid to the employees, and ran a hearing conservation program and other health promotion events. During the ten-hour day we would see patients with coughs, colds etc; a bit like a doctors' surgery. And we were there for people experiencing difficulties coping with working away from home for extended periods.
I've always loved the outback and my time with the RFDS gave me an opportunity to experience the challenges and rewards of delivering emergency and other healthcare to the people who live and work there.
Over the time I worked with some wonderful, skilled and interesting people: pilots, nurses and doctors. All inspiration for Home at Last!
Meredith Appleyard lives in the Clare Valley wine-growing region of South Australia. As a registered nurse and midwife she practised in a wide range of country health settings, including the Royal Flying Doctor Service. She has been an agency nurse in London and a volunteer in Vietnam. When a friend challenged Meredith to do what she'd always wanted to do – write a novel – she saved up, took time off work, sat down at the computer and wrote her first novel. Realising after the first rejection letter she needed to learn more about the craft of writing, she attended workshops, joined a writers' group and successfully completed an Advanced Diploma of Arts in Professional Writing with the Adelaide Centre for Arts. Meredith lives with her husband and border collie Lily, and when she's not writing she's reading!