She's his runaway bride…and he's come to claim his wedding night!
Emma Piper's just promised to love, honour and cherish Greek tycoon Christo Karides…then she overhears him admitting he married her purely for convenience. Bolting to her family's beautiful Corfu villa, Emma doesn't expect Christo to follow – especially with seduction in mind! Their intense attraction promises an explosive reunion. Will a night in her husband's bed show Emma there's more to their marriage than just convenience?
---
Where do you get your inspiration is the question I'm asked most frequently. Much of the time it's hard to pinpoint, as ideas morph and meld as I create a story. But with Wedding Night Reunion in Greece, I have a head start. The lovely Greek island of Corfu inspired many of the scenes. In the Ionian Sea to the west of the mainland, it's a place I've wanted to visit for years.
I finally made it there in April 2018 and — surprise! — it became the setting for this book.
Annie West in Corfu
I wanted to write a runaway bride story. I loved the idea of starting a book with a bride, in her finery, high-tailing it from her wedding. The process of discovering why she'd desert her brand new husband on their wedding day was enormous fun! If you've read my books you know I love stories with emotion, drama and passion and this premise promised all that.
When Emma discovers she and Christo married for completely different reasons, it puts a new perspective on what she thought the perfect love match. She's shattered and needs time to process and decide where to from here. So she takes refuge in the one place she feels safe, her family's old holiday villa on Corfu. (How I wish my family had one of those!) But she's not alone for long. Christo is wealthy and very determined. Determined to claim his wife and his wedding night. Of course he tracks her down to Corfu… Cue fireworks!
Walking the streets of Corfu
Wherever you go on Corfu the sea isn't far away so as I wrote I was always conscious of it, the water a wonderful range of colours from aquamarine to turquoise and sapphire. It seemed natural that several key scenes should happen on the beach. Then there are the wonderful olive groves you see throughout the island. If you want a place to relax and recharge your batteries, a shady olive grove, especially in spring when the wildflowers are out, is perfect.
The beautiful turquoise waters of Corfu
Emma's grand but slightly faded villa is based on a real Corfiote home. While it was tempting to keep Emma and Christo there, they did get out and about. Corfu Town has a rambling historic section that sits between two fortresses with the sea encircling it. It's full of winding, narrow alleys between tall buildings. Emma and Christo both venture there and end up at Faleraki, a small, scenic bay. I confess I went there several times to enjoy a pre-dinner drink and snacks and soak up the view. In the interests of research, of course! Even the fact that Emma is a wedding planner was partly inspired by the sight of Corfiote churches decked out for weddings with metres of coloured fabrics and flowers forming festive entrances to the old buildings.
The cobbled streets of Corfu
I hope you enjoy these location shots and my new book Wedding Night Reunion in Greece.
Happy Reading,
P.S. If you're interested in the stories behind my books, I share snippets in my occasional reader e-newsletters. You can visit my website www.annie-west.com to sign up for them or go direct to https://tinyurl.com/ya56pe7c
---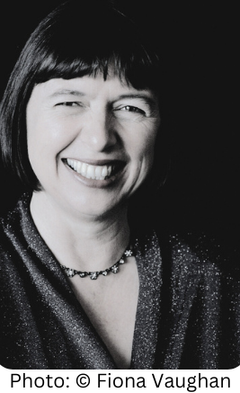 Annie West
Annie spent her formative years on the east coast of Australia and grew up in a book-loving family. One of her earliest memories is of lying tucked up in bed, drowsy after an afternoon's adventure in the rainforest gully that was her backyard, and listening to her father read 'The Wind in the Willows'. As soon as she could read she was investigating books for herself, reading adventures and poring over fairy tale illustrations. In her mind she was one of the dancing princesses, and Rapunzel and Sleeping Beauty, and, of course, Cinderella. Do you see a trend here? Trips to the library became a regular treat, where Annie could enter faraway worlds and daydream about being the heroine of whatever book she was reading.
As well as encouraging her love of books, Annie's family taught her to love travel and the Australian bush. Often she managed to combine all three. There was the long trek to the marvellous Finders Ranges of South Australia – with Tolkien. Walking in the rugged Grampian Ranges of Victoria – with Tolstoy. And reading gothic romances while camped under the snow gums in the Australian Alps.
She got hooked on romance early. In her teens she spent long afternoons playing tennis with her best friend. Between endless games on baking gravel, they'd stagger to her friend's house to recover, and in that house was an unending store of books, all with that distinctive rose on the cover. That's how Annie discovered romance and she's been addicted ever since. All those strong silent types, flashing-eyed Italians, haughty Spanish aristocrats and the rest. No wonder the boys at school just didn't make the grade.
Fortunately she found her own romantic hero while studying at university. Despite the distraction she completed her honours degree in Classics. She was also fortunate to spend lots of time travelling, backpacking through Egypt and Greece, 'tramping' in New Zealand, sightseeing in Europe and living in Germany a couple of times.
Annie emerged from University with no idea of a career path and took a job in the public service. The perfect preparation for an author! In her first permanent job she spent six weeks proof-reading various versions of the Australian Government's purchasing manual: every – single – word – of – it. Checking the text of a novel is so much more fun! For years Annie wrote and amended and redrafted and revised: government plans, letters for cabinet ministers and reports for parliament. All good grounding for a would-be author.
Then the inevitable happened. Annie decided to write romance. Those books had been a constant through the years of job change and travel. Her chance came when she took leave to spend time with her children. Between preschool and school activities she produced her first novel. At the same time she discovered Romance Writers of Australia (RWAus) – and thank goodness. Without the help of authors who knew what they were doing she might still be writing stories just as good as that first manuscript! Since then she's been active in RWAus writers' groups and competitions, attends annual conferences and loves the support she gets from so many other writers. She had short stories and a romance book published in Australia but it wasn't until late 2005 that she found the success she sought with Harlequin Mills and Boon.
Annie lives with her hero (still the same one after all this time) and her children at Lake Macquarie, north of Sydney. They are neatly situated between the Hunter Valley's marvellous wine country, some of the state's superb beaches and the beautiful lake.
She is always thinking of possible further travel (strictly for research purposes, of course) and in the meantime fantasises about gorgeous men and their love lives. It's hard work but she has no regrets! Her circle of writing friends and her critique partner keep her on the straight and narrow, writing stories she hopes readers will enjoy as much as she does.