This month we're celebrating all-things Friends! Here Mills & Boon Forever author Ally Blake reminisces about some of the funniest moments from the hit sit-com.
P.S. You can stream every episode of Friends right now on Binge.
---
For me, the absolute funniest moments in Friends, the ones that made – and still make – us laugh the most, are those that hit the mark so perfectly they imbedded themselves into the zeitgeist. And stayed there.
Friends-type funnies worked because they were raw and real. We'd all been there. We'd all made up a dance we forced our parents to watch, or had that one friend who had no clue they couldn't sing. And we knew those characters – Ross and Rachel, Chandler and Monica, Phoebe and Joey – soooo well, their most embarrassing, poignant, hilarious moments felt true for them too.
So, here's a bunch of Friends moments that still have me laughing today.
'Smelly Cat'
I cannot – can not – not laugh every time Phoebe sings her most uncomfortable self-penned ode. So earnest is she as she strums 'Smelly Cat' on stage at Central Perk. Or when she's teaching the song to Chrissie Hynde. Or when she asks the crowd to join in and Chandler can't do it with a straight face. And don't forget the video clip where her voice is overdubbed by another singer and she doesn't even notice! (And if you haven't seen 'Phoebe' on stage with Taylor Swift, teaching her the song, track it down. Delightful.)
Ross's 'non-finger finger'
You know the one – when Ross first comes at Rachel, fists bumped together, one-two, after she sasses him one too many times. Then Monica explains that Ross invented the move when they were kids as a way of giving the finger without actually having to give the finger. This one cracks me up every time. Even more when it shows up in later episodes with no explanation, making us, the audience, part of the in-joke. When Rachel first does it back to Ross, and he comes at her with a weird elbow flapping move… Priceless! Now, own up – who else has used the move themselves, as a grown adult? Too much fun.
The Routine
Remember this one? Monica and Ross performing 'The Routine' – a dance they choreographed in middle school – on live TV! The hilarity here revolves around how utterly sure they are that their dance moves are awesome. I mean, the same routine got an honourable mention in the brother–sister category at a school dance! The fact that they bring it out now, as grownups, in an effort to impress their parents? Its many levels of cringe make it utterly adorkable.
The kiss
Chandler and Monica have been secretly dating, until one morning Chandler kisses Monica goodbye, lingeringly, in front of Rachel and Phoebe, who have no clue they're together. The looks on Rachel's and Phoebe's faces are brilliant! Less shock, more horror. After a beat or three, Chandler and Monica begin to panic. Their secret is out! Until Chandler, being Chandler, finds the most inappropriate way out, kissing Rachel, then Phoebe too, as if that's his new thing. Full smackeroos. On the mouth. It's awkward as heck. Yet, when he leaves the room, he swaggers. Classic Chandler.
The couch
Rachel, Ross and Chandler trying to get Ross's new couch up the stairs is such a perfect example of Ross being Ross, from his disappointment that Chandler is helping when Monica would have been a better choice to the nerdy sketch he made prior, dictating how the move will go down (including the awkward position of his arm which looks rather like a different appendage). But it's Ross's trumpeting cries of, 'Pivot! Pivot! Pivot! Pivot! Pivot! Pivot!' when things start to go wrong, and the couch, naturally, gets stuck, that have made it into Friends folklore.
Oh. My. God.
Who else out there has a soft spot for Janice, Chandler's on-again off-again fallback girlfriend with the voice like knives down a blackboard? For all that she's hard work – and that laugh, yikes! – she's actually super lovable. Lovable begets laughter! Which is why we are laughing as soon as we hear the terrifying strains of her 'Oh My God' before she even appears on screen. A line that has become a part of our family lexicon is from the final episode of the show, when Chandler bangs into Janice one last time. They're at the airport and he's so desperate to get away from her, he buys a ticket to Yemen. Who'd have thought 'I'm going to Yemen' could be a line that never loses its funny?
Transponster!
In the trivia contest episode, when it all comes down to Monica and Rachel naming what Chandler does for a living or losing their apartment to the boys… That entire scene is pure comedy genius. And it doesn't let up! The panic that rises in Monica as she realises they have no clue what Chandler does for a crust, bar carry a briefcase and do something with numbers, reaches its crescendo with Rachel leaping in with the answer: 'He's a transponster!' It's sooo wrong, and sooo funny because the stakes could not have been higher. Brilliant stuff. And, arguably, the best episode of Friends EVER.
What did I miss? I know there'll be a zillion zingers I'll remember all too late! And now that I've dipped my toes back into that most warm and wonderful world, I cannot wait to dive back in at the start. Who's with me?
---
Australian romance author Ally Blake loves strong coffee, bingeing on Netflix, fluffy white clouds in bright blue skies, firefighters, when a favourite song comes on the car radio that she hasn't heard in ages, and the glide of a cheap, soft, dark pencil over really good notepaper.
Another thing she adores is writing love stories. She has sold over four million copies of her novels worldwide, and is truly is living the dream.
Alongside one handsome husband, three gorgeously rambunctious kids, and too many animal companions to count, Ally lives and writes in the leafy western suburbs of Brisbane.
Ally's latest book Brooding Rebel To Baby Daddy is out now.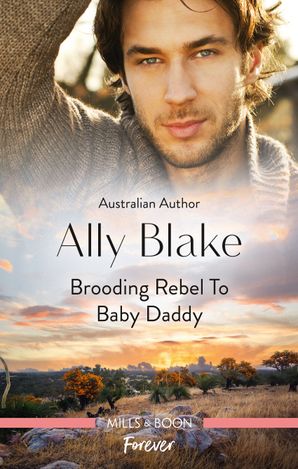 Reunited by a question: will he be her baby's father?
Living in LA brought Sable Sutton everything she thought she could possibly want. Just not what she truly desires — a family. Then she realises the answer could be back in her small Australian hometown with her first love, brooding bachelor Rafe Thorne. He's the only man she's ever felt at home with, but will he be prepared to take a leap of faith on her outrageous proposal?
You can stream every episode of Friends right now on Binge.