I can't resist a good mystery. There is something addictive about the race to guess the villain before the protagonist shares what they know, and even better when the crime is solved by an amateur female sleuth with a passion for fashion!
In my latest novel, The Lady Detective, Lady Theodosia Fortescue-Brown is a confident and independent woman who loves fashion but uses it to repel and distract rather than attract members of the opposite sex.
Here are some of the best historical amateur female sleuths from books / TV shows who also satisfy our fashion needs…
Miss Scarlet and the Duke (TV series 2020)
This series is currently showing on Netflix—after her father's death, the feisty Miss Eliza Scarlet takes over his private investigation business and has to work hard to smash the patriarchy. Sound familiar? Calling on her pal, Scotland Yard Inspector William Wellington, 'The Duke', she takes her detecting skills from drawing rooms to the dodgy back streets of Victorian London.
But enough about that business, let's talk about the hats. The Hats! THE HATS!
Enola Holmes (2020)
Although technically YA (Enola is the teenage sister of Sherlock Holmes), this movie is perfect viewing for anyone who enjoys period costume, beautiful scenery and female-led mysteries. No murders here—Enola is on the hunt for her missing mother.
With custom-designed, hand-dyed and hand-sewn costumes by Oscar-winning costume designer Consolata Boyle (Victoria and Abdul, Florence Foster Jenkins, The Queen), this movie is a visual feast. We watch as Enola moves from a poorly mannered wildling dressed as a young boy into a lady in the most sumptuous of gowns. Even her morbid widow's weeds are a sight to behold.
Miss Marple (TV series, 1984–1992)
One of Agatha Christie's most famous characters (second only to the formidable Hercule Poirot, of course), Jane Marple is an overlooked elderly woman who always seems to find herself in the wrong place at the wrong time. This knitting spinster is often dismissed as harmless by those around her, but unfortunately for the villains, Marple's intelligence is as sharp as her needles.
Like Theodosia, Miss Marple understood the power of the right outfit to blend into the scenery when required, although given the range of Marple's ever-changing hand-knitted outfits it is a wonder she had any time to do any sleuthing.
Murder, She Wrote (TV series, 1984–1996)
Angela Lansbury as Jessica Fletcher is our original glamour lady detective. A writer who moves to a sleepy little town, one with an astoundingly high mortality rate, she solves crimes while serving us the very best of eighties fashion.
Like Theodosia, Ms Fletcher solves her crimes while serving us more fashion 'lewks' than we can handle. Big earrings, big hair and big 'tude.
Check out the Instagram The Murder She Wrote Look (@murdershelook), a page dedicated to some of her best looks.
Miss Fishers Murder Mysteries (TV series, 2012–2015).
Arguably now more famous for the fashion in the show than the books, Phyrne Fisher's wardrobe has travelled Australia-wide with its own exhibition.
Unapologetically glamorous, Miss Fisher's fashion reflects her outré attitude to the societal norms of the 1920s and is an outward expression of her desire to do as she pleases. Lady Theodosia wields a parasol like a weapon, but Phyrne may well be the only female detective able to withstand murder attempts in a silk pyjama pantsuit without dislodging a single strand of her jet-black bob.
The Bletchley Circle (TV series, 2012–2014)
This 1950s-set murder mystery series celebrates the role women played in deciphering enemy code during World War II.
This series has strong female characters, gripping suspense, a mystery that will keep you on the edge of your seat and great 1950s fashion. Although it is set in London during war and strict rationing, our Bletchley ladies approach their serious work in kitten heels, polka dot dresses, cropped cardigans and coats so glamorous it makes this Brisbane writer want to move to the UK.
---
About the Author: Ava January
Ava January is a historical romance writer living in sunny Brisbane with her two sons and a Spoodle named Stroodle.
When she isn't breaking up fights over strangely shaped pieces of plastic, she can be found obsessing over Victorian era fashion (in the name of research, of course!) and avoiding housework.
Merging humour with romance and a sprinkle of mystery, Ava writes stories about strong heroines and the men who love and accept them, just the way they are.
Her work was longlisted for the 2019 Richell Prize.
Find out more about Ava's latest book The Lady Detective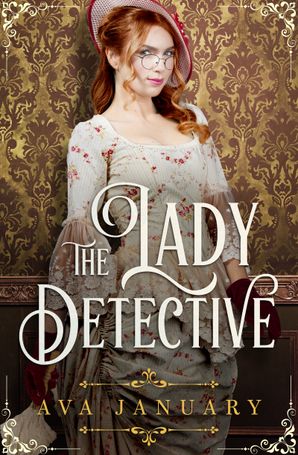 London's lawbreakers and loathsome lords … beware!
How does a wealthy widow avoid the marriage market in 1890s London?
If you're Lady Theodosia Fortescue-Brown, you hide behind outrageously bad clothing and glasses you don't need.
After the disappearance of her husband, Theodosia can't imagine giving up her freedom to marry again and relishes her role as detective to the ladies of the upper echelons of society.
When a priceless necklace on loan from the Royal family is stolen, Theodosia must work with the scandalous Lord Montague to recover it before the theft is discovered.
But somewhere between setting a brothel on fire, being knocked out in a cemetery in the middle of the night, and narrowly avoiding death via Scotch egg, Theodosia and William fall in love …