Those of you who follow me on social media will know from my regular Beach Monday posts that I LOVE the beach. So it's probably no surprise to anyone that my new release Redemption of the Maverick Millionaire is set at the beach. Mirror Glass Bay is a fictional township half an hour from Byron Bay, and this to-die-for setting is a mash-up of all the things that I love about the beach.
In the interests of celebrating all things beachy, therefore, here are five of my favourite movies and TV shows that feature a beach:
5. Muriel's Wedding
The scene on Hibiscus Island where Muriel and Rhonda perform a karaoke act to ABBA's 'Waterloo' is an utter delight. If you've never seen it, go watch the clip on YouTube. Or, better still, just go and watch the movie. Hibiscus Island is the epitome of the kind of resort holiday we all dreamed about when we were in our later teen years (and may still dream about)…
4. The Durrells
I love this TV series for so much more than its location, but seriously, folks, THE LOCATION! It's set on Corfu and I could watch it just for the setting porn alone. The Durrells live in an old ramshackle house right on the Ionian Sea. Bliss, I tell you. Sheer bliss!
3. The Castle
Okay, so Bonnie Doon isn't exactly a beach—it's a lake—but the Kerrigan family's enthusiasm for their holiday destination is what life is all about, right? This is the kind of enthusiasm that we should always embrace for the beach. Every time I watch the 'We're going to Bonnie Doon' sequence, I break into a big grin—it's pure distilled joy.
2. Big Little Lies
I hoovered the book with gay abandon and then waited with bated breath for the TV series. I thought I might be disappointed that the series was set in America rather than using its original Australian setting, but Monterey in California was a revelation. And perfect. Oh, those shots of the ocean and beach! And despite all of the secrets and lies bubbling beneath its perfect surface, Monterey took me right to my happy place.
1. Mamma Mia
Okay, and speaking of my happy place… Nothing can possibly beat a Greek island and ABBA mash-up, I promise you. The island of Kalokairi took my beach dreaming to new heights. The views of the Aegean as Donna drives Rosie and Tanya up to the hotel are breathtaking. That beach where Sophie and Sky sing 'Lay All Your Love on Me' and the one where Tanya sings 'Does Your Mother Know' are to die for. A Greek island overloaded with beaches and seascapes + ABBA + romance = perfection. Honestly, what more does one need?
---
When MICHELLE DOUGLAS was asked what she wanted to be when she grew up she answered, "A writer." Years later she read an article about romance writing and thought, ooh that'll be fun. She was right. She lives in a leafy suburb of Newcastle on Australia's east coast with her own romantic hero who is the inspiration behind all her happy endings. Visit Michelle at her website www.michelle-douglas.com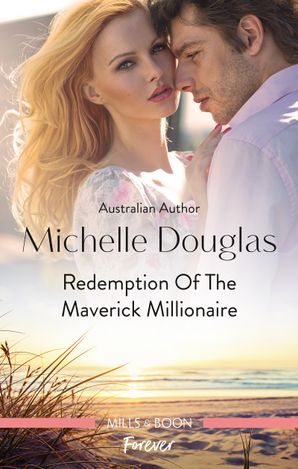 The man who broke her heart…wants to win her back!
Millionaire entrepreneur Damon Macy bitterly regrets betraying Eve Clark four years ago. Preventing a massive development in her beloved seaside town seems the perfect way to make amends. Only, his 'knight in shining armour' strategy backfires spectacularly — she supported the project! Now Damon must work closely with the still devastatingly stunning but now wary Eve to redeem the situation — and hopefully himself in the process…