If you're a fan of contemporary romances and rom-coms like I am, you'll enjoy Romance on the Menu. It's not often I watch a movie the day it lands on Netflix but this was too cute to resist. I'm a foodie so anything with 'menu' and 'romance' in the title? I am so there!
This is a classic 'fish out of water' tale when New York chef and restaurateur Caroline Wilson inherits a café in Lemon Myrtle Cove after her aunt dies. (Freaky aside, the rural romance I'm currently writing was originally set in Lemon Myrtle Cove, a small seaside town, until I changed the name to Acacia Haven. How weird is that?) Caroline loves her life in New York City so has no intentions of keeping the café. She travels to Australia to organise the sale of the café. However, things don't go quite to plan as the team of locals working at the café, particularly the charming chef Simon Cook, don't want to sell and happily throw a few proverbial spanners into the works.
Caroline finds herself falling for the local charms of Lemon Myrtle Cove. And yes, she falls for Simon. He's a real knight in shining armour and comes to her rescue repeatedly. As Caroline reconsiders her decision to sell the Seagull Café, her ex fiancé arrives unexpectedly, but it makes her only more determined to shed the life she once had.
Through a few misunderstandings, namely Caroline thinking Simon wooed her in the hope of changing her mind about selling the café, she puts a stop to their developing relationship. But she does have a change of heart about the Seagull Café and leaves it in the locals' capable hands while she returns to NYC, refreshed and invigorated.
In true romantic style, Simon pays her an unexpected visit in NYC and they finally, finally, admit their love and share a pash.
Sure, there are a few corny moments, like Caroline not understanding what sangers are, catching a hat while fishing, falling into Simon's arms when catching pippies and the food fight in the pantry, but it's a sweet romance and overall it's swoon-worthy.
Here's what's trending and premiering on Netflix Australia this weekend: #EnolaHolmes, starring Millie Bobby Brown as Sherlock's ingenious sister in genre-bending family fun; #RomanceOnTheMenu, a local rom-com with a sweet tooth; and more. pic.twitter.com/KgSBM4Vd0M

— Netflix ANZ (@NetflixANZ) September 25, 2020
These Snippets Made Me Smile
The location
First up, I LOVE that this was filmed in Australia and featured a predominantly Aussie cast. Too often we see Aussies in movies played by other nationalities and those fake accents never work. The movie was shot on location in the Brisbane area of Shorncliffe and looks like a great place to live.
The hero
Following on from the above, having Aussie actor Tim Ross play the romantic hero Simon Cook was an inspired choice. I loved him in Wonderland (miss that show!) and he was the right mix of charming and self-deprecating in this role to make him the perfect lead.
The dog
Spatch, the dog, was utterly adorable. He belonged to Caroline's dead aunt, and now lives with Simon. He mirrors Caroline and Simon's emotions perfectly and stars in the meet-cute when Caroline first arrives in Lemon Myrtle Cove.
The food
The scene when Caroline first arrives to check out the Seagull Café and orders six different things on the menu is funny. She's critiquing everything to Simon (the fish and chips are under-seasoned, the meat pie is over-baked, etc…), who turns out to be the chef. And yeah, Simon was right, that was way too much Vegemite on the toast!
I am watching Romance on the Menu — a cheesy romance set in Australia — and I am SCREAMING at their Australian cafe menu pic.twitter.com/YR8HnoIc2h

— Jenna Guillaume⁷ (@JennaGuillaume) September 24, 2020
The cooking
I'm a huge fan of any romance, whether in book or screen form, that features cooking and this one showcases it at its heart. Not only do Caroline and Simon have a cook-off (she wants to best his Aussie meat pie, he wants to beat her New York baked cheesecake), it shows Caroline cooking with several other characters, both at her fancy restaurant Laboratoire in NYC and in Lemon Myrtle Cove. Love a good foodie flick!
The community
Community is a feature of small-town romances and I loved the pier party, where locals gathered to share good food and dance. So heart-warming. Of course Caroline's ex-fiancé chooses that moment to arrive unexpectedly via his mate's private jet. Ugh. We want more Simon Cook please!
The boat
While Caroline's in town, she's renting out a cottage…that happens to be owned by Simon. When he asks her on their first date, he takes her to a boat, which is where he's living while he rents out the cottage. It's the perfect romantic setting at sunset, as our couple destined to be together start to open up to each other and share an almost-kiss…
If you love pure escapism, curl up on the couch with a Tim Tam or three and watch Romance on the Menu.
---
Nicola Marsh
USA Today bestselling and multi-award winning author Nicola Marsh writes feel-good fiction…with a twist.
She has published seventy books and sold over eight million copies worldwide. She currently writes rural romance for HarperCollins Australia's Mira imprint, emotional domestic suspense for Hachette UK's Bookouture and contemporary romance for Harlequin Dare.
She's a Romantic Book of the Year and National Readers' Choice Award winner.
A physiotherapist for thirteen years, she now adores writing full time, raising her two dashing young heroes, sharing fine food with family and friends, barracking loudly for her beloved North Melbourne Kangaroos footy team, and curling up with a good book!
Readers can visit Nicola at her website here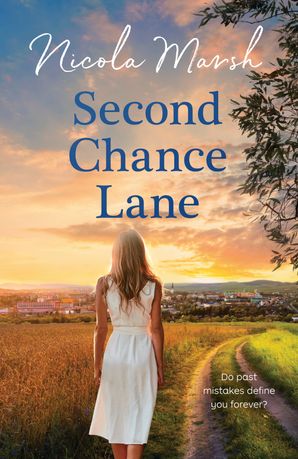 When the past crashes into the future, there's more than hearts on the line.
Natasha Trigg leads a simple life in small-town Brockenridge. She works at the roadhouse, has good friends, and at the centre of her world is her daughter, Isla. She knows dumping musician Kody Lansdowne thirteen years ago by misleading him about her pregnancy was best in the long run. She drove him away so he could achieve his dreams but has always felt guilty. When a matchmaking Isla invites a surprise new neighbour to dinner, Tash and Kody come face to face once again…
Now a bona fide rockstar, Kody's in hiding to sort through the mess his life has become after a concert resulted in devastation. The last thing he needs is discovering he has a child. Especially as it means the one woman he's never been able to forget is now permanently part of his life. Pity he's so furious with her…
For Jane Jefferson, who has deliberately fooled townsfolk into believing her reputation is worse than it is for years, a second chance is something she thought she'd never get. Reconnecting with friendships she thought lost forces her to face the question: do past mistakes define you forever?
While navigating the troubled waters of forgiveness, friendship and love, will these three Brockenridge residents discover everyone deserves a second chance?