Last week it was announced that McLeod's Daughters is coming back as a movie! We are BEYOND excited, so we asked author Janet Gover, who wrote a brilliant piece earlier this year giving us 10 reasons to binge-watch McLeod's Daughters, to give us 9 things she's hoping to see in the McLeod's Daughters movie.
---
We're going back to Drover's Run! How excited are you, on a scale of 1 to 10? What? Only 10? I'm hovering somewhere around 18.
It's more than 11 years since we left Drover's. I wonder what's changed. Writer Posie Graeme-Evans has started posting about the film on her Instagram account – but she hasn't let any cats out yet. But here are this fangirl's thoughts on what I would like to see in The McLeods of Drover's Run:
**SPOILERS ABOUND if you haven't watched all 8 seasons of McLeod's Daughters**
9. I will miss both Claire and Alex. They were key to my initial love of the series and I cried buckets when they died. They can't come back, but I would like to see them remembered – maybe a quick flashback scene so we can see them once again and have one of those 'reach for the tissues' moments.
8. I guess the house it will be updated and modernised – possibly a new computer in the office. But please don't take it too far. I want to feel it's the same place. Can we have some of the same pictures on the wall and some of the same furniture please? It'll be old by now, but old is good because it's familiar and comforting.
7. Horses and wide open spaces and rural community. These were always at the heart of the series. I miss them – especially right now.
6. Stevie and her son. I didn't warm to Stevie when she first appeared. I missed Claire too much. But I want to see how she and 'Wombat' are doing. In fact, all the next generation of kids should be old enough now to have some story of their own.
5. I always thought Jodi would grow into a strong, loving woman once she got past her teenage poutiness. I want to see the woman she is now that she is a mother…she is a McLeod, after all.
4. I want to see Becky come back, even briefly. I always loved her character, and I cried for her more than once. She earned a better life – and I want to be reassured that she has it.
3. Charlotte. I guess by now she must be 17 – ish? Maybe a bit older by the time the movie gets to our screens. I want her to come back to Drover's. Claire would want her daughter there.
2. Tess and Nick. Nick was always my favourite of the Ryan boys. Please bring Nick and Tess home to Drover's so we can see them living their happy ever after. Also, actor Myles Pollard is still seriously gorgeous.
1. And most of all, I want to find that same feeling of joy and love and hope for the future that drew me into the show right from the first series. 2020 has been a pretty awful year so far, and I want to look at those horses running past that windmill and feel life is getting better.
Of course, now I have to watch the whole series…again. Just to prepare for the movie. Will you be joining me?
---
Janet Gover
Janet Gover grew up in outback Australia, surrounded by wide open spaces, horses … and many, many books.
She is a self-confessed 'bit of a geek girl'. When not writing novels she works in IT—in really dull places like Pinewood Movie Studios, Puerto Rico and Iraq.
When her cat lets her actually sit in her chair, she writes stories of strong women, rural communities and falling in love. Her novel Little Girl Lost won the Epic Romantic Novel of the Year Award presented by the Romantic Novelists' Association in the UK, and she has won or been shortlisted for awards in Australia and the USA.
As Juliet Bell, in collaboration with Alison May, she rewrites misunderstood classic fiction, with an emphasis on heroes who are not so heroic.
Her favourite food is tomato. She spends too much time playing silly computer games, and is an enthusiastic, if not always successful, cook.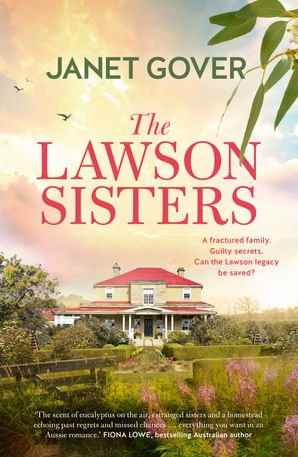 A heartfelt and compelling story of family, secrets and second chances, set in the heart of the beautiful Hunter Valley of NSW, from an award-winning new voice in Australian fiction.
Family, fortune and holding on to what counts…
For many years Elizabeth Lawson has battled single-handedly to run the family's historic horse stud in memory of her beloved father. But a devastating loss puts her dreams at risk. With no options left, Liz is forced to turn to her estranged sister Kayla for help.
Kayla has built a new life in the city as a wedding planner, far removed from the stableyard sweat and dust of her rural upbringing. She never thought she'd go back. But when Liz calls out of the blue, Kayla forms a plan that could save their childhood home.
Kayla's return forces Liz to confront her past … and her future, in the shape of Mitch, her first and only love, who still watches over her from the other side of the creek.
But Liz still hides a terrible secret. When Kayla learns the truth, will the Lawson sisters find common ground or will their conflict splinter the family once again?
'With the scent of eucalyptus on the air, estranged sisters and a homestead echoing past regrets and missed chances, The Lawson Sisters has everything you want in an Aussie romance.' – Fiona Lowe, bestselling Australian author