Ahead of the release of her new book, set in the fictional town of Chalk Hill, Lily Malone introduces us to her new characters!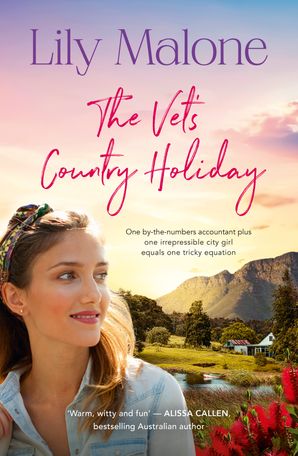 ---
There's a pub in Chalk Hill. A general store. A hardware store. A second-hand shop. A butcher. A baker. But no candle-stick maker
So, Chalk Hill is your classic country 'blink and you miss it' type of town, right? And it's packed with small-town characters. If you've read one of the earlier Chalk Hill novels, you might remember red-headed female tsunami Irene, town matriarch and knower of everyone and everything. Irene volunteers at the second-hand shop, and she's on duty when newcomer to Chalk Hill, city-vet-on-holiday Isabella Passmore, happens on by.
Izzy is having just a little difficulty adapting to country life. (AKA: it is way too quiet and boring for our city girl). She's indulging in retail therapy and the only outlet for retail therapy in Chalk Hill (a town with one main street) is the small-town staple of the second-hand shop.
Irene being Irene (local bulldozer who never gives anyone an opportunity to say 'no'), convinces Izzy to mind the place for ten minutes while Irene catches up with someone she spots across the road, and Izzy is just bored enough to think that some volunteer work might be fun.
In the time Irene's away (much longer than ten minutes because she does love a good chin wag), all hell breaks loose, and during the chaos Izzy is saved by the very welcome form of tall dark handsome stranger, Elliot Fields. Forensic accountant. Knower of numerical things.
Elliot is the estranged son of the people who own Chalk Hill's number-one tourist facility—the water-ski park.
The water-ski park is a huge man-made lake on Elliot's parents' farm, about 9km out of town. Elliot hasn't been home for years, nor has he seen the park. All he knows is it's draining the family finances and his parents need him to work out why.
So our numbers man is about to meet the irrepressible Izzy. All the algebra is about to get scrambled, and the tried-and-true equations suddenly ain't gonna add up.
We're counting down the days until release. Elliot will count the days because he likes counting. And Izzy? All she wants is somebody to give her a problem that involves a dog and not a decimal point. Please!
We can't wait for you to meet them both.
---
ABOUT THE AUTHOR: Lily Malone
Lily Malone might have been a painter, except her year-old son put a golf club through her canvas. So she wrote her first book, His Brand of Beautiful, instead. Lily has now written six full length rural romance stories and a novella all published by Harlequin Escape. Her debut trade paperback, The Vineyard In The Hills, was published by Harlequin MIRA in September 2016. Last Bridge Before Home is the third of three books set in the fictional Western Australian town of Chalk Hill, a town which, in Lily's imagination, is about halfway between Manjimup and Mount Barker on the Muirs Highway. Book One was Water Under the Bridge, published in February 2018, which is Jake and Ella's story; and Book Two, The Café by the Bridge, followed Taylor and Abe.
When she isn't writing, Lily likes gardening, walking, wine, and walking in gardens (sometimes with wine). She also doesn't mind the odd game of cards and loves her regular Thursday Night hand with the Card Girls. She lives in the Margaret River region of Western Australia with her husband, and two handsome sons who take after their father. Lily is a member of Australian Rural Fiction and Australian Fiction Authors. She loves to hear from readers and you can find her on Facebook, and on Twitter: @lily_lilymalone. To contact Lily, email lilymalone@mail.com or visit www.lilymalone.blog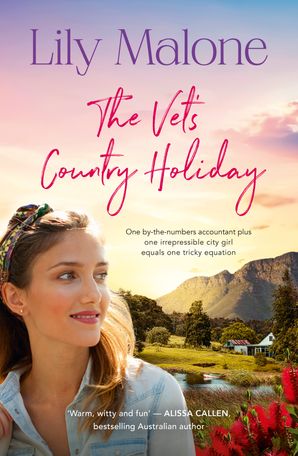 One irrepressible city girl plus a by-the-numbers accountant = a tricky equation…
For city vet Isabella Passmore, the opportunity to pet-sit in the country knocks at the perfect time. Bring on that fresh air! But after three days of holiday bliss, Izzy is bored silly. If the air gets any cleaner, she'll start slinging mud. Then she gets offered work in the second-hand shop. Saved!
Maybe.
It's been years since Elliot Field's parents rolled out the red carpet, but Elliot only needs one day to learn that this welcome mat comes with strings. His parents' new business is sinking, and they expect him to fix their financial problems.
To prepare for the week from hell, he'll need a mug that's not steeped in bad memories, but nothing could prepare him for the employee he encounters at the second-hand shop.
For Izzy, pursuing Elliot is a most welcome diversion from walking another lap of town with the dog. For Elliot, their random encounters add up to the sum of much bigger things.
He's always been a numbers man and he's kept his heart locked away, but in irrepressible Izzy, is Elliot's number finally up?