This month we're celebrating all-things Friends! Here author Belinda Williams reminisces about some of the most memorable celebrity cameos from Friends.
P.S. You can stream every episode of Friends right now on Binge.
---
There's no question that Friends was, and remains, one of the best series ever to grace our television screens. Laughs, romance, drama—the sitcom had it all. And by 'all' we mean celebrities, too. Because let's face it, Friends was so awesome that even famous people were eager to make an appearance alongside our beloved Friends characters.
Here's a few of our favourite and most memorable celebrity cameos that made us laugh (and occasionally squirm):
Reese Witherspoon
The Morning Show wasn't Jennifer Aniston and Reese Witherspoon's first on-screen appearance together. Back in the nineties, Reese was a cute, adorable twenty-something who played Rachel's sister, Jill. When Ross starts dating Jill, things get super awkward … can anyone say 'jealous'?
Brad Pitt
Before Brangelina, it was all about Brad Pitt and Jennifer Aniston. That's why it was so hilarious when Brad (then married to Jennifer Aniston in real life) played an old school friend of Monica's who just happened to have a long-standing grudge against Rachel. So much so that he was the co-founder of the 'I Hate Rachel Green' club.
Winona Ryder
Winona was another icon of the times who mastered the edgy, grungy look that was so classic nineties. As an amusing contrast, she played Melissa Warburton, an old college sorority sister of Rachel's—or should that be 'Ray Ray'?
Alec Baldwin
Who could forget Alec Baldwin? He played Phoebe's date, Parker, for two episodes, but didn't end up sticking around on account of his overbearing cheerfulness. It seemed like the Friends gang couldn't stomach Alec being that happy.
Hugh Laurie
Before he became known as the surly doctor on House, Hugh played an airline passenger sitting next to Rachel. He's clearly not impressed with Rachel's plan to ambush Ross's wedding. In true House form, he doesn't hold any punches when it comes to his opinion of Rachel, made all the more cutting thanks to his British accent.
Ben Stiller
Ben Stiller came into his own in the nineties, starring in movies like There's Something About Mary. He also became known for his role as 'The Screamer' on Friends. He proved not to be one of Rachel's better boyfriend choices thanks to his tendency to lose his cool and get shouty about minor offences like someone sitting in the wrong seat.
Bruce Willis
Playing Paul Stevens, the father of Ross's new girlfriend, Bruce Willis came away with an Emmy for his multi-episode performance on Friends. The plot included him dating Rachel, because in his own words, 'I'm just a love machine'. We're not going to argue with that, Bruce!
Elle Macpherson
As the only Aussie to appear on Friends, Elle starred in five episodes as Joey's flatmate, Janine. Of course they ended up dating! We'd be mad at Joey if they didn't. But sadly Janine didn't stick around due to her not getting along with Monica and Chandler. Hint: when Monica doesn't like you, don't be alone in the hallway with her!
Susan Sarandon
As an actor trying to crack the big time, Joey was lucky enough to get a few acting tips from Susan Sarandon. Not actually from Susan herself. On the episode that she appeared in Susan played actress Cecilia Monroe playing Jessica Lockhart, a fictional character on Days of our Lives. No wonder Joey was confused!
Danny DeVito
A stripper may not be the first thing that comes to mind when you think of Danny DeVito, but then that's why Roy the stripper, Danny's character on Friends, scored so many laughs. He certainly wasn't what Phoebe had in mind for the hen's night, that's for sure! The fact that she tells him so only makes it more amusing.
George Clooney + Noah Wyle
When Rachel sprains her ankle in the first season of Friends, she gets Monica to swap names with her because she doesn't have health insurance. Enter Dr Mitchell (George Clooney) and Dr Rosen (Noah Wyle). The girls deserve a high five when they manage to land a double date. Except there's the small problem that the doctors think Rachel is Monica, and Monica is Rachel. You can guess how well it goes…
Julia Roberts
Turns out some people hold on to grudges for a really long time. Chandler discovers this the hard way when Susie Moss (Julia Roberts), who went to grade school with Chandler, finally gets her chance for revenge. He winds up in a men's room wearing nothing but her panties as retribution for calling her 'Susie Underpants' at school. Ouch.
Sean Penn
Phoebe believes that honesty is the best policy when she learns that her identical twin sister, Ursula, has been telling her boyfriend lies. The boyfriend, Eric, (played by Sean Penn) ends up taking Phoebe on a date, but in the end he's too weirded out by the identical twin factor.
Jean Claude Van Damme
What's better than a fictional celebrity cameo? The real thing! Monica and Rachel certainly seem to think so, and end up in a catfight over Jean Claude. Luckily, it's Phoebe to the rescue to sort them out.
Isabella Rossellini
Ah, the list. You know the one. It features high-profile celebrity names that you would be 'allowed' to sleep with. The chances of that happening, of course, are approximately zero to none. But for Ross it's closer to minus territory when, after removing Isabella Rossellini from his final list, she comes into Central Perk playing none other than herself. Ross tries to hit on her anyway and, unsurprisingly, it doesn't end well.
These are just a few of the memorable celebrity cameos that left a lasting impression on us. Who were your favourite celebrities on Friends? We'd love to hear about them!
---
Belinda Williams loves writing contemporary romance including romantic comedy and romantic suspense featuring good guys. She's occasionally tempted by bad boys, but prefers to write strong woman characters and men with big hearts. Her other passions include music and cars. She's a lead vocalist in several cover bands and her eclectic taste forms the foundation of many of her story ideas. Her writing hasn't paid for a Lamborghini just yet, so she settles for her son's Hot Wheels collection. Belinda lives in Sydney, Australia.
Belinda's latest book Don't Let Me Forget is out now.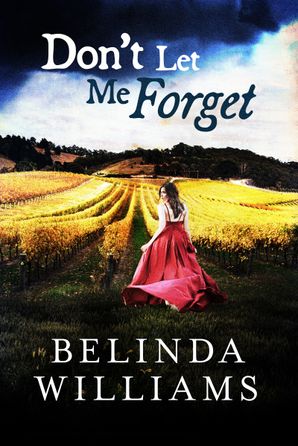 You can stream every episode of Friends now on Binge