There are many novels, movies and television series—romantic comedy, action, horror and drama—that feature characters who are writers. And thankfully for the reader or viewer, these characters do far more than simply scribble in a notebook or tap on a keyboard all day. I loved writing the story of a historical romance author (a very modern-day Miles Franklin), in my novel On the Same Page. Miles practices as a lawyer by day and writes romance by night, two occupations that aren't as different as some might think! In anticipation of the release of On the Same Page, I thought it might be interesting to look at other stories featuring characters who are writers.
The romantic comedy action-adventure movie Romancing the Stone was released in 1984 and is a long-standing favourite of mine. The film had something for just about everyone, so it's not so surprising it was not only a resounding hit but has very much stood the test of time. Kathleen Turner is vulnerable yet tough Joan Wilder, a successful historical romance novelist. And Michael Douglas is a perfect Jack T Colton, an adventurer bad boy.
There are a number of highlights in this movie—a drug lord who turns out to be a loyal fan of Joan's romance novels (much to Jack's surprise), and a hero who comes to appreciate that Joan is every bit as capable (and far more imaginative) than he is. Joan has written plenty of dangerous scenes for her characters, but is forced to adapt to experiencing danger firsthand. Jack is the classic romantic hero in some respects, but only becomes a true hero through his growing respect for Joan. When Joan says to Jack, 'You're the best time I've ever had,' he responds, 'I've never been anyone's best time before.' The love story, the action, the laughs—there is so much to enjoy in watching and re-watching this movie!
In Paperback Hero, Jack Willis (played by Hugh Jackman) is a truck driver who writes a best-selling novel under the pseudonym Ruby Vale, which happens to be his best friend's name. The real-life Ruby is played by the compulsively watchable Claudia Karvan who, when she travels with Jack to promote the book, discovers the novel is really about their relationship—or how Jack would like it to go. The problem is, Ruby is engaged to marry Jack's best friend! Towards the end of the movie, Jack's agent asks, 'Are you a truck driver who writes books, or a writer who drives trucks?' This heart-warming 'friends to lovers' movie is a lot of fun, and showcases many excellent Australian actors.  
Colin Firth plays writer Jamie in the 2003 film Love Actually, and his love interest is the beautifully portrayed Portuguese housekeeper Aurélia (Lúcia Moniz). One of the funniest scenes in the movie is when Jamie's manuscript flies into a lake in France, and Aurélia jumps in to rescue it. Jamie is clearly horrified at the loss of his work—but by the end of the scene, he only has eyes for Aurélia. This is such a sweet slow-burn romance and was a highlight of the movie for me (this might also have had something to do with Colin Firth…)
And now for movies about writers that I'm told by writing friends that I can't NOT mention. There's Misery, the 1990 adaptation of a Stephen King novel—Kathy Bates, who plays Annie Wilkes, won an Academy Award for best actress. Annie finds writer Paul Sheldon (played by James Caan) with broken legs and other injuries and, proclaiming herself to be 'his biggest fan,' takes him back to her cabin in the woods to care for him. The trouble starts when Annie works out that Paul has 'killed off' Misery Chastain, one of his well-known characters, and she holds him captive while forcing him to write another novel bringing Misery back to life. If not for the violence (I understand Annie gives a whole new meaning to the word 'hobbled') this movie actually sounds quite good!
For another Stephen King novel adaptation, Jack Nicholson's portrays aspiring writer Jack Torrance in The Shining (1980). The movie trailer alone was enough to terrify me!
Shakespeare in Love was a 1988 movie starring Joseph Fiennes as William Shakespeare and Gwyneth Paltrow as Viola de Lesseps. The movie won seven Academy Awards, and is not only a well-told romance, but is sprinkled with Shakespeare's brilliant words throughout. Gwyneth is radiant in one of her first big screen roles.
Characters who write romance are often forced to challenge their ideas of love. Miles from On the Same Page falls in love with a man who, against all expectations, turns out to be the real-life version of every romantic hero she has ever written. In Romancing the Stone, it turns out that Joan isn't the hopeless romantic she's always thought she was, but a hopeful romantic—and she discovers that through falling in love with Jack. There are many writers to be found in books and on the screen, and soon enough I'll be able to add another to my list. The Lost City, starring Sandra Bullock as a romance writer, will be on our screens in April, and I can't wait to see it!
---
ABOUT THE AUTHOR: Penelope Janu
Penelope Janu lives on the coast in northern Sydney with a distracting husband, a very large dog and, now they're fully grown, six delightful children who come and go. Penelope has a passion for creating stories that explore social and environmental issues, but her novels are fundamentally a celebration of Australian characters and communities. Her first novel, In at the Deep End, came out in 2017 and her second, On the Right Track, in 2018. Up on Horseshoe Hill was published in 2019, a novella, The Six Rules of Christmas, in 2020, and then Starting from Scratch was released in 2021. Penelope enjoys exploring the Australian countryside and dreaming up travelling and hiking breaks, and nothing makes her happier as a writer than readers falling in love with her clever, complex and adventurous heroines and heroes. She loves to hear from readers, and can be contacted at www.penelopejanu.com.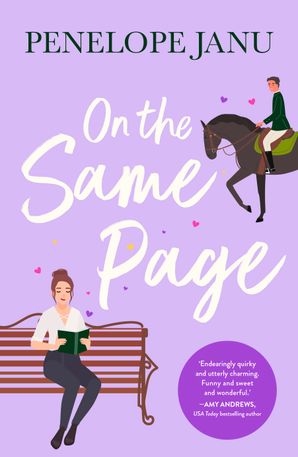 For readers of Mhairi McFarlane, Beth O'Leary, Lindsay Kelk and Sally Thorne comes this utterly charming and delightfully funny love story where opposites attract – or do they?
By day Miles Franklin, named after the famous author, is a successful lawyer. By night, in secret, she writes historical romance novels under the pen name Emma Browning. When 'Emma's' novels win one of Australia's biggest literary awards, Miles's perfectly ordered life begins to unthread at the bindings. Especially when Lars Kristensen, CEO of the publishing company contracted to publish the prize-winning books, insists on meeting the author.
Besides mutual antipathy and sexual attraction, socially anxious Miles and supremely confident Lars have nothing in common. Nothing. But the more time they spend together, the more blurred the lines between fact and fiction and love and hate become.
Miles is determined to both protect her privacy and to keep writing-even if it means mastering pole dancing, choreographing a love scene in the back of a horse-drawn carriage, and confronting the prejudices of her parents and publishers.
Like the heroines in her books, Miles has the grit to stand her ground. But Lars has the smouldering looks, arrogance and pride of all her romantic heroes rolled into one. And he is good at reading between the lines. Who is going win this battle of wills? Can Miles and Lars ever be on the same page?
'Endearingly quirky and utterly charming. Funny and sweet and wonderful.' -Amy Andrews, USA Today bestselling author