I was a MASSIVE fan of Packed to the Rafters when it first aired in 2008 and remained a faithful viewer until it ended in 2013. The episode when Hugh Sheridan's character Ben's wife Mel (Zoe Ventoura) died in a car accident is probably one of my most memorable in the history of Aussie television – I felt like she was real and like I'd lost a friend. I wanted to hug Ben and become his second wife (even though I was already married) because I loved him so damn much.
When I heard they were doing a reboot (Back to the Rafters, streaming on Amazon Prime) I was both excited and terrified that it would be a let-down. So I sat down to watch the first episode and I'm still undecided whether I'm invested or underwhelmed.
It started with a flashback to the end of the final episode of the final season, which reminded me that Jules, Dave and late-in-life baby Ruby had taken off on a road trip, not sure when or if they'd return to the city. This was much appreciated as I can't remember what I ate for dinner last night, never mind a TV show I haven't watched in almost a decade.
So … let's do a quick catch up on where the Rafters are six years later.
Jules, Dave and Ruby have settled in idyllic Burradeena – Dave appears to be happy with country life, but Jules and Ruby aren't so convinced. After a poo scandal at the primary school art show, in which Ruby's political activism through art is not appreciated by the principal or the locals, Jules starts longing for her old life in the city, where she'd be closer to her kids (at least the boys, Rachel is in NY) and her dad, who now has dementia and lives in a nursing home.
Instead of their other kids (Ben, Rachel and Nathan) coming to visit them for their anniversary, they head to the city, and we finally see how our other fave Rafters are bearing up after all these years.
Ben seems blissfully happy with his new wife, Cassie, but we soon see they do have their issues. Cassie is pregnant after their fourth IVF attempt and wants to keep it a secret but Ben's too excited to keep mum! Nathan meanwhile is in a pickle – he's a single dad now and his apartment building is collapsing!! I can't remember what happened to his cute kid Eddie's mum, but he is feeling a little overwhelmed with everything life throws at him and almost loses the plot at one point. He clearly loves Eddie though.
Jules, Dave and Ruby visit Ted (Jules's dad) who now has dementia in his nursing home and it is HEARTBREAKING and oh so realistic.
The big question of the night is whether Rachel – now a big shot in New York City – will make it back for the special anniversary dinner at the local Chinese restaurant. Spoiler, she doesn't – but she does make an appearance on Zoom. I knew the moment she poured her bubbly down the sink after disconnecting that she was pregnant and a zillion questions formed in my mind: who is the father and why the hell is she not telling her VERY supportive family?
Dinner is a disaster, not simply because Cassie has had a miscarriage and is trying to put on a brave face for the celebrations and Ted says racist things about Ben's new wife and wonders where his old one is, but because their favourite restaurant appears to have been sold and the new owners don't give a damn about much at all! Eventually they all go home, make Kung Pao chicken at Ben and Cassie's place, and have a heart-warming dinner.
However, the episode ends on a cliff-hanger – Jules feels she should be in the city, nearer to her dad and to help her adult kids while they're going through tough times. Dave disagrees, he loves Burradeena and thinks the kids are old enough to look after themselves. They agree to sleep on it, but Jules delivers her blow just as Dave is drifting off to sleep – she wants to move back to the city, and it sounds like she plans to whether he agrees to or not!
Could this be the end of the Rafters' near-perfect marriage?
Highs:
Burradeena looked so adorable that I immediately had to find out if it was a real place. Intel on Twitter and FB suggests it's set in Berry, NSW, and a Google image search confirmed this to be true. I'm visiting as soon as I'm allowed to travel again but not sure the Rafters will still be there by then!
Hugh Sheridan – he's still as hot as ever!!
All the original (major) cast have returned – including crazy Donna from the club, where Ben still works, and his bestie, Carlos, who now appears to be a successful YouTube star. I can't wait to see more about this in future episodes.
Ruby is a crack-up – she's sassy, smart, and baffles her parents with mature phrases like 'diversionary tactics.'
Lows:
Mel didn't miraculously come back from the dead L
Michael Caton does such an amazing portrayal of dementia and it breaks my heart, reminding me how many real families are dealing with this also illness.
Ben and Cassie's miscarriage – hasn't Ben suffered enough?
Moments that didn't make sense:
Rachel looked so different – for a while I thought they'd replaced her with a new actress, but they haven't. Luckily the real Rachel is back, and I cannot WAIT to find out more about her pregnancy!
I can't say this episode was a very happy one – if it wasn't for Ruby's 'poogate', there wouldn't have been much to laugh about – but there is lots of potential for drama. Although not completely convinced yet, I'm excited to see how the series develops!
---
ABOUT THE AUTHOR: Rachael Johns
Rachael Johns, an English teacher by trade and a mum 24/7, is the bestselling ABIA-winning author of The Patterson Girls and a number of other romance and women's fiction books including The Art of Keeping Secrets, The Greatest Gift and Lost Without You. She is currently Australia's leading writer of contemporary relationship stories around women's issues, a genre she has coined 'life-lit'. Rachael lives in the Perth hills with her hyperactive husband, three mostly gorgeous heroes-in-training and a very badly behaved dog. She rarely sleeps and never irons.
Don't miss Rachael's upcoming book Outback Secrets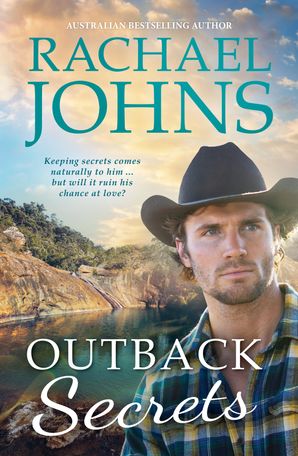 Keeping secrets comes naturally to him … but will it ruin his chance at love?
Liam Castle knows the secrets of everyone in Bunyip Bay. As the owner of the pub, he's heard it all – from marriage proposals and farming disasters to family rifts and everything in between. The locals love to confide in him, but no one knows he's hiding a tragic past.
And he wants to keep it that way.
Agricultural pilot Henrietta Forward lives for her job, choosing work over romance. But when an incident in the air brings Henri home to Bunyip Bay earlier than planned, she finds herself questioning everything she believes about herself.
But Henri's secret isn't her only problem.
Her mother will stop at nothing to have her settled down back in the Bay, and while Henri had always known domesticity wasn't the life for her, now she wonders what her future holds. So when Liam – always the first to lend a hand to those in need – agrees to play along with Henri's scheme to ward off her mother, she has mixed feelings. What happens when a pretend romance starts to feel like the real thing?
Will Henri's demons and Liam's traumatic past prove too great a barrier to love?