Rachel Armstrong's new book is a holiday romance as two old friends reunite in the gorgeous Whitsunday Islands. To celebrate its release we asked her to pick some of her favourite holiday romance stories!
---
As a lover of travel, landmarks, and pretty much everything about this magnificent world, vacation romances have always been one of my favourite tropes. While books always provide readers with an escape from everyday life, there's something extra exciting about setting off with a character on their own epic adventure. And since we've been deprived of such joy lately, perhaps there's never been a better time to indulge in a fictional holiday.
Going away on vacation is supposed to be a fun and relaxing time to explore exotic locations and gain new experiences. But as we all know, holidays don't always go according to plan. Travelling challenges and awakens you. It can help you discover dreams you never knew you had or give you a sense of pride when you tick something off your bucket list. Escaping everyday life gives you time to reflect, change, and overcome your fears. All of these things can create an amazing story, but throw in some romantic tension and characters are tested like never before.
In my new release Reunited with the Millionaire, both my hero and heroine are down on their luck when they run away to Hamilton Island together. Mirabella and Lincoln both use this escape to discover what their future holds. Lincoln believes his cannot possibly include Mirabella and that he's destined to be alone. But Mirabella has different ideas as she's convinced she can make Lincoln's dreams come true. Meanwhile, they indulge in many delights that the Whitsundays have to offer in a holiday they'll never forget.
I hope you enjoy the list below of some fantastic vacation romance movies where being whisked away puts the characters on the path to love.
Letters to Juliet (2010)
Perhaps one of the best vacation romances recently! While on a pre-honeymoon with her fiancé in Verona, Italy, Sophie discovers Juliet's House, where heartbroken women write letters to Juliet and her secretaries respond. While Victor turns their honeymoon into a working holiday, Sophie indulges in her passion of writing by responding to a 50 year old letter. This brings Clare and her cynical grandson Charlie to Verona to search for Clare's long-lost love Lorenzo. Sophie joins them on their road trip through the Sienese countryside and while bickering with Charlie and befriending Clare, she learns what true love is. With the rolling green hills and breathtaking vineyards, this movie will leave you longing for your own Italian road trip to find your soul mate.
Watch it on Foxtel
Dirty Dancing (1987)
A classic movie in many ways, but also a fantastic vacation romance. Baby is an innocent 'daddy's girl' who spends her summer vacation with her family in the Catskills at a lakeside resort. She is privileged and expected to go to college and join the Peace Core. But when she meets Johnny, she agrees to be his temporary dance partner and is drawn into the scandalous world of dance. Her parents would never approve, so Baby sneaks around to her secret lessons and spends her summer wrapped in Johnny's strong arms doing all sorts of mambos. It's a vacation she'll never forget as she defies her parents' rules, sheds her naivety, and falls in love with a bad boy.
Watch it on Stan
The Holiday (2006)
Who doesn't love a house-swap? Done with love, Amanda and Iris swap houses to escape their heartbreaks and each find themselves out of their natural milieu. English country girl Iris arrives at Amanda's LA mansion filled with all the latest gadgets while Amanda gets warm and cosy in Iris's remote cottage…with Iris's sexy brother! Iris's new friendship with a ninety-year-old Hollywood screenwriter helps her rediscover her self-esteem, which allows her to let go of her unrequited love and accept a date with composer Miles. Happy for the first time in years, Iris returns to England where Amanda has extended her stay after opening her heart and falling in love with Graham. A magical Christmas indeed!
Watch it on Netflix
Crossroads (2002)
There has never been a road trip as fun as Crossroads. Three childhood BFF's, who grew apart in high school, take a road trip across the US with a hunky guy (that they don't know!) to make their childhood dreams come true. Of course, the spontaneous trip doesn't go to plan, but they have plenty of fun singing in a rowdy bar, camping in the desert, and dipping their toes into the Pacific Ocean for the first time. Kit, Mimi, and Lucy each learn valuable life lessons, but it is Lucy who falls in love with Ben. When he writes her music for a poem she wrote, he inspires Lucy to abandon her father's plans for her life in order to chase her own dreams. It is a life-changing experience for each young woman as they leave their pasts behind and head into the future as best friends forever.
Rent it on Amazon Prime
Leap Year (2010)
When Anna's boyfriend of four years fails to propose, she follows him to Ireland to partake in the Irish tradition of a woman proposing to a man on February 29th. But it's a disaster! Her flight is diverted and she is left stranded on the beach in Ireland after a stormy ferry ride. Needing to get to Dublin, she employs the help of the gorgeous yet surly Irishman Declan to drive her through the stunning countryside to reach her boyfriend in time. Somehow, after a runaway car, missed trains, and a lot of bickering, she achieves her goal. But when Anna returns home with everything she ever wanted, the life lessons she learned in Ireland help her realise that what she wants isn't what she needs.
Rent it on Apple TV
Bride and Prejudice (2004)
Yep, I'm throwing this one into the mix and if you haven't seen Bollywood's take on Pride and Prejudice, then you must! American hotel tycoon Will Darcy gets quite the culture shock when he travels to Amritsar with his best friend Balraj for a wedding and finds himself drawn to the beautiful Indian girl Lalita. But Lalita is unimpressed by Will Darcy and his misjudged opinions about her country. Forced to spend time together while Balraj courts her sister, Lalita and Will continuously bicker during wedding celebrations and a trip to Goa, so she's more than happy to see him leave. But when Lalita travels to LA for a wedding herself, she meets Will again, and he is far more pleasant in his natural environment. As he shows her around LA and choppers her to the Grand Canyon (because why wouldn't you?), Lalita begins to see the softer side of Will and is able to open her heart to unexpected love in true spectacular Bollywood fashion.
Watch it on SBS On Demand
---
About the Author: Rachel Armstrong
Rachel Armstrong is a writer of contemporary romantic fiction ranging from rural to suspense. She creates epic feel-good stories and has a weakness for an adventurous holiday escape.
Rachel lives in Townsville, Queensland, with her border collie Jacob where she rehabilitates hearts as an exercise physiologist. In her spare time, she is either reading on the treadmill or plotting her next novel at yoga. Rachel's a keen traveller and has enjoyed many holidays exploring historic London, flying through the Grand Canyon, and hiking volcanos in Bali.
Rachel loves to connect with readers and fellow writers through Facebook, Twitter, Instagram, and on her website.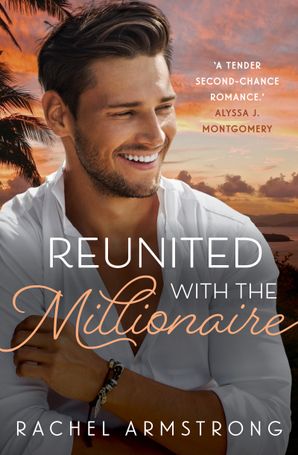 'A tender second-chance romance. Rachel Armstrong has a fresh, unique voice.' – USA Today bestselling author Alyssa J. Montgomery
Amidst pristine beaches, gorgeous hikes and breathtaking sunsets in the Whitsundays, can Mirabella convince the man she's always loved to open his heart to her and her child?
All Mirabella Goldring wants is a family. So when she falls pregnant to her boyfriend of six months, it's not the end of the world. Until she arrives in Sydney to surprise him and is met by his wife. Pregnant, alone, and facing her biggest fear-becoming a single mother-Mirabella heads back to the airport to return home to Melbourne. The last person she expects to encounter is her high school sweetheart, now millionaire CEO, Lincoln Crawford.
Lincoln is also down on his luck. Recently separated from his wife, he has given up his dreams of a family and is ready to live a life of solo adventure; starting with a trip to the Whitsundays originally planned for two. But when he runs into the girl he let get away ten years ago, he impulsively invites her to come with him. A tropical vacation with an old friend who looks like she needs cheering up sounds perfect.
When sparks start to fly, both Mirabella and Lincoln wonder if this might be something more. But there's one problem: After his own cold childhood living with a stepfather who didn't love him, Lincoln swore he would never adopt another man's child … and Mirabella is now a package deal.