A heart-stirring novel of loss, love and new hope set against the glamorous backdrop of 1950s Hollywood and a small Australian country town.
How far would you go to follow your dream?
Queensland, 1994: When location manager Claire Montgomery arrives in rural Queensland to work on a TV mini-series, she's captivated by the beauty of Starlight Creek and the surrounding sugarcane fields. Working in a male-dominated industry is challenging, but Claire has never let that stop her pursuing her dreams-until now. She must gain permission to film at Australia's most historically significant art deco cinema, located at Starlight Creek. But there is trouble ahead. The community is fractured and the cinema's reclusive owner, Hattie Fitzpatrick, and her enigmatic great nephew, Luke Jackson, stand in her way, putting Claire's career-launching project-and her heart-at risk.
Hollywood, 1950: Lena Lee has struggled to find the break that will catapult her into a star with influence. She longs for roles about strong, independent women but with Hollywood engulfed in politics and a censorship battle, Lena's timing is wrong. Forced to keep her love affair with actor Reeves Garrity a secret, Lena puts her career on the line to fight for equality for women in an industry ruled by men. Her generous and caring nature steers her onto a treacherous path, leaving Lena questioning what she is willing to endure to get what she desires.
Can two women-decades apart-uncover lies and secrets to live the life they've dared to dream?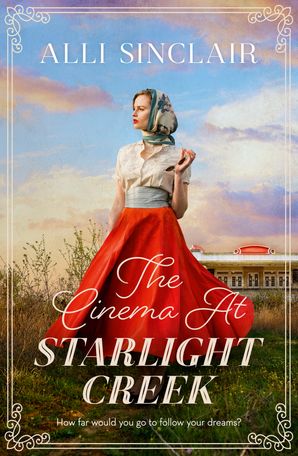 ---
CHAPTER 1
1994 – Ashton, Queensland
Claire Montgomery sank against the cushions of the rattan chair on the verandah of the Queenslander guesthouse. Her legs were weary, but her heart was full after a long day filming. She gazed at the moon shining bright in the inky sky—the one constant in her hectic, nomadic life.
Closing her eyes, Claire allowed the symphony of cicadas to lull her as she inhaled the magnificent scent of the myrtle nearby. Soon she could reward herself with a beach holiday in Bali—a stark contrast to her chaotic life in Melbourne. Not that she'd been in her hometown often since entering the film industry. These days, she spent a vast amount of time flying or driving, scouring the countryside for the perfect location for whatever TV show or movie she was working on at the time. One day, she'd move on to the role she'd dreamed about since she was a child—a documentary producer—although gaining this position had proved way harder than expected.
Right now, though, she had to concentrate on the job she was employed to do and so the long days of negotiating and troubleshooting whizzed by in a blur. She cherished this rare moment to get her mind and body ready for another day of filming Little Cinema, Big Dreams, a TV mini-series set in the 1930s that dramatised the life of architect Amelia Elliott. Getting permission to film in one of Amelia's renowned Art Deco cinemas had cemented Claire's position as location manager for Wattle Films. She'd just been promoted from location assistant and it felt like she'd finally taken one huge step up the rickety ladder she'd been clinging to these past three years.
She sipped her ice-cold glass of chardonnay. The taut muscles in her neck finally relaxed …
'Claire!'
She jerked forward. Wine sloshed out of her glass and onto the floorboards. Peering at the figure in the shadows, she spotted her long-time friend from film school, Phil Aitkens. He'd been living his dream of becoming a well-respected cameraman and she loved that they were working together on Little Cinema.
Phil stood with his hands on his hips.
'What is it?' She put down the glass and rubbed her eye.
'You need to get your butt down here. Now!'
'Huh?'
'Nigel's on the warpath!'
'What for?' Claire grabbed her satchel and slung it across her body. So much for a night off. Clunking down the wooden stairs, she made her way to Phil. 'What's happened?'
'You are never going to believe it.' He took off and she had to rush to keep up. 'Actually, you probably will.'
'James has been boozing and started a fight?'
'No, though it does have to do with our leading man.'
'He's been caught with his pants down?' She laughed but stopped when she saw Phil's serious expression. 'Who with? And why is Nigel in on it?'
'Given that Nigel is the director and James is the actor, Nigel gets to stick his nose in whenever he wants. Especially when James gets caught having sex with the cinema owner's just-turned-eighteen-year-old daughter.'
The tension that had slipped from her shoulders returned. 'Oh no.'
'Oh no, indeed.'
Claire kept pace with Phil as they hurried towards the cinema. Even a block away she could hear a commotion of deep voices and a high-pitched female one, screeching indecipherably.
As she drew closer, Claire noticed James slip away from the small cluster of mayhem. He disappeared into a dark laneway.
Tony Karter, the location assistant, stepped in front of her. 'Nice mess, Montgomery.'
'It'll be fixed.' Claire went around him then stopped. 'Perhaps you'd like to offer a solution?'
Tony shrugged and it took all her willpower not to explode. Ever since she'd gotten the promotion over Tony, he'd had it in for her. Her job of location manager was hard enough without having someone like Tony trying to undermine her every move.
Claire tried to shake off the negativity and approached Nigel, who clenched and unclenched his fists.
'Montgomery, you need to sort this out. He's threatening to pull out of the contract.'
'The cinema owner?'
'Who else do you think? You need to get him back on board.' He paused and peered at her over his glasses. 'I don't need to tell you the significance of this, do I?'
Her jaw tightened. Negotiating came naturally to Claire, which is why she was employed to do what she did. Already there'd been challenges along the way, like ensuring production staff didn't damage property and all the right permits were in place with local municipalities. Though dealing with the irate father of a daughter who had succumbed to the charms of an international playboy was not an everyday affair—thankfully. 'Where's Robert?'
Nigel cocked his head in the direction of the cinema owner, Robert Dennis, whose arms flailed as he yelled, 'This is a disgrace!' A few metres away his daughter, Annalise, sobbed in the arms of her mother. Camille Ford, the actress playing the role of Amelia, looked on, her expression one of helplessness. Tony sidled up to Camille and whispered in her ear. They both looked at Claire.
Steeling herself, she approached Robert who now stared at his feet.
'Robert,' Claire said quietly. Clearing her throat, she said a little louder, 'Robert.'
He looked up, his face creased with anger. 'I trusted you.'
'I'm sorry, I—'
'Save your apologies. It's over. I want everyone off my property and out of Ashton by end of tomorrow.'
'Robert, please—'
'Forget it.' The streetlights reflected in his eyes. 'She is eighteen. Eighteen. What does she know about the world? How could he do that to her?'
Since James had broken up with his fiancée six months ago, he hadn't exactly led a clean and tidy life according to the tabloids. He'd left a trail of booze and women in his wake and his agent, and Nigel, had thought working in remote Queensland might have put James on the straight and narrow. So much for those grand plans.
Robert rested his face in his hands.
'Robert, I absolutely understand why you'd be upset—'
'Don't give me your understanding, just get the hell out of here.' His expression was set hard, his eyes unblinking.
She drew a long breath. This was the part of her job she dreaded. 'I really don't want to remind you about the contract you signed—'
'I don't give a damn about the contract! You broke that contract when you let my daughter be dazzled and seduced by that playboy!'
'Mr Dennis, if we can just talk about this, find a way—'
'I'm done talking.' He turned and stormed past his wife and daughter. Annalise's mother followed him into the cinema while Annalise stood outside, her eyes puffy.
Claire turned to Annalise. 'Are you okay?'
'Everything's been blown out of proportion,' Annalise said.
'Just give your dad time to cool off. Maybe he'll—'
'I'm done for,' said Annalise. 'Now he knows I'm not the virginal daughter he thought he had. And he walked in when …' She gulped back a sob.
'All fathers want to think their girls are pure, even if their daughter is forty.'
Annalise sniffed. 'I've ruined everything.'
'It's not your fault.'
Annalise stared into the distance. 'I'm not even his type.'
'James's?'
'Yeah. We're so different yet …' She shrugged. 'We work, you know? I've never met anyone like him.'
'James is a great guy, but he's got a lot going on. I'm sure he wouldn't deliberately hurt or upset you. It's just—'
'He's been nothing but kind and sweet to me!' Annalise raised her voice, then it softened. 'We're in love.'
Claire wanted to wrap her arms around Annalise, the young girl with stars in her eyes. Her life was so very different to James's. She'd just finished school and was working in the cinema. James had been acting all over the world since he was fourteen. The pair were a complete mismatch, so how on earth could they ever work as a couple? Claire prayed this wasn't a one-sided love affair because if so, poor Annalise was about to get her heart trampled on.
'Annalise!' Robert stood in the doorway of the cinema. 'In here! Now!'
She gave Claire a sad smile, then hightailed it into the cinema. The door slammed shut and the lights under the marquee turned off, leaving most of the street in darkness.
Phil stood beside Claire and gently nudged her with his elbow. 'Sorted?'
'About as sorted as a bag of pretzels.'
* * *
Claire gripped the steering wheel of the ute as she negotiated the winding road that took her out of Ashton and away from the unease in the small town. The beauty of the cane fields, towering eucalyptus trees and rolling hills did nothing to allay her rising anxiety. She'd done her best to negotiate with Robert Dennis, but he'd refused to give in. He didn't care about the production company's legal team threatening him, as his pride and willingness to fight for his daughter's heart overrode everything else. Claire admired his resolve in trying to protect Annalise but if he didn't rethink things, he'd end up with nothing but the shirt on his back. He was a good man with a lovely family who deserved to catch a break. His cinema had been on the verge of closing until the production company had hired it. A legal battle and knowing about his daughter's torrid affair were the last things he needed.
In the meantime, Nigel and the team had rearranged the schedule and started shooting scenes outside Ashton, taking James far, far away from Annalise and her irate father.
She guided the vehicle north, hoping that each passing kilometre would lead her closer to a solution. But her belief she could fix this problem dwindled dramatically as time wore on. If she couldn't get a yes from Robert, then plan B had to come through. If it didn't, then …
Her mobile phone rang, and she jumped. Would she ever get used to being contactable on the road? Although it was convenient not having to find public phone booths every step of the way.
Pulling over to the side of the road, she answered.
'Hello?' She was met with intense crackling. 'Hello?'
'It's me,' Phil said through the noise. 'So … any luck?'
'I'm ten minutes away.' Claire took a long swig from her drink bottle. 'Please tell me you're ringing to say Robert's changed his mind.'
Silence.
'Phil?'
A distant voice came down the line. 'No chance.'
She didn't know why she'd thought it would be any different. 'How's Annalise?'
'She's fine. Furious with her father. Embarrassed.' Phil faded in and out. 'Swears that she seduced James and not the other way around. I have a feeling it was fifty-fifty.'
'But she's okay? She's not traumatised?'
'She's fine, don't worry.' Phil paused. 'I hate to say it, but everything is—'
'Up to me, I know.' The incessant headache she'd endured for the past twelve hours reminded her exactly how dire this situation was. 'So, none of the location scouts have had any luck?'
Crackle. Crackle. Weren't these mobile phones supposed to make her job easier?
'Not a thing. It appears that the only other surviving cinema is the one in Starlight Creek.'
'I'll call you once I find it. Hey,' she said, 'thanks for being such a great support.'
'Why wouldn't I? You spend all your time helping everyone else, it's about time something went your way—I just hope it's in time. Good luck!'
'I'm going to need it.'
* * *
The scent of eucalyptus flowed through the open window as Claire drove past trees and sugarcane swaying in the gentle breeze. A flock of bright green parakeets squawked as they flew in changing formation, dipping and rising across the clear sky. Stoic wooden Queenslanders sat back from the road, their beauty reminding Claire why she loved this region so much. The hot and humid days were a stark contrast to Melbourne's dry summers and cold, wet winters.
She passed a beautiful old red-brick building that hinted at secrets behind its dark brown doors, while the next property had gigantic metal sheds that reflected the sun and dominated the landscape. A stench of burnt caramel filled the air as she crossed the rail tracks that brought cane from the farms to the mill.
Farther down the road was the Starlight Creek township sign. It leaned heavily to the left, its paint peeling. The numbers stating the population had been spray-painted over with leave while you can. Any other time Claire would have found it amusing but the current pressure had quashed her ability to find anything humorous.
Her chest tightened, and the headache returned once more.
Slowing the vehicle down, she drove through the main street, surprised at how rundown most of the shops and buildings appeared. The haberdashery store's corrugated iron roof was rusted, and the materials in the window were faded floral prints. The newsagent's had a Coca-Cola sign that looked like it was from the 1970s and the bakery needed a good slap of paint. She reached the end of the shops and did a U-turn, taking her time driving back in case she'd missed the cinema. Surely a cinema would stand out in a town like this. Where on earth was it? Or had it been torn down just like the others?
Bright colours caught her eye and she pulled over, taken by a rainbow of ribbons, spinning mobiles and lush plants in ceramic pots. Claire got out of the car and looked for traffic. The road was deserted. She quickly crossed over to the shop and was immediately drawn to a collection of metal sculptures of native animals and bas relief murals.
Claire gently touched the grey, shiny metal, her fingers relishing the coolness.
'They are spectacular, no?' asked a short woman with thick, black, unruly hair. She stepped out from behind the counter and stood next to Claire. The woman gently touched a life-sized wallaby. 'Such talent.'
'They're incredible.' Claire had spent many hours wandering through galleries and art shops throughout Australia when travelling for work, but these sculptures were nothing like she'd seen before. It was as if the pieces had a living spirit. She could spend hours studying each groove, every curve … What on earth was she doing? Since when did she have time to dawdle? Turning to the woman, Claire said, 'I'm hoping you can help me.'
'Which one do you want?'
'Oh!' Claire looked longingly at the bas relief of vines and butterflies. 'Sorry, I don't have time to shop right now. I'm looking for the cinema.'
'The Fitzpatrick cinema?'
'Maybe?' She'd tried to find it on the map, but the cinema was as elusive as the Tasmanian tiger.
'It's the only one in town but it hasn't operated in years.' The woman walked out the shop door and pointed down the street. 'It's right on the edge of town. Go this way and it is on your right.'
'But it's still standing?' Hope clawed to the surface.
'You'll need to see for yourself.'
The woman went back into the shop and Claire stared down the street. In a few minutes she'd know the fate of the mini-series and, quite possibly, her career.
After jumping into the ute, Claire turned on the engine and reversed. She changed gear, took a deep breath and headed down the street past more faded shops, some boarded up. Starlight Creek had an odd feeling, not quite a ghost town but certainly not buzzing with energy like Ashton. There were no mothers with prams, elderly gentlemen with dogs, not even a group of kids hanging out on a street corner. Where was the sense of community?
The cinema came into view, next to a dilapidated shoe shop and a closed barber's shop. The cinema stood tall, all rounded corners and bold lines. The white and red paint had faded and where the rendering had peeled away, it revealed a whitish-grey stone. But even though the run-down facade was heartbreaking, Amelia Elliott's distinctive design of curves and stars was apparent.
Claire's shoulders slumped.
This was nothing like the photos of the cinema she'd found at the Historical Society. Admittedly, they had all been taken in the 1940s and 1950s and it had been impossible to find any recent ones. Now she understood why. Who would want to photograph such an eyesore? Though the cinema did hold an air of … something. Charm? Grandeur?
Claire exited the vehicle and made her way to the entrance. Despite the rundown state of the cinema, she felt drawn in by the opaque glass doors, tarnished silver bars, and old movie posters with curling edges in glass boxes. She instantly recognised La Dolce Vita, Psycho and G.I. Blues. These movies were from the sixties. Had it really been that long since the cinema had operated? And if that was the case, she was thankful that it hadn't suffered at the hands of developers like the other cinemas designed by Elliott. Though judging by the ramshackle facade, she didn't hold out much hope for the state of the interior.
Knocking on the door of a deserted cinema felt like a waste of time but she did it regardless. There was no point in coming all this way only to fall at the last hurdle. When no one answered, she tried again. Her knocks echoed in the foyer. As much as she'd hoped someone would be there, she had to face the harsh reality that this place would not be her saving grace.
Claire gave the door one last burst of heavy knocking. Her bones hurt and the skin on her hand turned red.
She looked up at the blank marquee with missing bulbs. 'Now what?'
'I don't know.'
She spun to find a tall man, probably in his late twenties, with sandy hair. He walked towards her, his incredibly blue eyes framed by a verandah of dark lashes.
'You don't know what?' she asked.
'I don't know what is next for you.' He had a friendly smile.
'I'm hoping someone will answer this door.'
'Why? The cinema hasn't operated for years.'
Claire glanced at the building. She felt sad for Amelia Elliott. 'My powers of deduction have figured that out already.' She held out her hand. 'I'm Claire Montgomery.'
The man took her hand in his and they shook.
'Luke Jackson,' he said. 'Are you an architectural student? It's been a while since we've had anyone visit. Not many people study Amelia Elliott's designs anymore, which is a shame because she really did get the Art Deco movement going in Australia. And I believe she led quite the dramatic life. She even—' Luke's laugh was light and friendly. 'I'm sorry. I'm quite passionate about artists like Elliott and I forget that not everyone sees things the way I do. Which architecture school are you with?'
'What? Oh, no, I'm not a student but I have been studying Amelia Elliott's designs and life. I'm actually involved in a TV mini-series about her.' She waited for a reaction, but Luke Jackson just stood there, still as sugarcane on a windless day. 'I was hoping to find the owner to see if we could work out some arrangement to film here.'
'No.' His firm tone was a stark contrast to his pleasant demeanour only moments before.
'Pardon?'
'The owner would not be interested in any such thing.'
'Do you own the place?' she asked.
'I don't own it, but I am very close with the owner. There is no way they would agree to such a thing.'
'But we're making a mini-series about one of the most influential women of her era. We need this cinema. It's a part of history and is the cornerstone of this entire production. If I could just talk with the owner and let them know they'll be rewarded handsomely and—'
Luke shifted on his feet then looked to the sky. Resting his gaze on her, he said with a firm tone, 'I can unequivocally say you are wasting your time. I do not need to consult with the owner because I already know the answer. Why do you think the cinema has been closed for so long?'
'I have no idea. Perhaps they ran out of money for upkeep? We can help with that. Please, if I can just have a few moments with them—'
'That won't happen.'
Claire lifted her chin. 'I'm afraid you've mistaken me for someone who takes no for an answer.'
'And I'm afraid you've mistaken me for someone who changes their mind easily.'
'The decision isn't yours,' she said.
'Nor yours. Now please, I have things to do and you're on private property.'
Tension gripped Claire's shoulders and she willed her voice to remain calm. Although she wanted to break down in tears and beg, it wouldn't get her the result she needed. She had to take a moment to regroup, rethink her strategy and find out who this elusive owner was and track them down. She also needed to convince herself she was tougher than she felt.
Claire hitched the strap of her handbag over her shoulder. 'Well, it's been … interesting … meeting you, Luke Jackson.' It wasn't exactly a pleasure. 'I'll be seeing you.'
'What?'
'I'll be seeing you because I'll be back—and the answer will be yes.'
CHAPTER 2
1994 – Starlight Creek, Queensland
Claire sat at a table at the only café in Starlight Creek. Crowded House's 'Locked Out' played on the radio in the background and Claire tried not to roll her eyes at the irony.
She sipped the tepid coffee then used her fork to move the half-eaten carrot cake around the plate. She was at a loss as to how to handle this situation. Not once had she encountered someone who wasn't ecstatic about being involved in a TV production, so why was Luke Jackson so adamant in his refusal to even discuss it with the owners? And who on earth were these elusive owners?
Claire glanced over at the teenager in a hot pink uniform and white apron that looked like she'd walked off the set of a 1950s TV show. She was hunched over the counter, her attention solely on a glossy Girlfriend magazine. Occasionally, a chunk of blonde hair fell in her eyes and she pushed it back. When Claire had asked earlier if she knew who owned the cinema, the girl had shrugged, blown a bubble with her gum and focussed on the magazine once more.
Surely in a town this small everyone knew everyone? Although, from past experience, Claire had learned that arriving in a small town unannounced and asking questions didn't always get quick answers. Normally, she'd get the lay of the land by talking with locals before diving into requests for filming. Unfortunately, though, this project didn't allow for such luxuries.
The doorbell tinkled, and Claire looked up to find a woman breezing through the door. Her silver hair was swept up in a stylish French knot and her tailored tweed suit was immaculate. Her cheeks held a pink tinge and she wore a simple strand of pearls and matching earrings, giving the impression of a high-society matron. When she walked over to the table, a tiny cloud of freesia perfume followed her. The lady took a seat at the corner table, placed her small patent leather handbag on the chair, along with her gloves, and sat with a straight back, hands clasped neatly on the table. The young girl behind the counter looked up, closed her magazine then quickly went about preparing a pot of tea and laying delicate china on a tray. She took a scone out of the cabinet and placed small bowls of jam and cream next to it.
Walking over to the older lady and setting the tray on the table, the girl asked, 'How are you today, Miss Fitzpatrick?'
'I am doing very well, thank you, Laura. Has your sister recovered from her cold?'
'Yes, she's doing much better, thank you.' Laura put the teapot, cup and saucer and scone on the table as the two women conversed about people Claire had no clue about. When finished, Laura went back to the counter, the magazine back in her beautifully manicured hands.
A couple of flannel-shirted teenagers burst through the door laughing and chatting loudly but when they caught sight of the older woman in the corner, they turned down their volume and quietly went up to the counter to order milkshakes.
They sat near the older lady and said in unison, 'Good morning, Miss Fitzpatrick.'
'Good morning, young men. Harry, did you fix the step on the verandah, so your mother doesn't break her neck?'
'Yes, Miss Fitzpatrick.'
'Good to hear.'
The boys commenced a hushed conversation between them.
Claire watched, entranced. The woman sipped her tea, closing her eyes every so often, as if lost in the ecstasy of the brew. It wouldn't be hard to imagine her having tea with the queen. Miss Fitzpatrick appeared to be the embodiment of a Country Women's Association lady from the 1950s, with her old-fashioned airs and graces. Claire glanced around the café with its outdated décor and once more at Laura in her uniform. Had Claire stepped into another era? Was Starlight Creek some kind of time machine?
'Excuse me,' Claire said quietly.
The lady turned away from looking out the window and smiled at Claire. 'Yes, dear?'
'I'm sorry to interrupt, but I'm wondering if you could help me, please.'
Miss Fitzpatrick patted the chair beside her and Claire gathered her things and went over to sit down.
Holding out her hand, she said, 'I'm Claire Montgomery.'
'And I am Hattie Fitzpatrick.' The older lady wrapped her small, warm hands around Claire's. 'What brings you to Starlight Creek, Claire Montgomery?'
Choosing her words wisely, Claire said, 'I'm actually here on business and—'
The small room filled with the ear-screeching whir of the milkshake machine and Claire waited for it to finish. A moment later Laura held the milkshakes and negotiated the tables and chairs to where the boys sat. To give Laura more space, Claire moved her chair, but Laura stepped in the same direction. A second later Claire was covered in cold, sweet-smelling milk that dribbled down the back of her new linen shirt.
'Argh!' She jumped to her feet.
Laura shoved a towel towards Claire. 'I'm so sorry.'
'It's okay, really. It's just an accident.' Claire quickly towelled off as much as she could, dreading what she would smell like in a few hours.
The boys snickered behind their hands and Hattie shot them a death stare. They quickly quieted then one of them went behind the counter to get a mop and bucket to clean up the rest of the mess.
Hattie reached for her gloves and bag. 'Do you have spare clothes in the car?'
'No. I'm on a day trip. I'm staying in Ashton.' Until we're kicked out.
'Such a lovely place. A bit more modern than Starlight Creek.'
'Just a little.' Claire smiled, despite feeling like she had just swum in a bottle of milk.
'Oh, look at you. You can't drive back in that state. I don't live too far from here. Where is your car?'
'Across the road.'
'Why don't you come to my place to clean up?'
'I'm fine, really.' Although her dignity had taken a battering as her bedraggled state was far from professional.
'Dear girl, soon you won't smell so fine. Please, let me help.'
Hattie did have a point.
Claire got up and went to the counter to pay for her and Hattie but Laura shook her head. 'It was my fault. No charge for either of you.'
'Are you sure?' asked Claire.
'Yep.'
'Thank you.' Claire put a tip in the jar then grabbed her keys and bag. She opened the door for Hattie and they exited into the warm morning sun and crossed the road to the red ute.
'This is a very large vehicle. Isn't it difficult to drive?' asked Hattie.
'I'm stronger than I look.' Claire shoved the key into the lock and opened the door for Hattie.
'Appearances can be deceptive.' Hattie climbed in with great agility for someone her age.
'That's for sure.' She got into the cabin and turned on the engine.
'I'm not too far from here. I enjoy coming to the café because it's a reasonable walk and keeps me nice and fit.' She grinned. 'And I don't feel guilty about my daily scone.'
Claire joined in the laughter and steered the vehicle in the direction that Hattie had pointed. She got to the other side of town and slowed down the ute. 'Which house?'
'Here we are!' Hattie pointed to the right and Claire nearly ran off the road.
'That's the cinema.' Claire's voice was barely audible.
'Yes.'
'It's deserted.'
'Oh no!' Hattie's laugh sounded like fine crystal. 'I live here.'
'You do?' Claire concentrated on pulling into an empty park, but she could barely contain her joy.
Claire felt lighter as she walked around to open the door for Hattie who led the way to the weather-beaten double doors. She unlocked one and motioned for Claire to follow.
Claire had expected the theatre to smell musty, so she was pleasantly surprised when she was greeted with a small hint of freesias, just like Hattie's perfume. Leaving the bright sunlight of Starlight Creek behind, Claire stepped across the threshold and into the foyer blanketed in darkness. She hesitated, fully anticipating Luke Jackson to leap out of the shadows and once more tell her no. Thankfully, the room remained silent.
Just as her sight adjusted, Hattie turned on the light and Claire squeezed her eyes shut. A moment later she pried them open and when she did, a small gasp escaped her lips.
Behind the dilapidated facade lay a whole new world of colour and geometric designs, all beautifully maintained. Beneath her feet were black square tiles alternating with pristine white, and to the side was the kiosk and the bar, both made from dark wood and lined with silver stripes and filigree. Tilting her head upwards, Claire took in the magnificent dome, the circular plaster mould painted in gold with an ornate grey, white and black light fixture made of squares, triangles and oblongs.
'I see you are quite taken,' said Hattie.
'That's an understatement,' breathed Claire. 'This is so very different to the outside.'
Hattie smiled but didn't say any more. Instead, she crooked her finger and Claire followed, unable to take her eyes off the splendour before her. This would be so perfect for the mini-series, way better than the cinema in Ashton. Now she just needed to find a way—
'My living quarters are out the back,' said Hattie as she opened up the heavy wooden door and continued on her way. Claire happily trailed behind, still not able to fully comprehend the well-preserved beauty before her. Her feet lightly trod on gorgeous bright blue carpet with the same geometric design as the foyer. Continuing down the aisle, she studied the seats, the backs and sides made of dark wood with royal blue cushioning. She looked up and found the same blue painted on the ceiling with little specks of silver.
'Those stars are beautiful,' said Claire. 'There's something magical about them.'
'I'm glad you like them. My father always had a fascination with the universe. If he'd been born fifty years later and was American, he'd have loved working for NASA.' She stopped and lightly ran her fingers across a chair. 'Instead he lived in a small town and had big dreams that were never fulfilled.'
'It's a shame more people don't get the chance to turn their dreams into reality.'
'Sometimes reality is nothing like the dream.'
Claire remained quiet and followed Hattie to the side of the stage, through a swing door and down a narrow hallway. They stepped into another room that served as a small apartment with living room and kitchen in one.
Hattie pointed at a door to the right of the kitchen. 'The bathroom is in there. I have spare towels in the cupboard under the sink and I'll see what I can rustle up for you to change into.'
'Thank you so much, Miss Fitzpatrick, but really, I'll be fine.' Claire went to run her hand through her hair and her fingers got caught in a milk-sodden knot. Urgh.
'Please, call me Hattie. And I am sure you are fine, my dear, but you will be more than fine after you freshen up.' She raised her eyebrows and Claire wanted to obey this fascinating woman. Most of all, though, Claire wanted to know why Hattie Fitzpatrick lived in the back of a rundown cinema.
'Thank you,' Claire said as she opened the door. She stepped into a large bathroom that glistened. In the corner was a black claw-foot bath, trimmed with gold. The black and white tiles matched the foyer, and the mirror hanging above the sink was the same Art Deco style as the décor. She peeled off her wet clothes then turned on the shower above the bath, stepped in and pulled the curtain across, immersing her body under the water. The stickiness ran down the drain while she collected her thoughts and tried to figure out how to best approach Hattie about the cinema.
A knock at the door brought her back into the moment. 'I have some fresh clothes for you. They're likely to be big, but they'll do the trick. I've popped them outside the door.'
'Thank you!' Claire called out, feeling odd about this whole situation. Going to a stranger's house to clean up after a sticky accident would never happen in Sydney or Melbourne, but she had to remember that she was in a small town and things were done differently. After the hustle and bustle of her regular life, this made for a lovely change.
She turned off the shower, towelled herself down and quietly opened the door just enough to grab the clothes Hattie had left her—a black t-shirt and a pair of jeans. And, to her surprise, they were clearly men's ones. Dipping her hand into her messenger bag, Claire pulled out the small toiletry kit with spare underwear, toothbrush, toothpaste and deodorant—a habit she got into when she first started working as a location scout. Often, she'd go on a fact-finding mission and have to overnight unexpectedly, so just like the traditional Scouts, Claire endeavoured to always be prepared.
After donning the clothes, she rolled up the jeans, cinched in the waist with her own belt that had miraculously escaped the milkshake waterfall, and adjusted the t-shirt. Claire hung the towel, shoved her dirty clothes in a plastic bag she kept handy, exited the bathroom and shut the door.
'Thank you so much, Hattie, I feel …' Her words fell away as she caught sight of one Mr Luke Jackson sitting on a chair at the round dining table. He held a cup of tea in his hands, the steam snaking skyward. 'Oh.'
Luke put the cup on the table and stood, his chair scraping against the shiny tiles. He turned to Hattie. 'This is the stray you brought home?'
'Excuse me?' Claire placed a hand on her hip.
'Now, Luke, there is no need for this behaviour,' said Hattie.
'She's the one who knocked on the door today and I told her we're not interested. And now she's in your house and using your shower and wearing my clothes?'
Claire looked down at the black t-shirt and jeans. She'd felt so comfortable in the oversized clothes but now they felt too constrictive, like every last breath was being squeezed out of her. She did an about face and turned the handle on the bathroom door. To hell with clean clothes.
'Claire, do not go and change and do not listen to my great-nephew. He has no manners, just like his father.'
Claire drew a deep breath and faced Hattie and Luke. His lanky frame dwarfed his petite great-aunt who looked at Claire with large, round eyes.
'Is it true you were here this morning?' The confident tone had left Hattie.
'I was here, yes, but I didn't know this was your home.'
Luke's eyes narrowed. 'It's a ploy.'
'I'll have you know, everything is above board,' she said indignantly. 'In fact, I had actually started telling Hattie about why I was in Starlight Creek, but our conversation halted when a wayward milkshake landed on my head.'
Luke smirked and Hattie flicked the tea towel against him. He flinched and rubbed his arm.
'If I could just explain—'
'I have everything I need to know,' said Hattie. 'I'm sorry, young lady, but the answer is no. We do not wish to be involved in anything to do with film.'
'But—'
'I am sure you are very good at your job and you will find somewhere else more suitable.'
'That's the problem, this cinema is the centrepiece we've been looking for. We need this cinema.' Great negotiating, there, Montgomery. 'Well, we had one, but … Look, we'll make it worth your while.'
'Money has nothing to do with it. People crawling all over my cinema and sticking their noses in places they shouldn't is the issue. I like you, Claire, but it doesn't mean I'll change my mind. You'll need to tell your people it is no from us.'
Her shoulders slumped as panic rose. 'But—'
'A very firm no from us.'
'It's just that the movie is about Amelia Elliott and your cinema is so beautifully preserved on the inside and—'
'Nothing you say will change our mind.' Hattie gripped the tea towel and looked out the window.
Although overwhelmed with the stomach-churning fear of failing in her first job since her promotion, Claire couldn't berate the poor lady into changing her mind. She squeezed her eyes shut, imagining the grief she'd receive from Nigel—not to mention Tony Karter's glee—when she returned empty-handed.
'I think it's best if you leave,' Hattie said, her eyes still trained on the view of the stark alley behind the cinema.
Gathering her messenger bag and the plastic bag with her milk-drenched clothes, Claire said, 'Thank you so much for helping me out. I'll wash these clothes and post them back to you.'
'That's not necessary,' said Luke.
She didn't argue, having already pushed things too far. She needed to return to Ashton and devise a plan—and quickly. If only she could figure out Hattie's sweet spot, the one thing that would guarantee she would say yes.
'What if we sent you on a holiday while we shoot? Where would you like to go? We'll set you up with business class flights, five-star accommodation. That way you won't be bothered by us being around.'
'I need you to leave.' Hattie's soft temperament had been replaced by a hard edge.
'You'd be helping us honour Amelia's legacy. Honestly, we won't—'
'Out.' Luke pointed at the back door. His steely eyes held no sympathy.
Clutching the plastic bag against her chest, Claire had no other choice than to make a hasty exit. As she opened the door, she said quietly, 'I'm sorry we couldn't make this happen, Miss Fitzpatrick. I would really have enjoyed working with you.'
CHAPTER 3
1950 – Hollywood
Lena Lee gripped her light blue purse with both hands as she stood in front of Stage Seven at Fortitude Studios. Her gaze travelled the full height of the thirty-foot steel door. Today it seemed darker, more daunting. She really should be grateful to have a supporting role in a star-studded movie but recently, a malaise had descended upon her and she'd found it impossible to push it aside.
Cheer up, old gal. She smiled at her brother's favourite saying. How she missed her family.
'Miss Lee!'
She turned to find a thin boy of about sixteen running towards her. He took off his peaked cap and gasped for air. When he'd regained composure, he handed her a small, pale green envelope. 'From Mr Cooper.'
'Thank you.' She studied the thick linen paper, unsure why the head of the studio was sending her a missive. Itching to open it but realising a pair of eyes were fixed on her, she looked up. 'Is there something else?'
He wrung his hat in his hands and shuffled his feet. 'It's … it's …'
The poor boy had turned the same shade as the crimson dress she'd worn on set yesterday.
'Yes?' She hoped her tone sounded encouraging.
The boy offered a crooked smile. 'You are as pretty in person as you are on the screen.'
He took off as fast as his long legs could take him. Lena laughed and shook her head. This kid, in his adolescent awkwardness, had been so genuine, she couldn't help but be flattered. Lena may not have the beauty of Ingrid Bergman, the sultriness of Veronica Lake, or the sass of Mae West, but what she did possess was an ability to relate to people on and off the screen, no matter their background.
She undid the envelope, trying not to damage her freshly painted pink fingernails. Lena pulled out the stiff paper, unfolded it and sucked in her breath.
Dear Miss Lee,
You are cordially invited to celebrate the twentieth wedding anniversary of Mr Stuart and Mrs Lesley Cooper Saturday 11 March
A squeal of delight escaped then she clutched the invitation against her chest.
Oh no.
This couldn't be right. Why would they want her to attend? She was nothing more than a supporting actress.
'What's with you?' Yvonne Richardson, wardrobe assistant and good friend, stood beside Lena. When Lena had found herself without a place to live, Yvonne had taken her in, reassuring Lena that she'd never be left homeless again. This act of kindness had shown Lena that Los Angeles did have a soul, she just needed to surround herself with the right people. Although that was a harder task than she'd anticipated.
'This.' Lena held the invitation in front of Yvonne who scanned it a couple of times.
Her grin was as large as her personality. 'That's incredible!'
'It has to be a mistake.'
'Mistake or not, you're going, right?'
'I don't know. I—'
'I know just the dress! Come on!' Yvonne shoved open the door and grabbed Lena's hand. 'You don't have to be on set for a while, so we've got time.'
Lena let Yvonne drag her into the studio and across the set of cobblestones, rose bushes and a large fountain. With only two days left to film, Parisian Dreams had been Lena's biggest role to date, not that a dozen lines and a few minutes' screen time counted for much when starlets like Jeanne Harris took enough limelight for ten people. Lena and Jeanne had arrived in Hollywood and started working at Fortitude Studios at the same time. They'd considered themselves friends then, although things had changed once Jeanne had become a leading lady and had dropped Lena like she had the plague. Jeanne had the advantage of youth on her side, whereas Lena, at the grand old age of twenty-nine, was considered by the studio as 'well past it' for an actress. For the past two years she'd clung to the few sparks in a sea of darkness, while Jeanne's career had taken off like a rocket on the Fourth of July. If Lena didn't find a way to break through soon, her contract would be cancelled and the life she'd worked so hard for would vanish. But as much as Lena would love to be where Jeanne was right now, she refused to turn into a cutthroat diva. There were limits, even if it meant a career less lucrative.
Lena and Yvonne wove between the lights and cameras, the studio quiet at this early hour. Lena often arrived on set before anyone else as it was her chance to sit in silence and remember why she'd made so many sacrifices for her chance at the big time—and how many more she'd have to make.
They left the set and walked down narrow hallways that twisted and turned.
'What is this place?' Lena asked.
'You'll see.'
'Are we supposed to be here?'
'No one's around, it's fine!' Yvonne's laugh didn't instil confidence in Lena.
'But there's only certain areas we're allowed on the lot,' Lena said.
'Why do you worry so much?'
They reached a door and Yvonne yanked it open. She started sorting through the rainbow of dresses that sparkled and shimmered with thousands of tiny crystals. Yvonne grabbed an emerald number and placed it against Lena's body.
'Oooh! That colour looks gorgeous with your red hair! Try it on!'
'Oh no.' Lena shook her head. 'It's not mine.'
'Some of these are Jeanne's.' Yvonne winked.
'Then I'm definitely not touching them.'
'Oh, come on! Look,' Yvonne ran a hand across the dozens of costumes, 'these dresses have been long forgotten. It's sad, really. We create these masterpieces, they're worn on-set for a short time then they end up in the costume graveyard. Honestly, no one would notice if one was missing.'
'And what if it's recognised?'
'I doubt it.' Yvonne shoved a violet dress at her.
'No, no, no.' Lena backed away towards the door.
'No one would care if you borrowed it for the weekend.'
'I can't.'
'Just try it on. Please?'
Her friend batted her eyelashes and Lena gave a nervous laugh. She held out her hand for the dress and stood in front of the mirror. Draping the silky fabric across her body, Lena studied the intricate beading around the sweetheart neckline.
'It truly is a work of art.' She sighed.
'Here.' Yvonne placed a tiara on Lena's head then curtseyed. 'At your service, Miss Lee.'
The door slammed against the wall.
Lena jumped.
Yvonne cursed.
'What the hell is this?' boomed Lawrence Doherty, Lena's movie director. Just like Lena, he often arrived early. Although Lawrence's habit was to meander across the lots, mentally preparing for the day ahead. Trust Lena to be caught out on the day Lawrence decided to mosey past a place she wasn't allowed.
'I … I …' Lena couldn't put the dress on the rack fast enough. She stood with her hands behind her back, feeling like a schoolgirl caught with her hands in the cookie jar.
'Lee, get on set now. And you,' he rested a steely gaze on Yvonne, 'shouldn't be here without good reason.' He pointed at the door and Lena scurried towards it but stopped when he put his hand across the doorway.
'I'm sorry,' she blurted. 'I was just looking.'
Lawrence lifted the tiara off her head and cocked an eyebrow.
She glanced at Yvonne who pursed her lips, as if trying to contain a laugh. What Lena wouldn't give to be as carefree as her best friend.
Making a hasty exit, Lena bolted towards the communal dressing room outside Stage Seven. A cold wind whipped around her legs. She glanced up. The sky had turned almost black.
Today would be a long one.