In my novel Lonely in Longreach, Sarah is inspired to look for her own farmer on a rural dating site after watching an episode of Farmer Goes A-Courting, a show I made up because Farmer Wants A Wife had been off-air for years. But now it's back!
This month Channel 7 are relaunching the reality TV show with five delicious farmers all looking for love and I can't wait.
Sarah tuned in every weekend, curled up on the couch with her best friend, a bottle of wine and an enormous bowl of popcorn. She's a city girl who longs for the country and I bet she's not alone. I bet Australia's cities are teeming with women longing for the wide-open spaces and the arms of a burly, handsome farmer.
Why should you watch this reboot over the other reality dating shows out there? Because it offers a shot at true romance in ways the other shows don't. Let me explain the difference…
The Bachelor/Bachelorette
The show where a bunch of good-looking girls/guys vie for the affections of a gorgeous guy/ girl. Thrown among the fabulous gowns, mad challenges and awkward dates are some moments of high drama and the odd meltdown or two.
The prerequisite for appearing on the show is model good looks and/or charisma – great for those with career aspirations as a minor celebrity. While the show is a bunch of fun to watch, the love connections come across as made-for-TV and are hard to invest in.
Bachelor in Paradise
Let's just say it's a great show for those who were kicked off The Bachelor and The Bachelorette.
Love Island
Half-naked train wreck anyone?
This show is not for contestants with body image issues or average levels of integrity but it does provide a decent platform for those looking to revive their flagging Instagram stats. It's every daytime soap you've ever watched, with less clothes.
Married At First Sight (MAFS)
Do not even get me started! This show is the equivalent of emotional blood sport. Who needs gladiators and lions when you can watch she-wolves tear each other apart from the safety of your lounge room? I swear the ancient Romans would have totally gone for this if they'd had the technology. Pair the desperate and vulnerable with the narcissistic and vain and let the games begin!
Farmer Wants A Wife 2020
Farmer Wants A Wife contains more authenticity than the other reality shows combined. It has nine marriages and nineteen babies (and one on the way) to speak for its success in previous seasons.
As we know, finding love in the country can be challenging. This show introduces ladies to farmers who seem genuinely committed to finding a life partner, someone willing to share the rural life with them.
This year's crop are no exception, with a couple of sheep farmers, a cattleman, a fruit farmer and a winemaker to choose from, aged between 27 and 44, and all handsome in that lovely rugged way we like so much.
The female contestants are drawn from a broad selection of women who look like your girlfriends and sisters – regular people with city lives. They will be tried and tested, with no phone reception, a few fun farming challenges and the odd romantic dilemma, getting good and muddy while they're at it. The big question is, can the city transition to the country?
Get ready to pick your favourite farmer and settle in, like Sarah and her best friend, with a glass of wine and some sensible snacks. Who am I kidding? Forget the sensible snacks and stock up on the cheese and crackers, ladies.
---
Eva Scott
Eva comes from a family of storytellers and has been writing her own stories since she could hold a pencil. Growing up in a multicultural neighbourhood in Melbourne, Eva developed her wanderlust and a passion for culture and language. She travelled the world, living in Britain before coming home to Australia to study Anthropology. Wanderlust got the better of her again, so Eva packed up and headed to Papua New Guinea to live and work where she was completely in her element. Eva's passion for the Australian country is born of her large extended family, which is spread out across the land. She volunteers at the local primary schools, teaching writing and working with children to incite a love of books and reading. Eva's books explore relationships, culture, our roles in changing society, love and loss. She loves finding connections with readers over shared experiences.
If you'd like to know more about Eva, her books, or to connect with her online, you can visit her website: evascottwriter.com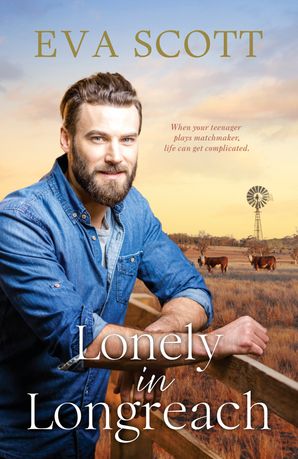 In the red heart of Queensland, two teenagers playing matchmaker are about to turn more than one life upside-down.
Widower Sam Costello has no time for love. When he's not working on his farm, he's trying to figure out how to connect with his teenage son Levi.
But Levi is about to finish high school, and he has big plans to move to Sydney for university with his best friend Maddie. If only he didn't feel so guilty about abandoning his dad. Maddie has her own reasons for wanting to go to Sydney and she's not going to let Levi's dad ruin her future happiness. Mr Costello needs a girlfriend and, with her talent for matchmaking, Maddie is the girl to make it happen. By the time Mr C figures out what she's done, surely he'll be too in love to be angry.
Journalist Sarah Lewis has a good job, a nice boyfriend and a safe life in Sydney. Though sometimes she wonders if life has more to offer than nice and safe. When she starts working on an article about finding love in the outback she finds herself asking whether journalists should become this invested in their research. But there's just something about Lonely in Longreach. Could it be that the man behind the dating profile is the key to the passion she has been looking for?
Sleepless in Seattle meets rural Australia in this fresh romantic comedy about optimism, online dating and love at first sight. 
Looking for a relaxing read to cosy up with this winter? Check out our favourite e-book deals, available from $1.99!
Header image Source: Channel Seven