A brand new rural romance series about an emerging racehorse stud and the family desperately trying to make their racing dreams come true.
John Henry Bassett
'Money lost, nothing lost. Courage lost, everything lost.'
My dad's favourite quote. Maybe not one I should be listening to, given my gambling-addict dad sank our once-famous horse stud into a deep, deep hole. Five years I've been digging it out. Slowly. Carefully. And now … I am risking it all. Risking Merindah Park on a stallion. Tsuyoi Red, runner up in the Japan Derby last year.
Now is not the time to get distracted by a gorgeous, pragmatic veterinarian.
Toshiko Sato
I'm at a crossroads in my life. Though my father encouraged me to follow my dreams and become an expert veterinarian, he left our family's horse farm, Tomikusa, to my younger brother. My family expects me to honour my father's wishes and marry a neighbour-a perfectly nice man who I don't feel any spark with at all. But my own ability to bet-successfully-on horse races has given me options.
This decision would be easier if I didn't feel the wicked chemistry hovering between me and the handsome, broad-shouldered Australian that my brother has decreed I will travel with to Australia to look after an injured horse. I'm usually so good at calculating the odds. But how do I choose between losing my place in my family, and losing myself?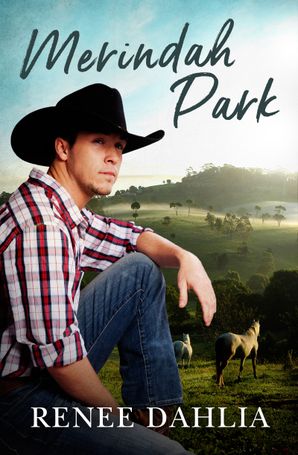 ---
Beautiful women in gorgeous hats. Athletic, incredible horses. Global glamour. The Australian public has a fascination with horseracing for all those reasons, yet at the heart of it all are the horse lovers, the people who get up early every day to give their horse a five-star lifestyle in the hope of a win. As racing journalist Les Carlyon famously said, The horse is everything in our world, and we should never forget it. Take away the horse, take away those who look after him, and you've just got gambling, and no one makes heroes of those who hang around casino tables or betting shops.
Writing Merindah Park allowed me to bring together the themes of home and homecoming that are at the very heart of rural romance. Breeding horses is just like any other type of farming: there is stock to feed, fences to fix, pastures to manage and plenty of dust and mud—with the bonus elements of billionaires, the thrill of speed and a hard-fought victory, all with an international touch, and of course in this story I couldn't look past the gambling.
John, the hero in Merindah Park, has spent the last five years working to restore the farm after his gambling-addicted father nearly lost everything. When he meets Toshiko, the heroine, she is working as a veterinarian in Japan. Little does John know, but Toshiko is one of those rare creatures—a professional punter, someone who uses their skill at mathematics to beat the bookmakers and win. These days the professional punter is a less obvious creature—no longer do they haunt the racetracks with bookmakers using them as loss leaders to attract ordinary punters. Today, they hide behind computers, and shuffle their funds around in an unseen game of skill and risk. Sometimes they do interesting things with their money, like fund art galleries …
But it is the stories of the horses that draws people to racing, not the gamblers. Stories like that of Winx, a home-grown Aussie star who retired as the top-rated horse in the world. And don't forget her outstanding record of 43 starts, 37 wins—33 in succession—and AU$26 million in earnings, much of which was donated to charity by her owners. She even starred in Vogue, and wow, those photos! The model is stunning, Winx is glowing with health. Look at those dapples! Be still my beating heart!
And then there are the other stories, like Redzel, an orphaned foal who became the dual winner of the Everest; or Takeover Target who was bought for $1200, earned over $6 million and took his taxi-driver owner around the world; or stubborn old Chautauqua who wowed fans with his incredible come-from-last victories, then one day decided he didn't want to race any more and just stood there. He's now being re-trained as a show horse.
It is the horses that make horseracing wonderful—their characters, their will to win—and it is the horses woven through the Merindah Park series that pull the series together. Meet Tsuyoi Red, the Japanese galloper, and Biographica, the super sprinter, and the cheeky yearling colt out of Wind Magic. They are all fictional horses, but fans of racing will see snippets of Deep Impact, Kitasan Black, Choisir, Starspangledbanner, and blue hen mares like Eight Carat, Urban Sea, Somethingroyal and of course my personal favourite Dahlia.
---