Here at Romance.com.au we can't wait for the second season of this fabulous Regency romance to drop. And we have a date!
The second season of Bridgerton hits Netflix on the 25th of March!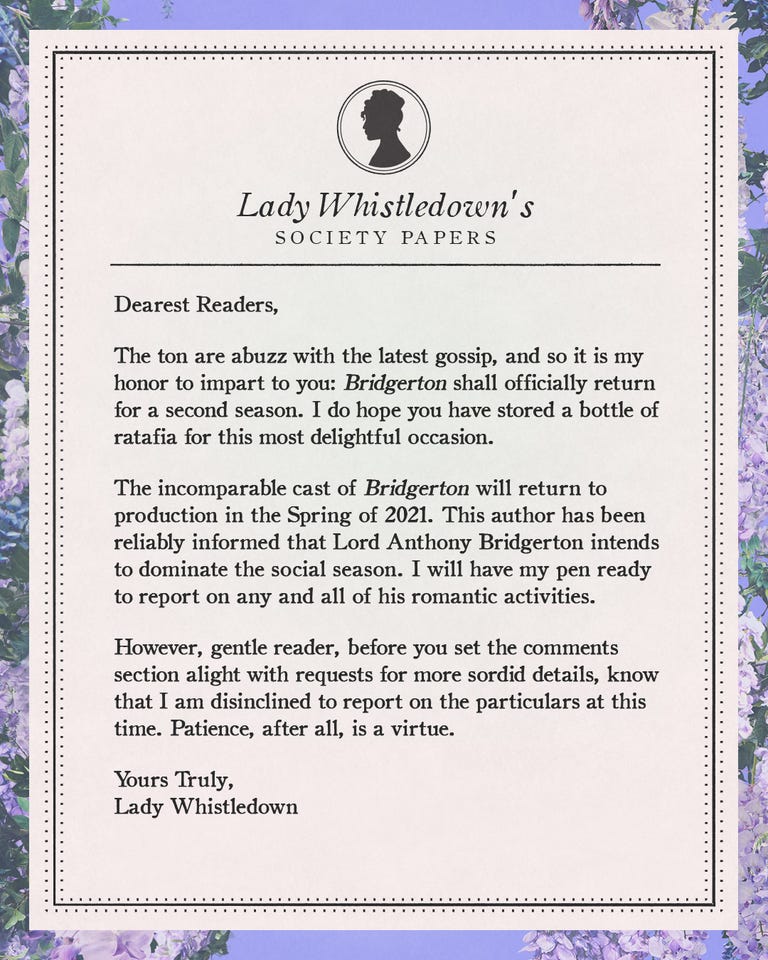 While we wait we asked the experts (romance authors) what they're hoping to see in the new season.
First up, I want to see more of the budding romance between Philipa Featherington and Albion Finch, or as my friends and I like to call him, Sneezy Cheesy (because he's always sneezing and he loves cheese). I personally think we forget the duke and duchess because Philippa and Sneezy Cheesy are going to be the match of the season! They're just so cute together, how could they not be?
Next up, I'd love to see some more bi energy from Benedict. The second eldest Bridgerton brother had some great chemistry with both women and men in season 1 I thought (as did much of the internet) and it was simply superb.
Thirdly, I absolutely want to see Eloise solving another mystery—or attempting to solve another mystery, because she still doesn't actually know the identity of Lady Whistledown. Maybe she can continue working on solving that mystery in season 2—or maybe she can solve a nice juicy murder. Like Lord Featherington's murder! She could work side by side with Penelope: women breaking the Regency glass ceiling! (While I don't think Eloise will actually be solving any murders in season 2, perhaps this could be a fun spin-off series. I give Shonda Rhimes permission to use this idea.)
Of course, I couldn't make a list of my top five without mentioning the heir to the Featherington estate. It was such a wonderful cliff hanger ending for season 1, and the look on Lady Featherington's face was so telling. Nothing good is their way coming.
Last but not least, I really just want to see more of the beautiful costumes and the stage sets. They were phenomenal. I can't even begin to imagine the hours and hours of work that went into establishing the aesthetics of Bridgerton. It truly must have been the work of an entire army of talented staff.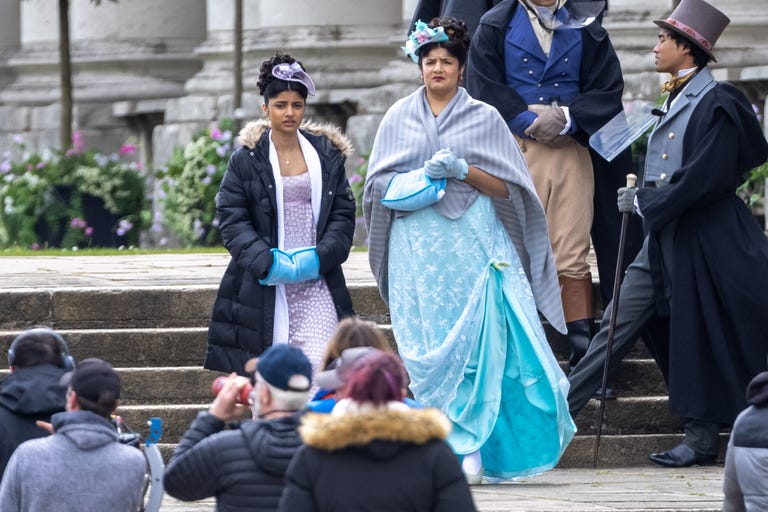 Small confession… prior to Series 1, I had not read any of the Quinn books so I came to Season 1 with no expectations and like many new converts I was absolutely charmed. Yes, as a history purist, I had to put all my preconceptions about 'Regency History' to one side and embrace the wonderful casting and fabulous settings and costumes as a sort of Regency Fantasy. Like so many others I was enchanted – so in preparation for Series 2 I have read the book!
I know many new and old Bridgerton converts were very disappointed to learn that Rege-Jean Page would not be returning as the Duke of Hastings, but I'm all right with that. As a writer I understand that his character arc was beautifully rounded off in Season 1 and this is not his story. It's Anthony and Kate's story – and it's charming.
Good old Covid slowed the production of Season 2 so sadly it doesn't look like it will be a Christmas release but hopefully it arrives in early 22. So here are my expectations for the new season.
1. The redemption of Anthony. In Series 1 he did not come out well… his womanising, double standards and his priggishness did not endear him to this female fan. Yes, the lad needs some redemption if he is going to be worthy of Kate. However, from what I read, I think we will come to understand Anthony much better through the flashbacks to his relationship with his deceased father (watch for the bee metaphors… if you were sharp you may have noticed a bee in the last scene of Season 1).
2. The reworking of the characters to embrace a diverse cast, in particular the casting of Simone Ashley as Kate Sharma (a book change from Kate Sheffield) continues the wonderful subverting of our preconceptions of what a 'regency romance' should be.
3. Who didn't fall in love with Penelope Featherington in the first series? Anyone who has felt like they didn't quite 'fit' would have empathised with her awkward moments and this season she has her bff, Eloise, to keep her company in the ballrooms. I for one am really hoping she finds her own HEA (and survives any potential unmasking of her secret identity)!
4. I am looking forward to seeing more of Queen Charlotte (played by Golda Rosheuvel). She doesn't appear in the books but she proved so popular in Series 1 that she is getting her own spin-off show – albeit the story of the younger Charlotte with help from a young Violet Bridgerton and Lady Danbury.
5. Finally the gorgeous, wild and slightly whacky costumes. I know the costume purists clutched furiously at their pelisses but I loved the 'almost but not quite accurate' costuming of series 1. Bring on those bright colours and oddly pointed collars.
There's nothing like the anticipation of waiting for a new season of a series to release—especially one as exciting as Bridgerton—to make you realise how much you want to know what will happen next. These are just some of the reasons why I can't wait for season 2 to air.
What I'm most looking forward to is being transported back into the Bridgerton world. It's bright in both colours and characters, diverse, entertaining and a nice breath of fresh air, and it's the kind of series you can watch with the promise of being able to enjoy yourself for next little while. As such, Bridgerton certainly sets itself apart from many other regency series, bringing with it some humour, fun, excitement, and of course, scandals. Happily Ever Afters guaranteed.
Which brings me to the next point—Lady Whistledown. Who doesn't love her? She's charismatic in her writings, her commentary is magnificent, and the way the series plays it out makes you feel like you're among the characters reading the society papers with them. She's a force to be reckoned with, and it's hard to tell sometimes whether featuring in her papers is a good or bad thing.
Mrs Danbury, who had quickly become one of my favourite characters in season 1, is just about as entertaining as Lady Whistledown. She always seemed to be up to one thing or another, and I'm fascinated about what scheming she might get up to in the next season. While she was closer to the Duke of Hastings than she was to the Bridgertons and we learned more about her from her history with him, I doubt she'll be pushed to the sidelines now.
As for the romances, season 2 comes with the promise of Anthony and Kate's story. I loved reading how their story played out in the book and enjoyed the banter they had. I'm interested to see how true to the book season 2 will be in that regard and whether their banter is just as entertaining (or more so!).
And finally, while I'm uncertain whether or not the Opera singer Siena, Anthony's love interest in season 1, will be featured much in the next season, I would love to see more of her. Their chemistry was palpable from the start of Bridgerton, which meant the heartbreak was genuine as well. I really hope she finds a happy ending of her own.
Read the Bridgerton books here