I'm a huge fan of romantic suspense films and among my favourites are the old classics by the king of suspense, Alfred Hitchcock. It wouldn't be going too far to say Hitchcock inspired me to write my own, including my latest rural romantic thriller, Lying In Wait.
I've probably watched The Birds a hundred times! I love the paranormal element, the enemies-to-lovers romance and the fulfilment of the heroine's deeper need to find a mother she never had.
In Rear Window it's the element of voyeurism combined with the seemingly insurmountable problems facing the lovers that draws me in. The tensest moment comes when the wheelchair-using hero Jimmy Stewart is forced to watch heroine Grace Kelly confront the killer, powerless to come to her aid other than to call the police and pray they arrive in time to save her.
Ingrid Bergman steals the show in Notorious alongside Cary Grant as the US government agent assigned to enlist her help infiltrating a group of Nazi conspirators. Grant's contempt for the notorious playgirl turns to admiration and love when she risks her life to uncover vital information. His daring rescue of her at the end redeems him for having initially thrown her to the wolves.
A more modern romantic thriller that tosses both humour and sci-fi elements into the mix is Tremors. Who could go past Kevin Bacon as a wise-cracking cowboy handyman teamed with a resourceful student scientist battling subterranean monsters?
Another of my favourites in this humour/sci-fi subgenre is Lake Placid. Bill Pullman plays a slow-talking New England sheriff forced to work with a smart-mouthed New York palaeontologist (Bridget Fonda) to destroy a 30-foot prehistoric crocodile.
But my all-time favourite romantic suspense is the 1985 version of Long Hot Summer with Don Johnson as Ben Quick. The scene where he stretches out, shirtless and tanned, on the balcony outside Noel Varner's bedroom and teases her through her open door goes down in my book as the best love scene of all time!
It's not surprising that the elements I love in my favourite films find their way into the novels I write. The enemies-to-lovers theme features strongly in Lying In Wait when the distrust between Andy and Dev grows to admiration and love as they work together.
Andy's journey of healing in the story mirrors that of the heroine in The Birds, and venomous snakes replace the subterranean monsters found in Tremors. There's a daring rescue similar to that in Notorious and sexual tension inspired by Long Hot Summer.
As for my fondness for voyeur elements, the biggest giveaway in Lying In Wait is perhaps the story's opening line: He liked to watch.
---
ABOUT THE AUTHOR: Diane Hester
Born in New York, Diane Hester is a former violinist with the Rochester Philharmonic and the Adelaide Symphony. Her debut thriller, Run To Me, short-listed in the 2014 U.S. Daphne du Maurier Awards. She lives with her family and numerous pets in Port Lincoln, South Australia.
Don't miss Diane's latest book Lying In Wait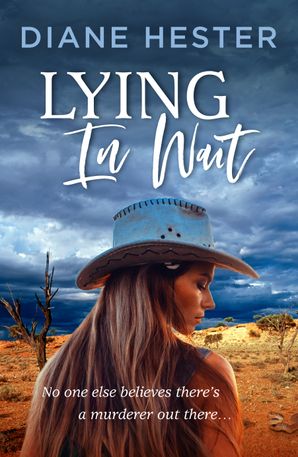 No one else believes there's a murderer out there…
Grieving widow Andy Vaughn has struggled to get back to the real world after her husband's sudden death. But her son needs her, and when a terrifying encounter with a snake reveals unknown skills, the American expat feels alive for the first time in years. She's going to leave behind her career as a science teacher and instead start training as a national park ranger with a specialty in snake handling. There have been a high number of brown snake incidents in their small community over the last few months, and Port Matthews desperately needs an experienced snake handler on the Parks and Wildlife team.
But with two deaths and several close calls in only a matter of weeks, is the increased snake activity just an unusual spike? Or is something more sinister going on? New cop in town Dev certainly thinks something isn't quite right, but nobody is going to believe the city cop with a chequered past. With growing suspicions that a serial killer might be out there using snakes as a weapon, Dev is going to need to find proof — and fast. Because the serial killer has a new victim in his sights, and she might just be the beautiful snake handler Dev is fast falling in love with.