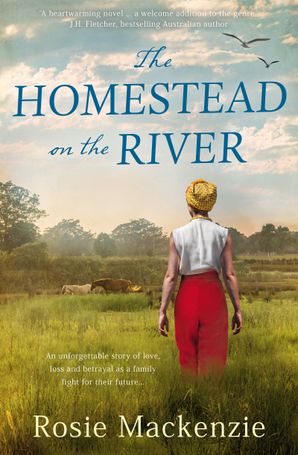 An unforgettable tale of love, loss and betrayal from an exciting new Australian voice in historical fiction.
In stark contrast to her own childhood during the last days of the Raj in India, the spectacular beauty surrounding their home, Rathgarven in Ireland has proven to be a happy place for Kathleen O'Sullivan and her husband, James, to raise their four children. But Kathleen is no stranger to heartbreak, and when the family is faced with losing everything, she knows they will need to adapt to survive. Even if that means leaving their beloved home and moving to Australia to start afresh.
Lillie O'Sullivan knows that her mother and father haven't been entirely truthful about the reasons for their move to Australia. But as they settle into their new home in rural New South Wales she is willing to give it a chance. That is, until the secrets her parents have kept for so long finally catch up with them.
Secrets that have the power to destroy their family and ruin their future.
From the vibrant colours of India to the meadows of Ireland to the harsh but beautiful Australian land, a family fight for their future.
As a young child in County Tipperary I had never heard of Australia, the land of sunshine, kangaroos, sandy beaches and great promise on the other side of the globe. As the youngest of five children my best friend was my donkey, Early Mist and my playground was the rolling green meadows sloping down to the shores of the Shannon River on Lough Derg. Here in the long summer evenings my four siblings and I helped pitch golden haystacks, swam and jumped off the jetty or fished for trout in the small wooden rowboat.
Then one freezing cold winter's evening, as we sat by a roaring fire in the drawing room of our ancient family home, our parents announced that seeing as the economy in Ireland was dire we were moving to Australia.
Although, Lillie O'Sullivan one of the protagonists in my novel, The Homestead on the River is fourteen when she and the rest of the O'Sullivan family arrive from County Kerry to their new land, I was only seven, the same age as Freddie, the youngest of the O'Sullivan children.
Ten years later I was swept off my feet by my husband Rob, a suave cadet at the Royal Military College Duntroon. I was just twenty and Rob twenty-three when we married in a romantic palm woven church in Port Moresby in 1966.
All these years later we are still living a life of romance, adventure and fun as we explore the world on our boat. No matter how strong the winds are, or how rough the sea is, I can always find a cozy nook to write.
Often I visit Ireland, the land of my birth. This year we spent a glorious month in a quaint cottage on the shores of Kenmare River in County Kerry where I felt as though we were part of the O'Sullivan family in my novel. Rob and I have two daughters and five precious grandchildren. I have to admit I have stolen little bits of each of their character for my children in The Homestead on the River.
Rosie Mackenzie was born in Tipperary and moved to Australia when she was seven years old. Over the years she has returned many times to Ireland. After a successful business career in Tasmania she now enjoys spending her time writing, sailing and with her family. She is married to Rob Peterswald and has two daughters and five grandchildren. She and Rob have published five photographic coffee table books on sailing, seafood and wine together. She has adopted the pen name Rosie Mackenzie for her historical fiction to honour her mother. When not in Australia, she and Rob are on their boat exploring the world.