Is there anything better than a great rural romance novel? This Summer we have so many rural romance we're taking ANOTHER rural road-tip!
So although we may not be able to travel the country at the moment, take a bookish road trip with these rural romances!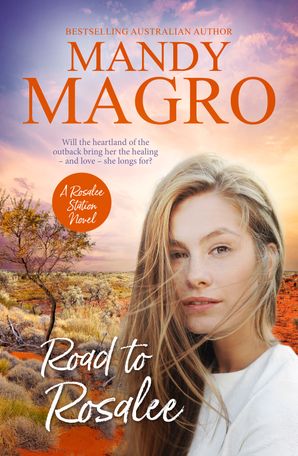 Return to Rosalee Station with bestselling Australian author Mandy Magro's touching story of a search for belonging, love and healing.
City girl Melody Harrison finds herself questioning everything in the wake of her mother's deathbed confession of a long-held secret – a secret that drives her far into the outback, to the wide-open skies of Rosalee Station…
Matt and Sarah Walsh have finally reached a time in their lives where they are at peace, but their happiness is again thrown into turmoil when Matt answers the door to a young woman with shocking news. But what is the truth? Only by offering her sanctuary at Rosalee Station will they find space to come to grips with each other.
Long ago accepting he's never going to fit in with his wealthy family, Zai Wellstone has finally landed his dream job as head stockman at Rosalee Station. It's here he crosses paths with the most intriguing woman he's ever met, Melody, the new camp cook. Sparks fly between them from their first encounter, but will the secrets she's keeping stand in their way?
Rosalee Station is the place where love is found and family ties mean more than anything – will its magic once again show a heartbroken young woman her way forward, to the healing and connection she craves?

PRAISE FOR MANDY MAGRO:
'Seasoned Australian rural romance novelist Mandy Magro gifts her readers with another genuine read told from the heart…Mandy Magro is a novelist who continues to go from strength to strength and Home Sweet Home is another earnest story from this big-hearted storyteller.' Mrs B's Book Reviews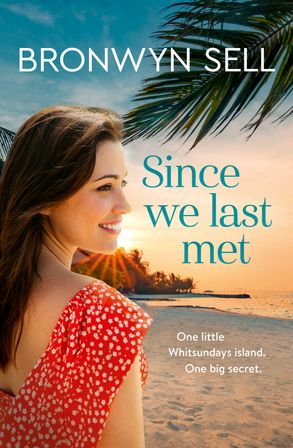 Five years ago, Carmen and Bruno spent the night together. Their daughter, Mika, was born nine months later … but Bruno doesn't know she exists. Can the couple find each other, and the truth, in a tropical island paradise? A sparkling romance for readers of Alissa Callen and Penelope Janu.
Single mum Carmen Lowery's life might be annoyingly imperfect, but at least it's orderly and predictable. Until a tall, dark, handsome stranger mysteriously arrives at her family's Whitsundays resort island – and turns out to be not quite a stranger after all.
American special ops pilot Bruno Michel fell off Carmen's radar five years ago after they shared the wildest night of her otherwise straitlaced life. The self-confessed fly-by-nighter when it comes to love is delighted to be temporarily reunited with his uninhibited dream woman, but there's something he doesn't know. Their liaison came with a consequence – a little girl who has his eyes.
Carmen and Bruno pick up where they left off, but the legacy of their liaison runs deep – and Bruno is hiding his own not-so-white lie about that night.
Before he ships out and Carmen's happy-family fantasy drifts away on the trade winds, they must decide whether their unexpected bond can survive life-changing secrets, meddlesome relatives, and a heartbreaking vow made decades before.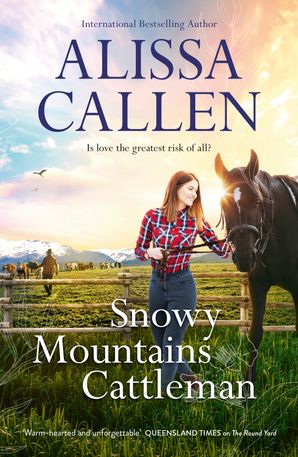 A woman's journey of self-discovery meets Bundilla's small-town charm and an intriguing post-World War II mystery in this captivating romance from bestselling Australian author Alissa Callen.
The greatest risk of all is love …
Interior stylist Grace Davenport has come to the mountains for solitude and a place to heal after her parents' death. Returning to their beloved town of Bundilla, she plans to restore a local bluestone mansion in honour of their memory. She'll just be there for the summer, until she figures out her next step.
Rowan Parker never used to think twice about taking risks until his love for a woman blinded him to all common sense. Now, between his cattle farm in the high country and his work as a stonemason, there's no room in his life for further mistakes. But when he meets the beautiful but reserved new owner of the historic mansion he's been hired to rebuild, he realises his best-laid plans have run aground.
Together, Grace and Rowan work to bring the mansion back to life. But when they uncover a hidden trove of post-WWII secrets about the house's former inhabitants, their quest to find answers draws them ever closer. And just when the stone rubble around them begins to resemble a home, a landslide threatens all that Rowan and Grace have rebuilt. With their futures as unstable as the mountainside, each must fight for what they really want, even if it means losing everything…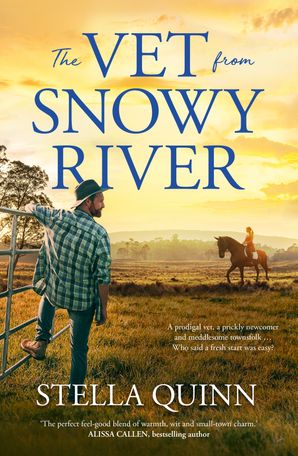 A hot vet. A rebellious teenager. And meddling but well-meaning townsfolk. Vera gets more than she bargains for when she runs off to a new life in the country … A fresh and funny rural romance, perfect for readers of Alissa Callen and Rachael Johns.
Vera De Rossi no longer believes in love …
And thanks to her ex-boyfriend­ she's also broke, jobless, and staring down the barrel of a court case that could land her in prison. Turning to her talent for baking, Vera opens a cafe in Hanrahan, a cosy tourist town in the foothills of the Snowy Mountains.
Josh Cody, once Hanrahan's golden boy, escaped sixteen years ago with gossip hard on his heels and a pregnant girlfriend in tow. Now he's back: a qualified veterinarian – and a single dad with a lot to prove. A new start and a grumpy teenage daughter … it's a lot to juggle, and there's no room in his life for further complications. But that's before he walks into The Billy Button Cafe and meets its prickly owner …
Reeling from the past, Vera has no intention of being sidetracked by the hot vet with a killer smile. But fate has a way of tripping up our best intentions and between a stray cat and a busybody with a heart of gold, this is a town – a family – unlike any other. And, whether Vera wants it or not, is there anything a family won't do to help one of its own?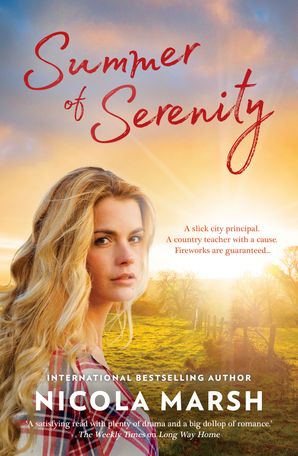 Opposites clash in the addictive new small-town romance from USA Today bestselling Australian author Nicola Marsh.
A slick city boy with a mission. A free-spirited country girl with a cause. Fireworks are guaranteed…
Upstanding principal Jy Atherton dreads the next four weeks. As punishment for crossing his bosses, he's been lumped with the inglorious task of assessing Acacia Haven's tiny school with its, dare he say, 'hippie' curriculum. With the lowest test scores in the state, it's no wonder shutting it down is practically a foregone conclusion. But then he crosses paths with a spitfire who knocks him for six – pity he's already public enemy number one…
Teacher Summer O'Reilly loves her small town nestled along the beautiful coast. Returning was the best decision she ever made. The intentional living community of Serenity is thriving, and the children are its future. No way will she allow a jumped-up suit – no matter how good-looking – to close the school her precious students need.
For Rayne O'Reilly, Acacia Haven has always been serene on the surface, but there's a dark secret she's kept from everyone for decades, including her daughter, Summer. But after reviving old friendships and reconnecting with the past, will she finally have the courage to tear down the walls that have kept her trapped?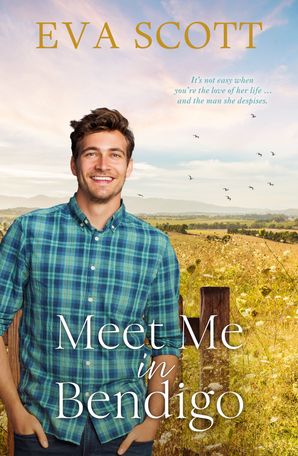 Rural Australia meets You've Got Mail in this romantic comedy about online dating, second chances, and following your heart.
Small-town sweetheart Annalisa Cappelli has returned to Wongilly to take over her family's hardware shop while she heals from a tragic loss. The business was hit hard by the pandemic, and now a Carpenter's Warehouse hardware superstore is opening in the district. There's no way Annalisa is going to let two hundred years of history go down the drain, but she's going to need to fight to keep her family's legacy alive.
The one simple thing in her life is her no names, no complications, easy-breezy online relationship with GardenerGuy94. For now, their online flirtation is the only kind of romance Annalisa needs. Until she meets Ed Carpenter. Sexy as hell, he'd be the perfect man … if he wasn't trying to destroy her business.
Ed Carpenter is in Wongilly to offer the owner of a small hardware shop a payout to pave the way for his family's next superstore. What he doesn't expect is for the owner to be the woman he's been talking to online. Annalisa is beautiful and passionate, and he's sure she's the one for him. But how can he reveal the truth without losing her?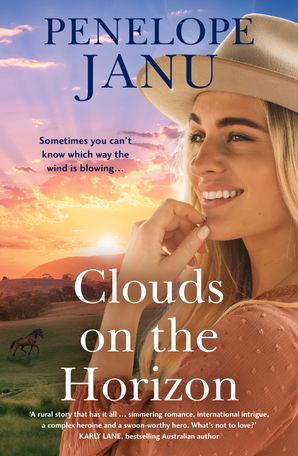 'A rural story that has it all … simmering romance, international intrigue, a complex heroine and a swoon-worthy hero. What's not to love?' Karly Lane, bestselling Australian author
Will a misunderstanding and past trauma stand in the way of profound attraction? Immovable determination meets irresistible charm in this delightful rural romance from an award-winning and much-loved author – for readers of Rachael Johns, Karly Lane and Fleur McDonald.
When Phoebe Cartwright finds Sinn Tørrissen, a naval officer and meteorologist, frozen half to death in the middle of a thunderstorm, she believes she's saved his life. Sinn, unfailingly competent and infuriatingly arrogant, disagrees. In Phoebe's small country town to track down the members of an illegal horse-racing syndicate, the last thing he needs is to become entangled with Phoebe.
A much-loved member of her community, the prickly and independent Phoebe is used to solving other people's problems. So when she learns her younger sister could be implicated in their father's dishonest accounting for the syndicate, she insists on working with Sinn to uncover the truth.
Sinn is both confused and entranced by the passionate Phoebe and in spite of her resistance, Phoebe finds herself drawn to him. But Phoebe is determined to protect her sister above all, and the secrets she cannot tell Sinn threaten to sweep his investigation – and their romance – way off course. With clouds building on the horizon, can Phoebe and Sinn weather the gale and find in each other a shelter from the storm?
'Encapsulates everything I love about the romance genre and so much more. A go-to author for rural romance for the head as well as the heart,' Joanna Nell, Bestselling Australian Author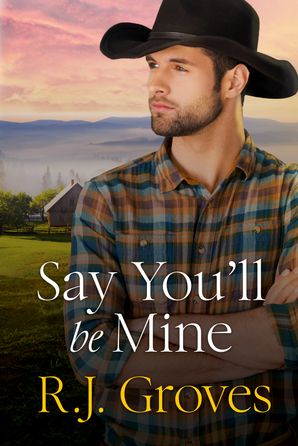 A city girl. A cowboy. A marriage of convenience.
Jannette Tanner is ready for the next step of her life plan – a baby. But when she's called back to her family farm to help her brother, she suddenly finds herself unsure of her plans. Especially when she sees her brother's best friend for the first time after seventeen years and discovers those secret childhood feelings for him have only grown stronger.
Shannon Hopkins is happy and content with his life – or so he'd thought. It wasn't until his best friend's little sister showed up that he realises there's been a big hole in his life. And the longer Jannette is around, the smaller that hole feels. Only problem is, she'll be headed back to the city before too long, and he'll be the sorry fool left heartbroken in the country.
But when it seems that Jannette might have a stalker and Shannon finds himself needing to marry to access an inheritance from his traditionalist grandfather, there's only one possible solution – a marriage of convenience.
How could that not be a good idea?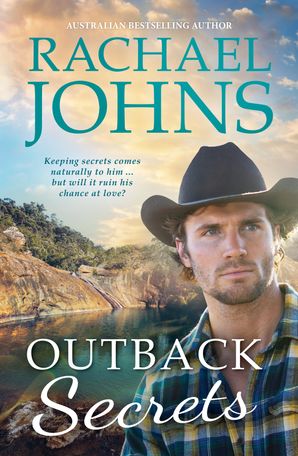 Keeping secrets comes naturally to him … but will it ruin his chance at love?
Liam Castle knows the secrets of everyone in Bunyip Bay. As the owner of the pub, he's heard it all – from marriage proposals and farming disasters to family rifts and everything in between. The locals love to confide in him, but no one knows he's hiding a tragic past.
And he wants to keep it that way.
Agricultural pilot Henrietta Forward lives for her job, choosing work over romance. But when an incident in the air brings Henri home to Bunyip Bay earlier than planned, she finds herself questioning everything she believes about herself.
But Henri's secret isn't her only problem.
Her mother will stop at nothing to have her settled down back in the Bay, and while Henri had always known domesticity wasn't the life for her, now she wonders what her future holds. So when Liam – always the first to lend a hand to those in need – agrees to play along with Henri's scheme to ward off her mother, she has mixed feelings. What happens when a pretend romance starts to feel like the real thing?
Will Henri's demons and Liam's traumatic past prove too great a barrier to love?
Happy bookish road trip!