Originally published on millsandboon.co.uk 
New York Times bestselling author Sherryl Woods chats with us about what it's like to have her series Sweet Magnolias adapted into a Netflix Original TV show.
---
Sooner or later in the life of every writer, they're likely to be accused of living in a fantasy world. It isn't always meant kindly or as a compliment. The suggestion is that we're so busy dreaming that we're not facing reality.
Well, these days a good many aspects of reality are pretty depressing, so I'm more than happy to be dwelling in a world of happily-ever-after where real problems can be conquered and women can not only survive, but thrive. This, for those of you haven't yet read the Sweet Magnolias books, is the fictional world of Serenity, South Carolina, which is about to be brought to life in a new 10-episode Netflix Original Series dropping on the 19th May. New eBook tie-in editions will be available in the Australia & New Zealand soon.
This is the second of my fictional worlds that has been brought to life on TV. My Chesapeake Shores series has aired on Hallmark Channel for four seasons so far and is now also streaming on Netflix.
For any author seeing their characters on a TV or movie screen would be both scary and exciting. Will the casting match what we've imagined? Will the stories be adapted with care given all the challenges of condensing the worlds we've created in print into a manageable, dramatic format that works for a TV audience? Readers often don't agree with the choices made and complain that what's on the screen doesn't match the stories they've read and loved.
From my very first meeting with producer Dan Paulson, who has done both series, I brought a different perspective to TV adaptations. While I am wildly protective of my characters and their fictional worlds, I also have the pragmatic view of someone whose early career was spent as a television critic. On some levels I understand what it takes to make great TV and my hope as an author is that the network, the producers and the writers will capture the heart of my books, the spirit of my characters and the essence of my fictional world.
With both Chesapeake Shores and now with Sweet Magnolias I have been blessed with people who have done exactly that. Have there been changes from the books? Yes, without question. Are these jarring for fans of the books? Certainly, and I'm flattered that they care so much.
But in both cases the question that matters to me is whether the TV teams, headed by Dan Paulson and the writers on both shows, have been true to the heart of the stories, the spirit of the characters and the essence of my world and, most important of all, created good TV.
So, on May 19, I won't be thrown by any changes. I'll be embracing the work of the extremely talented writers and cast, who have made the world of the Sweet Magnolias into really wonderful TV, rich with all of the strength, warmth and humor that made readers fall in love with the books.
For those of you who have read the books and those of you yet to try them, grab a margarita and join lifelong friends Maddie (JoAnna Garcia Swisher), Dana Sue (Brooke Elliott) and Helen (Heather Headley) as they fight to triumph over adversity and make their dreams come true . . . just as you and I do.
---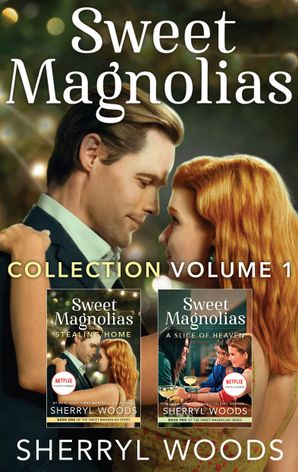 Buy the first book in Sherryl Woods' Sweet Magnolias series, Stealing Home, here! And make sure to stream the show on Netflix, out now.
By Becky Lushey & Sherryl Woods