Cheryl Adnams, author of The Bushranger's Wife, a historical romance set in the Central Highlands of Victoria, reviews Netflix's latest romance TV show, Bridgerton.
---
'Grosvenor Square, 1813. Dearest Reader, the time has come to place our bets for the upcoming social season.'
I admit I have never read any of Julia Quinn's books. Though not for want of trying. I have had my name down at the library for The Duke and I for what feels like months. Such is the popularity of the stories. So popular in fact that the production powerhouse that is Shonda Rhimes took the books and turned them into a Netflix series.
Bridgerton follows a family of eight close-knit siblings as they attempt to find love in Regency-era England. Released in Australia on Christmas Day, I started my Bridgerton binge early on Boxing Day and finished the entire series before bedtime. I was chuckling in the first five minutes, mentally high-fiving the heroine as she saved herself with a keen right hook from an over-amorous suitor, sighing at the romance by episode five and blushing at the raunchiness of episode six.
It was only after I had watched Bridgerton the second time around did I notice the similarities to my newly released book The Bushranger's Wife. Not the era or characters, but the situation of a so-called 'arrangement' when it comes to marriage. I won't give away spoilers for either story but while the main characters Daphne and the duke's arrangement doesn't mirror that of Jack and Pru, both marriages begin as a convenience to get one or both characters out of a bind of sorts. It's a fairly common romance trope, I suppose.
Anyway, back to Mayfair and the delectable duke. The duke is all kinds of rakish and gorgeous, with a six-pack of hearty English dark ale abs whose vow to his dead father made me roll my eyes a little towards the end. Daphne is demure with porcelain skin but shows herself to be no pushover despite her severe lack of knowledge about how babies are made.
The script is well written and performed with strong female characters and handsome male leads, and it moves from sweet to sensationally scandalous and saucy, giving the ever-present yet mysterious Lady Whistledown plenty of fodder. Lady Whistledown is narrated by (it's no saucy secret now) the beautifully recognisable tones of Julie Andrews. Her scandal sheets keep all of Mayfair including Queen Charlotte on their toes and buzzing with gossip of the London ton.
The costumes and stage design are glorious; even the Featherington women's delight for vivid prints and poor Penelope's constant yellow gowns are stunning. The moment the series ended, I immediately downloaded the soundtrack which includes violin and classical versions of modern songs such as Maroon 5's 'Girls Like You', Ariana Grande's 'Thank U, Next' and best of all Taylor Swift's 'Wildest Dreams' to name a few. It was fun trying to pick them in the second time viewing.
I admit I found the last episode rushed a little too quickly to the happy ever after and I can only wonder, having never read the books, where Season 2 will take us. Devilish, philandering brother Anthony's story perhaps? Hopefully by then I will have been able to procure myself a copy of the books. The cast overall is fabulously diverse and inclusive. I'm not going to delve into the myriad discussions around historical accuracy that are inevitably sweeping the web in the wake of Bridgerton's release. I'm just going to say I enjoyed it for what it was. Entertainment.
---
Cheryl Adnams
Cheryl Adnams lives in Adelaide, South Australia. She has published four Australian rural romance novels and two Australian historical novels. Cheryl has a Diploma in Freelance Travel Writing and Photography and has lived and worked in the United States, Canada and spent two years with a tour company in Switzerland and Austria. Her passion for Italy, volcanology and cycling have made their way into her stories and her favourite writing retreats include Positano on the Amalfi Coast and Port Willunga Beach just south of Adelaide. When she's not writing, Cheryl is still creating in her busy full time job as a trainer and learning designer.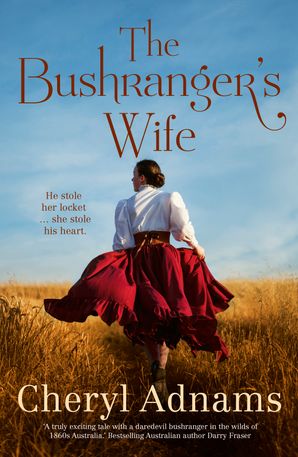 He stole her locket … she stole his heart.
Central Highlands of Victoria, 1861
Jack the Devil's reputation precedes him. The most notorious bushranger on the Central Highlands, nothing throws him off his game … until he holds up Prudence Stanforth and her grandmother. Jack can't help but be captivated by the feisty Pru, with her sweeping red hair and complete lack of fear.
Weeks later, Pru crosses paths with the respectable businessman Jack Fairweather, and it's not long before she recognises him as the bushranger who stole her beloved necklace. His price for the locket's return is her silence … and a kiss. A kiss that sparks something inside them both.
When Pru discovers her grandmother has been keeping a devastating secret, running away with Jack the Devil is the perfect escape for her broken heart. The dangerous nature of his less-than-salubrious occupation is a poetic contradiction to her sheltered upbringing and only fuels their passion. Until that danger becomes a reality. Between the return of dark elements from Jack's past and authorities intent on his capture, Jack and Pru must fight for their future together … or risk losing everything.
A rollicking historical tale about following your heart, finding home in unexpected places – and bushrangers – for readers of Darry Fraser and Alison Stuart.