Did you know Disney's Beauty and the Beast came out in 1991? Romance.com.au writer Nicola looks back at the impact this movie has made since it arrived 30 years ago.
---
I came late to this 1991 movie, when it was already 10 years old. In 2001 I was home from overseas, visiting family with my almost 4-year-old daughter (I'll call her Sally), and my sister suggested that we show her the video (yes, video!) of her own 14-year-old's once-favourite movie, Disney's Beauty and the Beast. Anything that her much admired older cousin did, my daughter would follow … and this movie has since been has been a constant in my life.
Belle became Sally's heroine. She watched the movie twice that first day. Once, terrified by the wolves and roaring Beast, and a second time, no longer afraid but just as fascinated. Meanwhile I swooned at the romance (any wonder I now work at HQ?), and smiled at the risqué jokes, my favourite of which remains clock—butler Cogworth's cynical list of suitable gifts for women, 'Flowers, chocolates, promises you don't mean to keep …'
The video travelled back to London with us, where it was played many, many times … The scene where the Beast circles into the sky, enswirled in sparkling pink, and descends as the Prince, enraptured my daughter's posse, although I privately felt it was like watching Nick Cave magically demoted to Rick Astley.
Over the years we have seen:
– Beauty and the Beast on ice, where the Beast was a little disappointing in stature but the purchase of a plastic Mrs Potts moneybox was a key childhood moment (we still have it).
– Beauty and the Beast enhanced and with a lengthened, even swoonier dance scene—those Angela Lansbury vocals! that yellow ballgown!—in a DVD now lost
– Beauty and the Beast in 3D, on Mother's Day when Sally was 13, and she for the first time commented with surprise that it was 'cheesy'. (Mind you, Chip's bungee-jumping gag was 100% more memorable in 3D.)
– Beauty and the Beast live action, with Emma Watson and Dan Stevens (2017). Sally, then 19, was outraged at how 'unrealistic' the story was … I couldn't even, and I still can't.
We had a Belle Barbie too, although we've never seen the stage show. Given the chance, we'll be there. I'd love to see the blend of music hall, Chanson Francaise, Zeigfield's folies dance, and pure, romantic pop brought to the stage, hopefully before the fortieth anniversary rolls around.
And how does the original movie look today? In 1991, Pixar had not yet shaken up the animation world with Toy Story, and in contrast to what has come since, it all looks a little stilted. But the storytelling and music hold up. I'm just waiting for a grand-daughter to share it with.
---
Love Beauty & the Beast? Read The Unworthy Duke by Charlotte Anne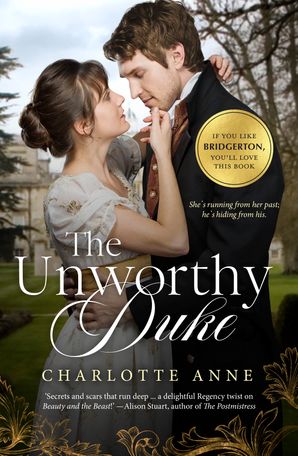 Witty, passionate and fast-paced, this sparkling debut Regency romance is a must-read for any fan of Georgette Heyer, Julia Quinn or Loretta Chase.
'Secrets and scars that run deep … a delightful Regency twist on Beauty and the Beast!' –Alison Stuart, author of The Postmistress
She's running from her past; he's hiding from his.
Miss Ellen Burney doesn't have a penny to her name. Determined to escape scandal, she flees to London and becomes Miss Smith: spinster and lady's companion. London offers security in anonymity. So long as Ellen can rein in her overactive imagination and become the perfect picture of propriety.
Calum Callaghan spent ten years in the Royal Navy fighting Napoleon and has the scars to prove it. Now he's a duke, but all of London thinks he murdered his brother. Heartbroken and battle weary, he's locked himself away for four long years, a prisoner in his own townhouse.
That is, until Cal's grandmother comes to stay with him for the London Season, her new lady's companion in tow. A lady's companion with a passion for life and love that can hardly be contained by even the most spinsterish of lace caps. She's fooling nobody, especially not this grumpy duke.
'Charming characters, witty banter, a delightful romp from a sparkling new voice in historical romance.' -Allison Butler, author of the Borderland Brides series
By Nicola Robinson