For six seasons of the hit TV series Younger, we've been immersed in the world of publishing in New York and been on the journey with Liza, a forty-plus-year-old New Jersey divorcee who pretends to be in her twenties so she can once more work in the industry she loves.
It's been a long time waiting for the seventh—and final—season to drop on Stan. With the first few episodes just released and more to come, here's a quick recap of where we left off at the end of season 6:
Diana's HEA:
Diva Diana's magnificent speech (season 6, episode 2) about dreams we have as a child, leaving behind ideals we've clung to and allowing ourselves to fall for the person we can't breathe without leads us to the final episode of the season and her wedding. Diana and her expensive and stylish clothes and her new husband Enzo, with his no-nonsense view of life and his plumbing business, are an unlikely match yet they are absolutely perfect for each other. Their wedding is the ideal setting for …
The Proposal:
Ah, Charles and Liza … will they or won't they? At the wedding reception Charles requests 'Take My Breath Away', Liza and Charles's song—and a nice tie-in to Diana's speech about being with the person you can't breathe without. Charles then proposes, but Liza leaves us all hanging—will she accept or not? We find out in season 7 …
Before the Proposal:
A few episodes prior, Liza chose to cut Josh out of her life so she can concentrate on her relationship with Charles—she was still getting the Josh hubba-hubba vibes and his presence was torturing her. The 'Dear John' letter she wrote Josh broke his heart (and ours!) so when they meet up at Diana and Enzo's wedding, it's extremely awkward. Especially when Josh asks Liza to give permission for him to use the tattoo design he'd created for her. Initially Liza says yes then changes her mind, and it's clear neither of them are over each other. Oh, the torture!
---
Kelsey and Millennial:
Kelsey secures financial support and mentoring from Millennial's arch rival, Quinn Tyler, to start her own publishing company. At the wedding, Charles offers Kelsey a seat on the board and equity in Empirical Publishing, giving a hard-to-refuse speech about Kelsey being part of the family—an offer she happily accepts. So where does this leave Quinn Tyler and her underhanded ways? We shall find out in season 7!
#TeamCharles or #TeamJosh?
Ah, the question that has yet to be answered …
Charles is mature and a man who wants to settle down with the love of his life but he has baggage—ex-wife Pauline, who is out for revenge after she discovered Liza, who is also Pauline's editor, lied about her age and is madly in love with Charles. Being in a relationship with Charles reminds Liza of the life she had in New Jersey—sensible and stable and Saturday reading on the sofa with a delicious glass of wine. Charles loves Liza and clings to tradition, marriage being of utmost importance. Is Liza ready?
Josh is fourteen years younger than Liza and his zest for life and adventure brings out a side she'd suppressed when she was a wife and mother living in New Jersey. Their on-again/off-again relationship has been fraught with disagreements about living one's life from the heart or living according to society's expectations. Liza's always been worried Josh would regret being with her in the long-run because she doesn't want children and he does (he now has baby Gemma to ex-green-card wife Clare). These two have a complicated relationship and always find a way back to each other. Will that happen one more time and will it be for good?
Then there's mystery surfer Kai Manning who appears in the season 7 trailer. What? A third love interest?
How about you? #TeamCharles or #TeamJosh … or do you want to see Liza with the new guy, Kai Manning? And what about Quinn? Will she be out for revenge? Tell us your predictions!
---
ABOUT THE AUTHOR: Alli Sinclair
Alli Sinclair, an adventurer at heart, has won multiple awards for her writing. She is Australian and has lived in Argentina, Peru and Canada, and has climbed some of the world's highest mountains, worked as a tour guide in South and Central America and has travelled the globe. She enjoys immersing herself in exotic destinations, cultures and languages but Australia has always been close to Alli's heart. Alli hosts retreats for writers and presents writing workshops around Australia, as well as working in film on international projects. She's a volunteer role model with Books in Homes and is an ambassador for the Fiji Book Drive. Alli's books explore history, culture, love and grief, and relationships between family, friends and lovers. She captures the romance and thrill of discovering old and new worlds, and loves taking readers on a journey of discovery.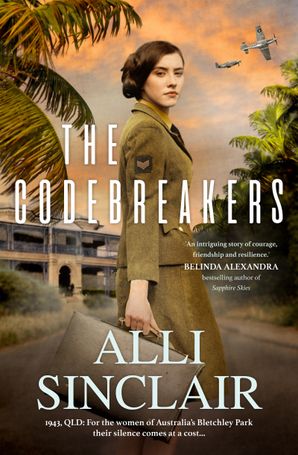 They will dedicate their lives to their country, but no one will ever know…
A compelling story about tenacity and friendship, inspired by the real codebreaking women of Australia's top-secret Central Bureau in WWII. For readers who love Judy Nunn and Kate Quinn.
1943, Brisbane: The war continues to devastate and the battle for the Pacific threatens Australian shores. For Ellie O'Sullivan, helping the war effort means utilising her engineering skills for Qantas as they evacuate civilians and deliver supplies to armed forces overseas. Her exceptional logic and integrity attract the attention of Central Bureau – an intelligence organisation working with England's Bletchley Park codebreakers. But joining Central Bureau means signing a lifetime secrecy contract. Breaking it is treason.
With her country's freedom at risk, Ellie works with a group of elite women who enter a world of volatile secrets; deciphering enemy communications to change the course of the war. Working under immense pressure, they form a close bond – yet there could be a traitor in their midst. Can the women uncover the culprit before it's too late?
As Ellie struggles with the magnitude of the promise she's made to her country, a wedge grows between her and those she holds dear. When the man she loves asks questions she's forbidden to answer, how will she prevent the double life she's leading from unravelling?