Alissa Callen, author of Snowy Mountains Cattleman, teaches us teacup DIY hacks!
---
My love for vintage china started as a child when I rescued a chipped pink-and-white saucer destined for my neighbour's rubbish pile. For years the pretty floral plate had pride of place on the fireplace mantelpiece in my farmhouse bedroom. As a teenager I trawled through op shops for vintage treasures and as an adult my collection grew to include many precious additions, such as my grandmother's Royal Doulton tea set.
My heroine in Snowy Mountains Cattleman, Grace Davenport, also appreciates vintage items, especially fine bone-china teacups. As a workaholic interior stylist, she is an expert at sourcing collectables for clients. But it isn't until she meets Rowan Parker, a cattleman moonlighting as a stonemason, that she begins to discover it isn't only beautiful objects that can bring joy.
To spread a little vintage charm try one of these DIY teacup hacks:
Add some candle or bees wax, essential oil and a wick to a teacup to create a custom-made candle.
2. Combine pieces of china with white grout to create a mosaic placemat, garden stepping stone, bird bath bowl or to dress up a terracotta pot.
3. Fill a fine bone china jug or teapot with flowers to double as an impromptu vase.
4. Use a teacup and saucer as a jewellery organizer. A fine bone china cup rim is the perfect width on which to hang earrings.
5. Using a hot glue gun, assemble a dinner plate and saucers into a bespoke high tea cake stand.  
6. Use superglue to secure a half turned-over teacup onto a saucer to make a bird feeder. Attach a ribbon or string to the handle, hang in the garden and fill with bird seed. 
7. Display fine bone china plates on a wall to add interest and colour to a blank space.
8. Fill a teacup with soil to make a home for herbs, succulents or annuals.
9. Glue a pretty pin cushion to the inside of a teacup or a tea pot lid to always keep your sewing items in one place.
10. Last but not least, make treasured teacups and sweet saucers a part of your everyday life.
---
ABOUT THE AUTHOR: Alissa Callen
When USA Today bestselling author Alissa Callen isn't writing, she plays traffic controller to four children, three dogs, two horses and one renegade cow who believes the grass is greener on the other side of the fence. After a childhood spent chasing sheep on the family farm, Alissa has always been drawn to remote areas and small towns, even when residing overseas. She is partial to autumn colours, snowy peaks and historic homesteads and will drive hours to see an open garden. Once a teacher and a counsellor, she remains interested in the life journeys that people take. She draws inspiration from the countryside around her, whether it be the brown snake at her back door or the resilience of bush communities in times of drought or flood. Her books are characteristically heartwarming, authentic and character driven. Alissa lives on a small slice of rural Australia in central western NSW.
Don't miss Alissa's latest book Snowy Mountains Cattleman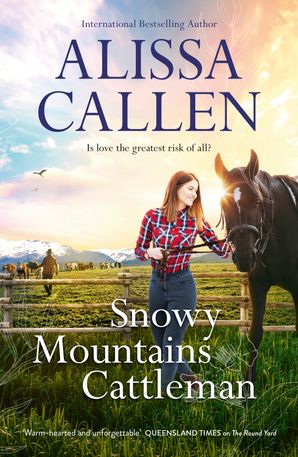 A woman's journey of self-discovery meets Bundilla's small-town charm and an intriguing post-World War II mystery in this captivating romance from bestselling Australian author Alissa Callen.
The greatest risk of all is love …
Interior stylist Grace Davenport has come to the mountains for solitude and a place to heal after her parents' death. Returning to their beloved town of Bundilla, she plans to restore a local bluestone mansion in honour of their memory. She'll just be there for the summer, until she figures out her next step.
Rowan Parker never used to think twice about taking risks until his love for a woman blinded him to all common sense. Now, between his cattle farm in the high country and his work as a stonemason, there's no room in his life for further mistakes. But when he meets the beautiful but reserved new owner of the historic mansion he's been hired to rebuild, he realises his best-laid plans have run aground.
Together, Grace and Rowan work to bring the mansion back to life. But when they uncover a hidden trove of post-WWII secrets about the house's former inhabitants, their quest to find answers draws them ever closer. And just when the stone rubble around them begins to resemble a home, a landslide threatens all that Rowan and Grace have rebuilt. With their futures as unstable as the mountainside, each must fight for what they really want, even if it means losing everything…