Historical fiction author Charlotte Anne published her debut Regency romance in paperback this month. To celebrate we asked her to round-up her favourite historical movies from the 1990's.
---
There's something a little bit special about historical movies made in the 90s.
Maybe I'm biased because these are the movies I grew up watching. Or maybe I'm biased because I'm now a romance author and these movies are steeped in love and romance. Or maybe I'm biased because I have a degree in archaeology and love all things history.
Whatever the reason, historical movies of the 90s will always have a special place in my heart. In small, but significant, ways they influenced my debut novel, The Unworthy Duke.
Here are five of my all-time favourites:
Orlando (1992, directed by Sally Potter)
I don't think there's another movie quite like Orlando; it's really one of a kind, but that's hardly unexpected considering it's based on the Virginia Woolf novel by the same name. I'll happily admit Woolf's Orlando is one of my favourite books. I've read it countless times, so it's little wonder I love the 90s movie adaptation nearly as much. The movie opens in the Elizabethan era, when Orlando is a young boy, and it follows Orlando's many adventures across many decades as they slowly (very slowly!) grow up. The movie (and the book) ends with Orlando happily settled and in love. It's truly a masterpiece.
Orlando's house is my dream home. It's huge! And it was an inspiration for the duke's London townhouse. When I started writing The Unworthy Duke, I knew most of the book was going to take place in the duke's house and I wanted it to reflect some of his personality, just as Orlando's house reflects their personality.
Watch it on: Stan
The Secret Garden (1993, directed by Agnieszka Holland)
The Secret Garden was a childhood favourite of mine—which probably had a lot to do with how often my mum wanted to watch this film. It's heart-warming and inspirational, with the young orphan Mary Lennox slowly learning about the positive powers of friendship and love. And, of course, the scenery is simply divine, with the stark contrast between the gloomy mansion and the sunny garden.
Gardens have always played a significant role in my life, and spending time outside is cathartic. Ellen, my heroine in The Unworthy Duke, spends much of her free time trying to restore the duke's long-neglected garden to its former glory as a temporary escape from her own worries.
Watch it on: Stan
Sense and Sensibility (1995, directed by Ang Lee)
Arguably the greatest Jane Austen movie adaptation of all time and certainly my personal favourite, Sense and Sensibility has a star-studded cast, including screenwriter Emma Thompson and Kate Winslet as the two eldest Dashwood sisters, and Hugh Grant and Alan Rickman as their suitors. I mean, we're talking about a broody, love-sick Alan Rickman in Regency costume! There's no movie magic greater than that. And in this film, his character actually gets the happily ever after he deserves, married to the love of his life.
It was Alan Rickman's portrayal of Colonel Brandon that first introduced me to the brooding, emotionally damaged hero, and I fell in love instantly. Calum, Duke of Woodhal, is my personal brooding, emotionally damaged hero. He was a lot of fun to write, and I'm so pleased I could give him the perfect heroine he deserves.
Watch it on: Binge
Elizabeth (1998, directed by Shekhar Kapur)
I was obsessed with learning everything I could about Queen Elizabeth I when I was in high school. She was everything I admired: a strong, independent woman. She's also attributed with some of the greatest inspirational lines in history, and her speech to her troops at Tilbury in preparation for the invasion of the Spanish Armada is legendary. So it's no surprise that her life made such a remarkable movie. Starring Australia's own Cate Blanchett, this period drama explores the trials and tribulations Elizabeth overcame in the first few years of her reign. Needlessness to say, the acting is superb, and the costumes are stunning.
The inspiration of Elizabeth on The Unworthy Duke isn't hard to guess. Ellen is an intelligent and capable woman who takes her life into her own hands and who doesn't let anyone tell her what to do—even a grumpy, brooding duke with a heart of gold.
Watch it on: Binge
The Mummy (1999, directed by Stephen Sommers)
Finally, there's no way I can talk about historical movies of the 90s without mentioning The Mummy, no matter that it's technically a fantasy. There are so many reasons why it's such a great film, too many to list them all here. But I can promise, as an archaeologist by training and a historical romance author by trade, The Mummy has absolutely the right mix of history, adventure and romance to make it a film to go back to again and again.
It's influence on The Unworthy Duke: the power of romance even in the most difficult situations. Love really can overcome so many barriers.
Watch it on: Stan
---
ABOUT THE AUTHOR: Charlotte Anne
With a degree in archaeology, Charlotte Anne now pens steamy historical romances. She's been writing for as long as she can remember, and in her spare time she's climbed to Mt Everest Base Camp and has earned her black belt in taekwondo. She's even a pretty good shot with a bow.
Find out all about Charlotte's debut book The Unworthy Duke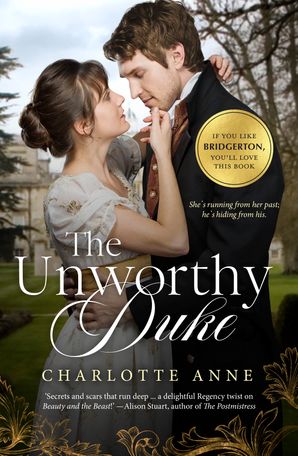 Witty, passionate and fast-paced, this sparkling debut Regency romance is a must-read for any fan of Georgette Heyer, Julia Quinn or Loretta Chase.
'Secrets and scars that run deep … a delightful Regency twist on Beauty and the Beast!' –Alison Stuart, author of The Postmistress
She's running from her past; he's hiding from his.
Miss Ellen Burney doesn't have a penny to her name. Determined to escape scandal, she flees to London and becomes Miss Smith: spinster and lady's companion. London offers security in anonymity. So long as Ellen can rein in her overactive imagination and become the perfect picture of propriety.
Calum Callaghan spent ten years in the Royal Navy fighting Napoleon and has the scars to prove it. Now he's a duke, but all of London thinks he murdered his brother. Heartbroken and battle weary, he's locked himself away for four long years, a prisoner in his own townhouse.
That is, until Cal's grandmother comes to stay with him for the London Season, her new lady's companion in tow. A lady's companion with a passion for life and love that can hardly be contained by even the most spinsterish of lace caps. She's fooling nobody, especially not this grumpy duke.
'Charming characters, witty banter, a delightful romp from a sparkling new voice in historical romance.' -Allison Butler, author of the Borderland Brides series