The amazing Hamilton is coming to Disney+ on 3 July 2020 and it triggered quite a 'discussion' (*cough*) about the best musicals available to watch digitally in Australia.
The three authors of One From the Heart caught up online to destroy some coffee and shout over the top of each other about our favourite musical stage shows and movies. Who was right? Well, musicals are a very personal choice. One author's karaoke standard is another's irritating earworm. So, we agreed to disagree. But we exercised our Google-fu to see where you could find some of our all-time favs.
And now, so can you. You're welcome!
P.S We have added where each film is available via a streaming platform, however you can also buy/rent most of these from iTunes, Google Play or Youtube.
---
Most Timeless…
Funny Girl
Daniel de Lorne: Hello, gorgeous! The story of Ziegfeld Girl and Jewish comedian Fanny Bryce in the 1910s and 1920s. She wants to be on stage but she doesn't have the same…assets as the other girls, but she can make you laugh and she's got a voice that'll break your heart (in a good way). She falls in love with Nicky Arnstein (swoon-worthy Omar Sharif), chasing after him on a ferry while singing 'Don't Rain on my Parade'. There's a whole lot of theatrics, and 'The Swan' is one of my favourites. 'My Man' is a real tear-jerker. And if you care about awards, Barbra Streisand won the Best Actress Oscar for her portrayal. Go, Babs!
Watch it on: Funny Girl isn't available for streaming anywhere, however you can buy or rent it on iTunes, Google Play or Youtube
Into the Woods
Nikki Logan: As an author (and a theatre-goer) I love fairy tale adaptations. Taking a well-thumbed tale and scrunching it up then flattening it out again and looking at all the new facets in the wrinkles. Steven Sondheim's Into the Woods does exactly that. It makes you question everything you thought you knew about your favourite childhood stories and mixes them with a cracking score and witty, witty writing.
Most recently I saw the 2014 version ¬– Meryl Streep, James Corden, Emily Blunt, Chris Pine, Anna Kendrick, Tracy Ullman. I mean…honestly! You really haven't lived until you've seen Chris Pine in tight, princely breeches singing about his Agony.
Watch it on: Disney + 
The Sound of Music
Fiona Greene: One of my very first romantically themed musicals and a firm favourite. A brooding hero, a plucky heroine and cute children, against the backdrop of some of the best scenery in a movie, ever. Growing up, this was a slumber party favourite and I was lucky enough to see a live production in the 80s. The scariest thing: it was made in 1965, which makes it 55 years old. A true classic that's stood the test of time.
Watch it on: Disney + 
Best for Karaoke…
Mamma Mia!
Fiona Greene: My love-hate 'jukebox' musical. I grew up on ABBA and I loved the soundtrack, but I wasn't sold on the casting or the plot. Pierce Brosnan had just come from a stint as James Bond, and his island wardrobe and laid-back demeanour, when I was expecting suave and suited, truly hurt my brain. I saw Meryl Streep as a dramatic actress, and that added to my headache. The cast all loved being there, I could tell, and they tried so hard to convince me to love it too, but still I wavered. So, I watch this one for the music, and I still can't figure out if I love it or if I hate it. I haven't ventured into the vault to look for the sequel yet because all the great songs are already sung, and I'm not sure what is left.
(Note from Daniel: DON'T WATCH THE SEQUEL, FI!)
(Note from Nikki: …UNLESS WE CAN WATCH YOU WATCHING THE SEQUEL)
Watch it on: Netflix
Cabaret
Nikki Logan: This production is the one that made the divine Miss M a household name. No, not that one; the other one – Liza Minnelli. (There is only one Divine Miss M and that's Bette Midler!). The film versionof Cabaret is only loosely based on the stage version from the 60s but it doesn't suffer from the rewriting. It picked up nine Academy Awards in 1972 and even scored a coveted place in the US Congress' National Film Registry for its cultural relevance and aesthetic significance.
But that's not why I love it…I'm 100% there for the sordid, Nazi-infested opulence of the Berlin Kit Kat Club, the androgynous Master of Ceremonies and the fearless Sally Bowles. It's also one of my karaoke go-tos and, really, isn't that the mark of a truly great musical?
Watch it on: Amazon Prime
Hairspray
Daniel de Lorne: Good morning, Baltimore! This feel-good musical set in segregated 1960s Baltimore is all about learning to love someone even when they're different from you. It focuses on Tracy Turnblad, a plus-sized girl with a plus-sized heart, who wants to dance on the popular TV show The Corny Collins Show. The show is hosted by the gorgeous James Marsden but produced by the deliciously wicked and bigoted Michelle Pfeiffer. John Travolta is a show-stopper as Tracy's mother Edna, and Christopher Walken is, well, himself, but still awesome as her joke-shop owning father, Wilbur. Great tunes, strong message, and lots of laughs, once you start you can't stop the beat.
Watch it on: Stan 
Most opulent…
Moulin Rouge!
Fiona Greene: Baz Luhrmann's 2001 spectacular has it all – the costumes, the music, the romance, the love triangle and the tragedy. I loved Nicole Kidman's performance in this. Lady Marmalade gets me up and dancing, and the attention to detail in the video really showcases the film. Moulin Rouge! is giddy, over the top, and captures the excitement that a 1900s Parisian would have felt attending a performance. Oh how I wish time travel was real, and destinations like the Moulin Rouge were dialled in.
Watch it on: Amazon Prime 
Chicago
Daniel de Lorne: One of my favourite musicals of all time, Chicago has it all: 'murder, greed, corruption, exploitation, adultery and treachery…all those things we hold near and dear to our hearts.' Renée Zellweger and Catherine Zeta-Jones star as Velma and Roxy, who are pitted against each other in a fight for fame. Richard Gere plays their sleazy lawyer with Queen Latifah as Mama Morton.
The movie takes a lot of the sexiness and spectacle of the stage show and brings it to the (small) screen. The songs are catchy and the story's engaging…and all that jazz.
Watch it on: Stan, Amazon Prime or Binge
Sweeny Todd: The Demon Barber of Fleet Street
Nikki Logan: Johnny Depp was my celebrity crush for my teenaged years, Helena Bonham Carter for most of my twenties and Alan Rickman for the decades since. Throw in a Tim Burton penny dreadful spin on a gothic classic and I was always going to slide into a theatrical faint.
The plot is simple: revenge-seeking London barber kills his enemies and disposes of their bodies by cooking them into pastry for his buxom landlady to flog in her bakery. Happens every day, right? Fresh meat was hard to come by in Georgian London.
Gothic and gory, delicious and demented. Another musical and visual masterpiece. The production values are insane and Sondheim's gorgeously complex score is as rich as one of Mrs Lovett's pies. And when Rickman and Depp start singing in harmony…well…they might as well be getting naked and rubbing all over each other. *faints*
Watch it on: Netflix 
Come on, hit us up with your favourites (and where to find them!) Most singable, most opulent, and those classics that we just can't stay away from.
---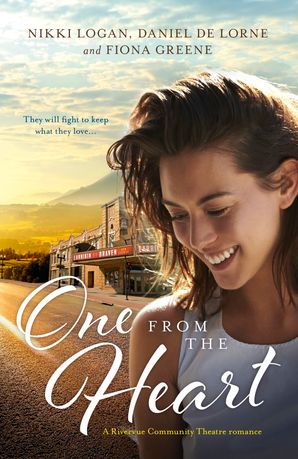 He's the Banksy of the international theatre scene – daring, anonymous, renowned. So when playwright 'Draven' bequeaths his latest play to the rural Rivervue Theatre, the stage is set for drama.
Three stellar authors offer three stories packed full of romance, secrets and lies…
Tread the Boards Nikki Logan: Rivervue Theatre's props maven Mackenzie Russell is drawn to enigmatic loner Dylan North. But both Kenzie and Dylan have secrets to keep. Secrets that if revealed could tear the town, the theatre – and Dylan and Kenzie – apart.
Set the Stage Daniel de Lorne: A phone call from an unrequited past love sends architect Gabriel Mora running back to his artsy home town of Brachen. There, he is forced to hide his involvement in the redevelopment of the town's beloved theatre to protect his mother's frail health. It's just one more secret to keep hidden, along with his feelings for Bruce Clifton, the theatre's kind stage manager.
Take a Bow Fiona Greene: Creative director Lexi Spencer is fighting to save the iconic Rivervue Community Theatre and Draven's play is the weapon she needs. She's already lost so much in her life, losing the theatre isn't an option. But with past love Mark Conroy on the scene, old feelings resurface. The controversial play is set to test the loyalty of the town, as well as the strength of their relationship.
When the play's dark truths come out, the ripples will affect everyone's lives. Can the show still go on?