Eva Scott's latest rural rom com Meet Me In Bendigo is based on iconic 80's movie When Harry Met Sally. To celebrate its release we got Eva to count down her top 5 (and a half) Meg Ryan romances!
---
It just so happens that my latest book, Meet Me in Bendigo, and my previous release, Lonely in Longreach, were both loosely based on Meg Ryan films. I have always been a fan of Meg's and she's gone on to be as great behind the camera as in front (Fan Girl anyone?). I cannot explain the John Mellencamp thing but hell, we've all made mistakes.
Here's my top five-and-a-half Meg Ryan films of all time:
5 (& 1/2). Top Gun
Meg Ryan never gets a mention when people talk about the 1986 classic Top Gun. But there she is, front and centre, as Goose's (Anthony Edwards) wife, Carole Bradshaw. 'Take me to bed or lose me forever'. Great line. Thank you, Meg.
5. City of Angels
This 1998 romance fantasy tells the story of an angel named Seth (Nicholas Cage) who falls in love with the woman he encounters while waiting to escort a heart patient to the other side. The woman, surgeon Maggie Rice (Meg Ryan), works hard to save the man and is deeply upset when she fails. Seth becomes fascinated by her and decides to become human so he can be with her.
Seems like a good idea at the time, only angels don't feel like humans do. The experience of being human is an overwhelming one for Seth.
*Spoiler Alert* If you haven't seen the film, look away now.
In a horrible twist, our diminished angel connects with Maggie and they have a beautiful encounter only for her to be killed on her way to the local store the next morning. This leaves Seth alone in the world but he comes to terms with his humanity through the sheer joy of being able to feel everything, including grief. Originally a 1987 German film, Der Himmel uber Berlin, the later version swaps out Berlin for Los Angeles but retains a good portion of its German sensibility. Those guys can get dark.
4. Kate and Leopold
This time-travelling confection of a film is marred by one thing only – Meg's straight hair. What were they thinking?
Leopold, the 3rd Duke of Albany (Hugh Jackman) crash lands into the life of Kate McKay (Meg Ryan), a cynical market researcher. As Leopold is from 1876 there is lots of fun to be had as he transitions to twenty-first-century New York.
He has been accidentally transported through a time portal by Kate's ex, Stuart (Liev Schreiber), a mad amateur physicist and distant relation of Leopold. Stuart manages to send Leopold back to his own time, but not before Kate and Leopold have fallen in love. One dramatic bridge jump later and Kate is reunited with Leopold in 1876 just before he is to announce his marriage of convenience. Of course Leopold chooses Kate, making her Stuart's great-great-grandmother. Which is kind of weird if you think about it, but I suggest you don't and just enjoy the movie.
3. When Harry Met Sally
Meg's fake orgasm scene has gone down in cinematic history. The film explores the age-old question: can men and women ever just be friends? Harry (Billy Crystal) and Sally (Meg Ryan) share a love/hate relationship in the beginning as they drive cross-country to New York to start their respective post-college lives. Five years later, they run into each other on a plane. They still can't make a friendship work. Another five years later a bookstore encounter, and things began to change. Their friendship blossoms, they kiss, they break-up, they make-up, and they finally realise that the thing between them is more than friendship – it's true love. The snappy dialogue and great cast have made this movie a well-deserved classic of its genre.
2. You've Got Mail
This story has a long history of being remade, having started life as a Hungarian play before becoming a classic Hollywood movie, The Shop Around the Corner. In 1998, Meg Ryan got to play Kathleen Kelly in the remake, You've Got Mail. Kathleen's independent bookstore is trying to hold out against the enormous Fox Books chain (remember Borders? *sigh*). She strikes up an online relationship with Joe Fox (Tom Hanks) that quickly becomes the emotional mainstay of her life, but neither party realise who the other one is in real life. Awkward!
My new novel, Meet Me in Bendigo, is based on this same story. Only I had to swap out the bookstores for hardware. A girl's gotta do what a girl's gotta do. Times have changed and bookstores have become rare beasts. The mistaken identity trope, however, stays as perennial as ever.
1. Sleepless in Seattle
Well, I would say that. Lonely in Longreach was my riff on this great 90s classic about Annie (Meg Ryan) who hears Sam's (Tom Hanks) story of his sad widower life on talkback radio one snowy Christmas night and is captivated. She decides to see if the connection she feels is real and writes him a letter. Sam's son, Jonah (Ross Malinger) reads the letter and writes back, arranging to meet Annie on top of the Empire State Building on Valentine's Day. An nod to the romantic classic An Affair to Remember, this movie is a feel-good favourite guaranteed to lift you up when you're down.
---
ABOUT THE AUTHOR: Eva Scott
Eva comes from a family of storytellers and has been writing her own stories since she could hold a pencil. Growing up in a multicultural neighbourhood in Melbourne, Eva developed her wanderlust and a passion for culture and language. She travelled the world, living in Britain before coming home to Australia to study Anthropology. Wanderlust got the better of her again, so Eva packed up and headed to Papua New Guinea to live and work where she was completely in her element. Eva's passion for the Australian country is born of her large extended family, which is spread out across the land. She volunteers at the local primary schools, teaching writing and working with children to incite a love of books and reading. Eva's books explore relationships, culture, our roles in changing society, love and loss. She loves finding connections with readers over shared experiences.
If you'd like to know more about Eva, her books, or to connect with her online, you can visit her website: evascottwriter.com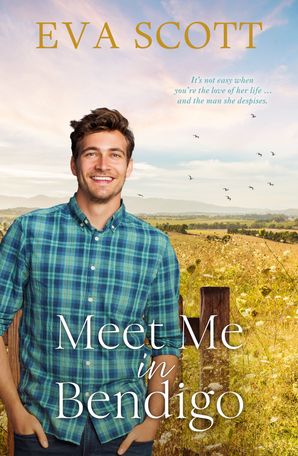 Rural Australia meets You've Got Mail in this romantic comedy about online dating, second chances, and following your heart.
Small-town sweetheart Annalisa Cappelli has returned to Wongilly to take over her family's hardware shop while she heals from a tragic loss. The business was hit hard by the pandemic, and now a Carpenter's Warehouse hardware superstore is opening in the district. There's no way Annalisa is going to let two hundred years of history go down the drain, but she's going to need to fight to keep her family's legacy alive.
The one simple thing in her life is her no names, no complications, easy-breezy online relationship with GardenerGuy94. For now, their online flirtation is the only kind of romance Annalisa needs. Until she meets Ed Carpenter. Sexy as hell, he'd be the perfect man … if he wasn't trying to destroy her business.
Ed Carpenter is in Wongilly to offer the owner of a small hardware shop a payout to pave the way for his family's next superstore. What he doesn't expect is for the owner to be the woman he's been talking to online. Annalisa is beautiful and passionate, and he's sure she's the one for him. But how can he reveal the truth without losing her?