The premise of this movie had me intrigued to watch it. I love the idea of taking someone out of their comfort zone and testing them in a new setting. A perfect Sunday night movie I settled in with a glass of wine to watch.
The Highs
The highs were few for me. Thank goodness Lola was a strong character, standing up for herself in the LA corporate office action. And while it was a long stretch that she could hold her own on the 'sheep station' as easily as she did, I was thankful her few mistakes made her laugh at herself and get on with it rather than portray her as a damsel in distress who needed rescuing.
Although, who wouldn't want to be rescued by the gorgeous Max?
There is the expected antagonism between Lola and Max, but rather than the rough, tough, dismissive character I'd expected, he was patient and kind with the odd bit of sarcasm, giving him an endearing quality.
I did love the scenes with Baabara the sheep. While a little over the top, they added a bit of fun.
The Lows
Evidently it was filmed in Australia, but a lush valley near the Gold Coast does not speak wine country or sheep station to me! There were so many scenes where I cringed. The main house like a swiss chalet; the shearer's quarters, a cross between an English manor and a harem; the overnight stay with some kind of fluffy bedding in a wooden open-sided hut with curtains; and the snakes, not one but two!
It might have given Max the opportunity to be a hero – but really? His acting ability needs work! It was obvious he was there for his looks when he was unloading hay without a shirt. How lucky he avoided the itches, scratches and sunburn that would have gone with that scenario. Singing around a campfire is okay and it only takes a small stretch of the imagination to believe Lola can sing, but her getting on a motorbike and riding like a pro while Max looks goofily on were all too contrived.
The big secret that Max was keeping and final reveal weren't at all believable and such a fizzer.
In general the romance was lacking but if you're in need of some distracting, this escapist fantasy is the one for you.
If you're looking for some authentic Australian romances set on vineyards, the three-in-one anthology Home Among the Vines includes three fabulous stories from Australian authors Tricia Stringer, Lily Malone and Jacquie Underdown. Out now!
---
ABOUT THE AUTHOR: Tricia Stringer
Tricia Stringer is a bestselling and multiple award-winning author. Her books include The Family Inheritance, The Model Wife, Table for Eight, and the rural romances Queen of the Road, Right as Rain, Riverboat Point, Between the Vines, A Chance of Stormy Weather, Come Rain or Shine and Something in the Wine. She has also published a historical saga; Heart of the Country, Dust on the Horizon and Jewel in the North are set in the unforgiving landscape of nineteenth-century Flinders Ranges.
Tricia grew up on a farm in country South Australia and has spent most of her life in rural communities, as owner of a post office and bookshop, as a teacher and librarian, and now as a full-time writer. She lives in the beautiful Copper Coast region with her husband Daryl, travelling and exploring Australia's diverse communities and landscapes, and sharing her passion for the country and its people through her authentic stories and their vivid characters.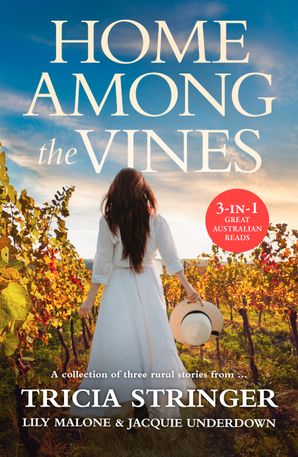 A collection of three rural stories about finding home in unexpected places.