'Shakespeare once said love is blind.'
That's the first voice over of The Holiday and it is quickly qualified by the next sentences: 'For some love fades and for others love is simply lost. But what of those of us who fall in love alone?'
OK. That's probably the theme of this movie then, for the resignation Iris (Kate Winslet) imparts into the sentiment is most telling.
Iris has been in love with the creepy Jasper for three long and unrequited years. He plays her like a fisherman might, letting her go and then reeling her back in despite having asked another woman to marry him.
At this point I wanted to throw something at both Iris and Jasper as she cries alone in the snowy midnight of her picture-perfect Rosehill Cottage, deep in the beautiful green heart of Surrey.
The quick changeover in the next scene to a mansion in the wealthy suburbs of LA is surprising. Blue skies and palm trees abound, and the continuously blowing wind, the Santa Ana, acts like a character in the film. We're told there's a catchphrase: 'Anything Might Happen'.
And it does. When the enormously successful Amanda (Cameron Diaz) is cheated on by her boyfriend, she recognises the fact that she needs a holiday. The stress of making wildly successful movie trailers for Hollywood blockbusters is getting to her and 'any woman knows that stress ages one prematurely'. Where can I go, she asks and clicks on the same Rosehill Cottage in which Iris is currently weeping her heart out.
Within a moment the deed is done. They will swap their houses. Iris will go to LA whilst Amanda will head to Surrey.
At this stage I was wondering if the tall and willowy Amanda would even fit in the vintage bath in Surrey, and if the old rickety double bed of Iris's would allow her a moment's sleep. Personally I thought Iris looked as if she had got the better half of the bargain by far but then Graham (Jude Law) walks into Amanda's life and steals the show.
The drunk but respectable brother of Iris's needs a place to doss down after a heavy night at the local pub and who wouldn't give it to him?
Even the stunning Amanda seems overcome by his English accent, his self-deprecating ways and his humour. (Think Hugh Grant in Notting Hill and you get the gist.)
Two sentences later and they are in bed, and while she is still wearing a bra after the deed it was certainly good. And very out of character for them both, they stress a myriad of times, and she also tells him 'I'm not sure I'm good at sex or if I can fall in love'. We learn she can't cry either, not a tear since her father walked out on her fifteen-year-old self, a fact that will have high importance later on.
'You are an interesting woman,' says Graham and proceeds to tell her nothing at all about himself. The firelight flickers, the candlewick bedcover evokes the ages past, and the small six-glassed windows glow yellow against the cold and empty Christmas landscape.
I start to be reminded of a review by Anthony Quinn of The Independent:'You begin to suspect that Nancy Meyers isn't actually a movie director at all, but a features decorator at World of Interiors.' Each location is gorgeous – the over-the-top luxury of LA counterbalances against the cosy, quieter English beauty that is Surrey.
Meanwhile, heartsick Iris is carving out a bit of her own happiness despite the sleazy Jasper's constant badgering. Ninety-three-year-old Arthur Abbott is a neighbour who is supposed to have dementia but seems surprisingly onto it. He's a doyen of old Hollywood and he introduces her to a world of wonder and of awards, old friends, great food and many Jewish idiosyncrasies.
He also tells her that she should be the leading lady in her own life and for once Iris believes it.
Enter Miles (Jack Black), a sparkle in his eyes and with romantic problems that are much like Iris's.
When Miles says, 'You need to meet people who can make you feel whole again and little pieces of you will come back,' it's a hop, skip and jump to Jasper being ejected from the LA mansion and for Iris and Miles to find they are kindred spirits.
In Surrey Amanda is still not shedding a tear. She has also realised maintaining a trans-Atlantic relationship is difficult and has found out that Graham comes as a package of three. He's a widower with two adorable young girls and the tent scene with the four of them in it is beyond magical.
Iris asks Jack back to England for New Year, but Amanda buys a ticket home and takes a taxi to the airport leaving Graham to weep copiously. (He has no problems in the tear department.)
Minutes later, in a snow-filled lane, she feels the first drops fall down her cheeks and is renewed.
Jumping from the car she makes an impressive dash of about a mile and a half back to Rosehill Cottage and falls into the arms of the grateful and beautiful-even-when-he-is-crying Graham.
Love is blind, according to Shakespeare, but it's also messy, complicated, sad and wonderful.
For me The Holiday was a memorable Christmas rom-com. Don't expect the moon, but worth a watch with a glass of wine if you have the want to suspend reality for the duration of the movie.
Four out of five stars from me.
---
Sophia James
Georgette Heyer novels formed Sophia James's reading tastes as a teenager. But her writing life only started when she was given a pile of Mills & Boons to read after she had had her wisdom teeth extracted! Filled with strong painkillers she imagined that she could pen one, too. Many drafts later Sophia thinks she has the perfect job writing for Mills & Boon Historical as well as taking art tours to Europe with her husband, who is a painter.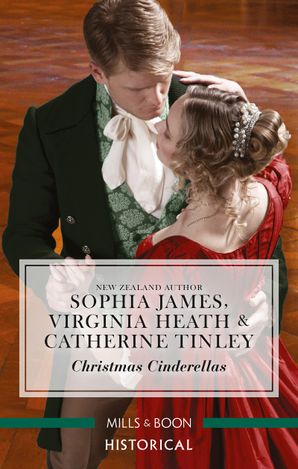 'You shall go to the ball!' …with these three Christmas Cinderella stories!
In Sophia James's Christmas With The Earl, usually composed Ariana burns up like a Christmas candle at the infamous Earl of Norwich's touch! Next, in Virginia Heath's Invitation To The Duke's Ball, a festive country house party is a bore for lady's companion Eliza, until she meets a dashing Duke. And in Catherine Tinley's A Midnight Mistletoe Kiss, Nell's life of drudgery is about to change after a Christmas kiss with the handsome gentleman Tom Beresford…