When I started to write a story set in Australia, I had no idea of when, where or even how to begin researching anything, so the process of research for my novel Daughter of the Hunter Valley was a long and winding journey.
I had an opening scene in mind, but all of a sudden I realised how much I didn't know. I could see a girl standing on the deck of a ship; but what kind of ship? This question sent me on countless Google searches trying to pinpoint when to set the story. Because before I could write, I had to know what technology was available: not only for ships, but wagons, clothing, weapons, tools and agricultural developments; as well as researching language, religion and politics, not to mention social mores. It was endless, and I soon found myself bogged in research and had to be careful not to lose sight of the story.
Eventually I happened upon Hunter Valley historical identity George Wyndham and his farming diary. In it, I was surprised to see my own ancestor William Harpur's name, and as I already knew a little of his story, I was able to hone in on the early 1830s as a time to set my story. It was a time of agricultural expansion into the Hunter, and there were enough letters, news articles and books available for me to glean a lot of information.
Living in the Hunter, I'd grown up surrounded by old homesteads and stories told by elderly neighbours and family friends, so I had a rough idea of what was available locally to investigate. I set off to visit historic houses, museums and historical societies. I drew on my own memories of having worked on a sheep station in the Riverina in my early twenties and living in the old servants' quarters in the homestead; and I revisited Tocal House, which is located in the grounds of Tocal Agricultural College where I had worked years before, as well as many other farms and homesteads including Rouse Hill House and Farm, Elizabeth Farm and Dundullimal Homestead, Dubbo.
I spent countless hours rattling around lost in libraries before I realised I could ask the librarians for help, and I read and read and read. I read historical fiction, contemporary diaries, blogs, websites and library books, and I purchased expensive old books long out of print.
My husband had grown up farming the Hunter River flats, and so was an invaluable resource when it came to agricultural moods of the river and valley, and his interest in old farming techniques and machinery was incredibly helpful.
Long after the story was contracted by Mira, I was still learning more about the times and people of the Hunter Valley, and farming along the Hunter River, and now, as I write my second novel, I'm learning even more.
---
ABOUT THE AUTHOR: Paula J. Beavan
An avid reader from childhood, Paula J Beavan grew up on a small property in the Hunter Valley, riding horses, mustering cattle and listening to the tales of local farriers, cattlemen and farmers. Her love of the land and its history together with a curiosity about the challenges faced by the pioneering women of the region led her to seek out stories of the area's early European settlers. Serendipitously, she discovered a family connection to William Harpur, local landowner and one of Australia's early surveyors. Inspired by this connection, she delved deeper to discover when William Harpur lost his sight, his wife Catherine managed their Hunter River property – a perfect illustration of the women she writes about.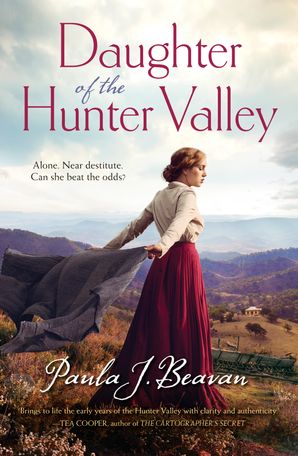 Alone. Near destitute. But brave and determined. Can Maddy beat the odds to create a new home in the Hunter Valley? An exciting Australian historical debut, perfect for readers of Darry Fraser.
1831, New South Wales
Reeling from her mother's death, Madeleine Barker-Trent arrives in the newly colonised Hunter River to find her father's promises are nothing more than a halcyon dream. A day later, after a dubious accident, she becomes the sole owner of a thousand acres of bushland, with only three convicts and handsome overseer Daniel Coulter for company.
Determined to fulfil her family's aspirations, Maddy refuses to return to England and braves everything the beautiful but wild Australian country can throw at her – violence, danger, the forces of nature and loneliness. But when a scandalous secret and a new arrival threaten to destroy all she's worked for, her future looks bleak … Can Maddy persevere or should she simply admit defeat?
A captivating historical tale of one young woman's grit and determination to carve out her place on the riverbank.
PRAISE:
'Richly detailed, inspiring and romantic – this engrossing story of a brave young woman overcoming insurmountable odds brings to life the early years of the Hunter Valley with clarity and authenticity.' – Tea Cooper, author of The Cartographer's Secret