Mandy Magro has published 18 rural romance novels. Her new book Road to Rosalee takes readers back to the wide-open skies of the outback station we first saw in her debut novel, Rosalee Station.
---
Romance.com.au: What inspired your debut novel, Rosalee Station?
Mandy Magro: When I was thirty, I was offered a job as camp cook out at Tobermorey Station in Central Australia – the middle of woop woop really! It was truly exciting and an experience I will always hold dear, but it was also a very big lesson in life. Hard doesn't even begin to describe having to survive in such an unforgiving landscape. While out mustering for weeks on end, my camp kitchen consisted of a fire and a barbecue plate, and I bathed by hiding behind a clump of spinifex with a valued packet of wet wipes, trying to avoid being spotted by the chopper pilot – fun times!
The days were scorching hot and the nights were freezing cold, and I spent most days on my own craving a can of creaming soda. Weird, but when left for hours without anything to occupy yourself, the mind does strange things. We slept in our swags, the earth our bed and the dazzling star-speckled sky our ceiling. I remember waking up one morning and my rubber contour pillow was frozen solid! The storyline and the wonderful characters are based on my experiences in the outback and all the unforgettable people I met while out there. The heroine, Sarah Clarke, is like me right down to the curly blonde hair.
Romance.com.au: Are there any parts of it that have special personal significance to you?
Mandy Magro: The title, Rosalee Station, came about from adding my middle name, Lee, and my daughter's, Rose, together – so that in itself is special. Matt and Sarah, the hero and heroine, are very dear to my heart. They were the first characters I brought to life and fell in love with along the journey, along with all the stockmen and the animals. Rosalee Station was my very first book baby, so it will always have a very special place in my heart, and on my bookshelf.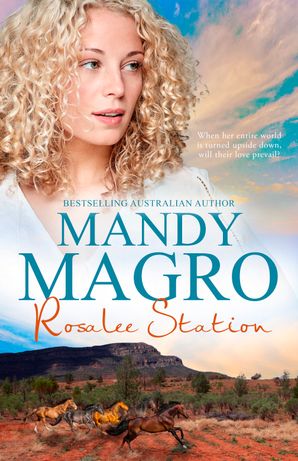 Romance.com.au: Have you had other jobs outside of writing? What were they?
Mandy Magro: I've had quite a few other jobs. While at school I worked at an ice-creamery on the weekend, yum! I then worked at a chemist, and when I left school I went on to do a hairdressing apprenticeship. Once I graduated I opened my own salon and worked in that for about ten years, and then went on to do mobile wedding hair once I sold it. I've also worked as a therapeutic masseuse, marketing manager, nightclub promotions manager, in advertising and just recently as a creative writer for Pro Bull Riding Australia (PBR).
Romance.com.au: How would your family describe you, in three words?
Mandy Magro: Loving, spontaneous, stubborn.
Romance.com.au: Do you like silence or music playing while you're writing?
Mandy Magro: While I'm writing I need complete silence. Editing, I like to have some background music on – preferably some old-school country, like Waylon Jennings or Johnny Cash. Or if I'm in a hyperactive mood a bit of psychedelic trance … I'm a raver from way back. (I did mention I was spontaneous!)
Romance.com.au: Any other quirky writing habits?
Mandy Magro: Not really … maybe I should find some and then I might stop sidetracking on social media when I should be working.
Romance.com.au: When did you start writing?
Mandy Magro: When I became a mum, so at thirty-three.
Romance.com.au: Did you always want to become an author?
Mandy Magro: I always loved English, and it was the subject I excelled in at school, but no, it wasn't a lifelong dream to become a writer. Although now I'm doing it, I feel like I've found my niche.
Romance.com.au: What star sign are you and are you typical of it?
Mandy Magro: I'm an Aries through and through – headstrong, creative, passionate, loyal, fiery at times, and very, very stubborn.
Romance.com.au: What are your three favourite things?
Mandy Magro: Other than my family and friends, if I have to pick: food, music and travelling – all three at once is perfection!
---
ABOUT THE AUTHOR: Mandy Magro
Mandy Magro lives in Cairns, Far North Queensland, with her daughter, Chloe Rose, and their adorable toy poodle, Sophie. With pristine aqua-blue coastline in one direction and sweeping rural landscapes in the other, she describes her home as heaven on earth. A passionate woman and a romantic at heart, Mandy loves writing about soul-deep love, the Australian rural way of life, and the wonderful characters who call the country home.
Don't miss Mandy's upcoming book Road To Rosalee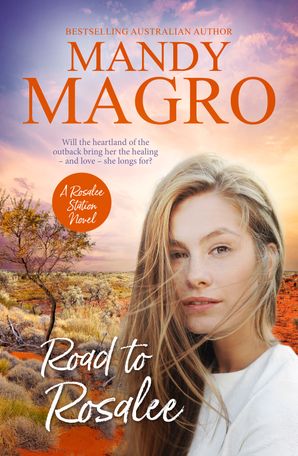 Return to Rosalee Station with bestselling Australian author Mandy Magro's touching story of a search for belonging, love and healing.
City girl Melody Harrison finds herself questioning everything in the wake of her mother's deathbed confession of a long-held secret – a secret that drives her far into the outback, to the wide-open skies of Rosalee Station…
Matt and Sarah Walsh have finally reached a time in their lives where they are at peace, but their happiness is again thrown into turmoil when Matt answers the door to a young woman with shocking news. But what is the truth? Only by offering her sanctuary at Rosalee Station will they find space to come to grips with each other.
Long ago accepting he's never going to fit in with his wealthy family, Zai Wellstone has finally landed his dream job as head stockman at Rosalee Station. It's here he crosses paths with the most intriguing woman he's ever met, Melody, the new camp cook. Sparks fly between them from their first encounter, but will the secrets she's keeping stand in their way?
Rosalee Station is the place where love is found and family ties mean more than anything – will its magic once again show a heartbroken young woman her way forward, to the healing and connection she craves?