6 books publishing in the next three months you're going to want to add to your winter TBR!
If you're re-watched Sex and The City multiple times read The Dachshund Wears Prada by Stefanie London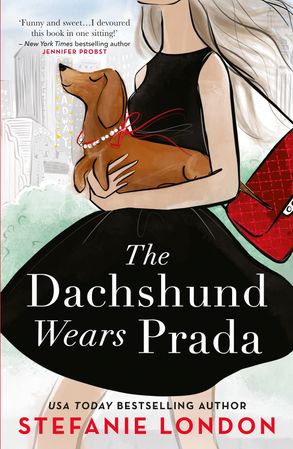 How do you start over when the biggest mistake of your life has more than one million views?
Forget diamonds — the internet is forever. Social media consultant Isla Thompson learned that lesson the hard way when she went viral for all the wrong reasons. A month later, Isla is still having nightmares about the moment she ruined a young starlet's career and made herself the most unemployable influencer in Manhattan. But she doesn't have the luxury of hiding until she's no longer Instagram poison. Not when her fourteen-year-old sister, Dani, needs Isla to keep a roof over their heads. So, she takes the first job she can get: caring for Camilla, a glossy-maned, foul-tempered hellhound.
After a week of ferrying Camilla from playdates to pet psychics, Isla starts to suspect that the dachshund's bark is worse than her bite — just like her owner, Theo Garrison. Isla has spent her career working to make people likable and here's Theo — happy to hide behind his reputation as a brutish recluse. But Theo isn't a brute — he's sweet and funny, and Isla should not see him as anything but the man who signs her paychecks. Because loving Theo would mean retreating to his world of secluded luxury, and Isla needs to show Dani that no matter the risk, dreams are always worth chasing.
If you can't wait for the new season of Farmer Wants a Wife read A Town Like Clarence by Stella Quinn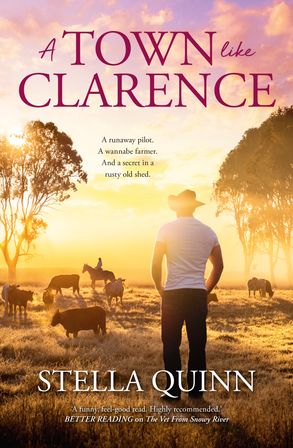 When Kirsty Fox goes on the run to escape a crash-and-burn at work, she finds a family she didn't know she needed… A witty and warm rural romance perfect for readers of Rachael Johns and Alissa Callen.
They say a change is as good as a holiday. Joey Miles is hoping so after leaving the city behind, his stockbroking career in flames, to embrace a brand-new challenge: farming. But while returning to his hometown somehow feels right, he's got a long way to go to get back on his feet financially and the last thing he needs is the townsfolk meddling in his love life (or lack thereof).
To the townsfolk of Clarence, Joey has always been the ultimate tragic romantic hero – and it's time this hero had a happy ever after…
But Kirsty Fox is only in Clarence to dig up information about a World War II figure from her family's past – she has no intention of sticking around and finding out if Joey is as adorable as he seems. Kirsty doesn't stick around. Ever.
But when the locals of Clarence spy the chemistry between these two, a secret item gets added to the agenda of the next town committee meeting: matchmaking. This warm-hearted community will pull every trick in the book to show Joey and Kirsty everything they've unwittingly been searching for is right under their noses… What could possibly go wrong?
Chicken wrangling, an adorable kid niece, a secret in a cow shed and a big-hearted town full of meddlesome wannabe poets… This new romance from Australian author Stella Quinn is a knockout.
If enemies-to-lovers is your favourite trope read Dating Dr. Dil by Nicha Sharma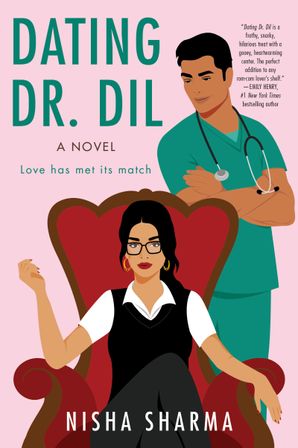 Nisha Sharma's new romantic comedy features enemies to lovers, a cast of best friends, and a gaggle of aunties determined to make a match.
Hi! I'm Kareena Mann. As cheesy as it sounds, I'm looking for my soulmate. In four months. And he must gain the approval of my meddling aunties.
Kareena dreams of having a perfect love story like her parents did. That's why on the morning of her thirtieth birthday, she's decided to suit up and enter the dating arena. When her widowed father announces he's retiring and selling their home after her sister's engagement party, Kareena makes a deal with him. If she can find her soulmate by the date of the party, he'll gift her the house, and she'll be able to keep her mother's legacy alive.
Hi, I'm Dr. Prem Verma, host of the Dr. Dil Show. Prem means love, Dil means heart, and I'm a cardiologist. Don't let my name fool you. I only fix broken hearts in the literal sense.
Prem doesn't have time for romance, which is why it's no surprise when his first meeting with Kareena goes awry. Their second encounter is worse when their on-air debate about love goes viral. Now Prem's largest community center donor is backing out because Prem's reputation as a heart-health expert is at risk. To get back in his donor's good graces, he needs to fix his image fast, and dating Kareena is his only option.
Even though they have warring interests, the more time Prem spends with Kareena, the more he thinks she's might actually be the woman he wants to spend the rest of his life with. In this Taming of the Shrew re-imagination, for Prem and Kareena to find their happily ever after, they must admit that hate has turned into fate.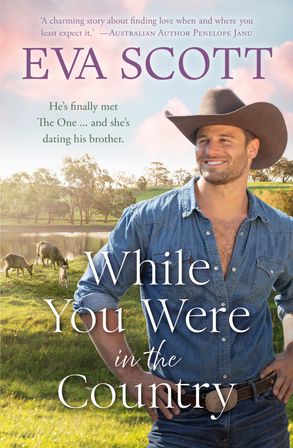 He's finally met The One … and she's dating his brother.
Ant Murphy has spent his life picking up after his famous AFL star brother. So when he gets a phone call telling him that Jed has ended up in the hospital after a drink-driving incident, Ant is far from surprised. He's not even shocked by Jed's manager's wild scheme to have him spend the next six weeks living in the country with a girlfriend Ant didn't even know about. All par for the course in his brother's crazy life.
In fact, Ant isn't thrown by anything … until he turns up at the new girlfriend's farmhouse and discovers that he already knows her. Intimately.
Frankie Fox has dealt with a lot over the last few weeks. She's turned thirty, lost her roof in a storm, been ghosted by The One, and is now somehow dating her longstanding celebrity crush, THE Jed Murphy. But none of these come close to the blow of having The One turn up on her doorstep after weeks of silence … and for him to turn out to be Jed's brother.
With a secret she's forbidden from revealing, growing feelings for her boyfriend's brother, two Murphys living in her home and her future happiness on the line, Frankie must ask the most important question of all: is all this trouble really worth a new roof?
Inspired by the popular 90s romcom While You Were Sleeping, this is both a nostalgic throwback and a modern-day love story about what happens when the man of your dreams isn't quite who you expected.
If you want an escape to the country read The Lonely Paddock by Laurelle Cousins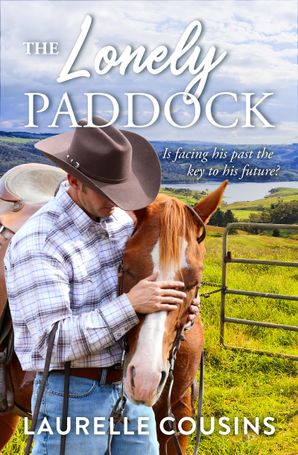 For readers of Karly Lane and Rachael Johns comes a compelling romance that proves forgiveness is possible and fighting for love is worth the heartache.
Country vet Ross Harrington would rather throw himself into his work than face the memories of a tragic childhood accident. But the protective animal-lover cannot forgive himself, tied by the belief he is unworthy of love. So, when the adorable Flick Parker bounds into his clinic with her unruly dog and a smile that threatens to dissolve his protective walls, he's torn between his fascination with her zest for life and the overwhelming desire to turn-tail for the hills.
Meanwhile, Flick is falling for the handsome vet but doesn't know if her heartfelt desire to care for terminally ill children can be in her future or if it's the very thing that will keep her and Ross apart. Finding the balance between offering too much heart or guarding it like an open wound feels like an impossible task, but can Flick show Ross it's worth taking the risk of opening up to find love?
If you can't wait for the new season of RFDS read The Flight To Coorah Creek by Janet Gover
They're saving lives in the outback, can love save them …?
Pilot Jess Pearson is running away from a broken heart and a terrible burden of guilt. A new job flying an air ambulance in outback Australia is a lifeline, after the headlines claimed she betrayed her lover to escape a prison sentence. That was all lies, and in Coorah Creek she has a chance to start over. She's not hoping for forgiveness or love, just to escape from the past. But no matter how many people she helps save, can she ever atone for a lost life?
Dr Adam Gilmore is a brilliant doctor who wants only two things-to work and to be left alone. Unwilling to let any woman past his well-built barriers, he gives everything of himself to his patients. But when the new pilot comes to his small town, with a dedication to the job that matches his own, he starts to wonder if maybe he doesn't have to shoulder the burden alone …
Can these battered souls learn to take strength from each other? Or will their desire to deal with their demons alone keep them apart forever?
Happy reading!