This month we're celebrating all-things Friends! Here author Eva Scott counts down the top boyfriends from Friends.
P.S. You can stream every episode of Friends right now on Binge.
---
I've been addicted to Friends from the start. The show is like a comforting constant in my life. I know I can tune in and be transported to Central Perk anytime I like. It's like a get-out-of-2020-free card for those days when I prefer the Friends reality to my own. A big part of the fun has been watching the boyfriends come and go, and there have been some crackers. Here's my list of the top 5 boyfriends for Rachel, Phoebe and Monica.
Rachel's Top 5 Boyfriends
5. Joey
The fact that they are long-term friends, flatmates and Rachel is pregnant with Ross's child are all pretty good reasons why this relationship never really gets off the ground. You could say that Joey provides the last obstacle to Ross and Rachel getting together, one we know they eventually overcome.
4. Mark
I'm including Mark Robinson (Steven A. Eckholdt) because he was at the bottom of the whole 'on a break' debate. Rachel meets Mark in Season 3 when he offers to get her a job at Bloomingdale's. Ross becomes increasingly jealous of Mark and even though Mark leaves Bloomingdale's, his continuing relationship with Rachel causes them to take the infamous break.
3. Joshua
Rachel pursues Joshua (Tate Donovan) when he comes to her work to be fitted for a new wardrobe after his ex-wife sets fire to all his clothes. He's newly divorced and wants to take things slow. Rachel is rebounding from Ross (who is fast-tracking his relationship with Emily). Rachel's intensity and focus on getting married eventually drives Joshua away but not before they give us some memorable moments.
2. Tag
When Rachel hires 24 -year-old Tag Jones (Eddie Cahill) as her assistant at Ralph Lauren, she's asking for trouble. Hot, delicious trouble. She thinks she can control her attraction to him. Turns out, she can't. Despite the chemistry between them, Rachel can't remember Tag's last name (it's Jones) and they break up on her 30th birthday when she realises he's just not mature enough for the serious relationship she wants.
1. Ross Geller
He is the obvious pick for #1 for a reason. These two have gone through everything together and we can't help feeling they are destined for one another. Whether they were on a break or not, some part of their hearts stayed connected to the very end. Who doesn't love that moment when Rachel walks in and says 'I got off the plane', giving up her job in Paris at Louis Vuitton for a future with Ross. I can't wait for the upcoming reunion to see how their baby, Emma Geller-Green, has grown up. Will they still be together? We'll have to wait and see.
Phoebe's Top 5 Boyfriends
5. Duncan
Duncan Sullivan (Steve Zahn) is a gay Canadian ice dancer who Phoebe marries to keep him in the country. She falls in love with him only to discover he's straight and in love with someone else. Beautiful, delicious confusion and laughs.
4. Gary
Gary (Michael Rapaport) is a NYPD officer Phoebe meets after finding and using his badge. Though Phoebe is initially reluctant to move in with him, Gary convinces her to give it a try, but all bets are off when he shoots a bird for chirping too loudly outside their window. They last exactly one day.
3. Rob
Rob Donnen (Chris Isaak) is a fellow musician who invites Phoebe to play for local children. She chooses 'Smelly Cat' and gets herself banned from the public library. Worth it for their duet at the end of the episode. 'You might want to pick a more masculine note.'
2. David
If only David (Hank Azaria) hadn't gone to do science-y things in Minsk; maybe then he'd have ended up walking Phoebe down the aisle. Instead she met Mike and the rest is Friends history.
1. Mike
Mike Hannigan (Paul Rudd) gives us one of my favourite Phoebe moments when they marry in a snow storm. He is the Crap Bag to her Princess Consuela Banana Hammock. You know this has got to be true love.
Monica's Top 5 Boyfriends
5. Fun Bobby
Bobby (Vincent Ventresca) is an old boyfriend Monica reconnects with. He's a lot of fun but it's not until the friends find themselves five bottles of wine into the evening that they realise why. Fun Bobby is an alcoholic. Monica convinces him to quit drinking, effectively turning him into Ridiculously Dull Bobby and driving Monica to drink.
4. Alan
Alan (Geoffrey Lower) is introduced to the gang and they love him! 'Alan will become the yardstick against which all future boyfriends will be measured,' says Ross. Problem is, Monica doesn't feel the same. She breaks up with him only for him to tell her that he can't stand her friends! Fabulous.
3. Pete
Pete Becker (Jon Favreau) is a millionaire who falls in love with Monica and is intent on fulfilling her every desire. Only Monica doesn't find herself physically attracted to him. The man flies her to Rome for pizza on their first date, for goodness sake. And buys her a restaurant! What can you do if the spark is not there?
2. Richard
Dr Richard Burke (Tom Selleck) is by far and away my favourite of Monica's boyfriends. Richard is the first grownup Monica dates. He's charming and cool. He's a gentleman and he makes Monica feel wanted. It's a shame that the age difference between them meant Richard wasn't keen on having more children, having raised some already, and Monica wanted to be with someone who did. We miss you, Richard.
1. Chandler
Chandler Bing is the perfect fit for Monica. Both are nerdy in their own way. Chandler can handle Monica's sometimes bossy persona and she can handle his total doofusness. There's no drama like Ross and Rachel, but there is a lot of fun as they negotiate their relationship and learn to loosen up.
---
Eva Scott
Eva comes from a family of storytellers and has been writing her own stories since she could hold a pencil. Growing up in a multicultural neighbourhood in Melbourne helped develop her curiosity for people. She travelled the world, living in Britain before coming home to Australia to study anthropology. After finishing her degree, Eva packed up and headed to Papua New Guinea to live and work, an adventure which introduced her to her husband, Guy. Eva's passion for the Australian country is born of her large extended family, which is spread out across the land. She volunteers at the local primary schools, teaching writing and working with children to incite a love of books and reading. Eva's books explore relationships, culture, our roles in changing society, love and loss. She loves finding connections with readers over shared experiences and emotions.
Eva's latest book Lonely in Longreach is out now.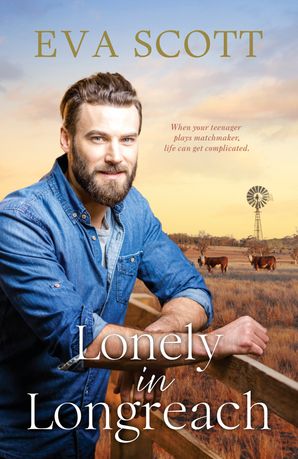 In the red heart of Queensland, two teenagers playing matchmaker are about to turn more than one life upside-down.
Widower Sam Costello has no time for love. When he's not working on his farm, he's trying to figure out how to connect with his teenage son Levi.
But Levi is about to finish high school, and he has big plans to move to Sydney for university with his best friend Maddie. If only he didn't feel so guilty about abandoning his dad. Maddie has her own reasons for wanting to go to Sydney and she's not going to let Levi's dad ruin her future happiness. Mr Costello needs a girlfriend and, with her talent for matchmaking, Maddie is the girl to make it happen. By the time Mr C figures out what she's done, surely he'll be too in love to be angry.
Journalist Sarah Lewis has a good job, a nice boyfriend and a safe life in Sydney. Though sometimes she wonders if life has more to offer than nice and safe. When she starts working on an article about finding love in the outback she finds herself asking whether journalists should become this invested in their research. But there's just something about Lonely in Longreach. Could it be that the man behind the dating profile is the key to the passion she has been looking for?
Sleepless in Seattle meets rural Australia in this fresh romantic comedy about optimism, online dating and love at first sight. 
You can stream every episode of Friends now on Binge