Janet's Gover's latest book features a lot of baking! There's even a sponge cake on the cover. To celebrate its imminent release Janet attempted to re-create some of the baked confections from the book…
---
My career as a baker began and ended on the same day when I was about 11.
I wanted to cook my father a birthday cake. With Mum's help, a cake was duly baked and thickly covered with bright pink icing to hide the burned and lumpy bits. Dad was a kind man and he ate a whole slice. I didn't manage to eat more than a mouthful or two. I decided to give some to Spot, the dog. (Yes, I really did have a dog named Spot.) You know you've failed baking when even the dog won't eat it. I didn't bake another cake for about forty years.
But when the characters in Close to Home started talking about cakes and baking, I decided research was in order. I bought a couple of cake tins and away I went.
Lamingtons remind me of school fetes and local shows. My first attempt at lamingtons wouldn't have won any prizes. I discovered two important things…
If you're not careful, desiccated coconut and chocolate sauce ends up everywhere, including on the cat, and low-fat cream doesn't whip. My English husband has no real knowledge of lamingtons – but he ate many. I declared this a success.
The leftover chocolate became tiny chocolate Lego figures.
In Close to Home, lamingtons are Aunt Alice's favourites, but her nemesis Lucienne Chevalier is all about French pastries. The thought of making a mille-feuille was pretty intimidating. But however you pronounce it (and I still can't), it's really just a posh vanilla slice. It's always been a 'going out' treat for me because you can't make them at home, unless your name is Lucienne and you are French and glamourous.
I must confess that I cheated and used bought pastry because, apart from the degree of difficulty, I also don't own a rolling pin. But I made the custard filling and the glaze. That was a bit runny, so the neat orderly pattern ran into a messy disorderly pattern. Lucienne would have understood. And oh my, they tasted good!
My best childhood memories involve classic sponge cake. This was the welcome cake given to new arrivals in our tiny town. More importantly, this was the family special event cake for birthdays and Christmas (because I'm awkward and don't like fruit cakes). My stepmother made a chocolate sponge every year for my dad and me, to celebrate both our birthdays. I decided to give it another try – without the pink food colouring. It wasn't perfect, but then is any family perfect? Not so much as a single crumb ended up in the bin.
---
About the author: Janet Gover
Janet Gover grew up in outback Australia, surrounded by wide open spaces, horses … and many, many books.
She is a self-confessed 'bit of a geek girl'. When not writing novels she works in IT—in really dull places like Pinewood Movie Studios, Puerto Rico and Iraq.
When her cat lets her actually sit in her chair, she writes stories of strong women, rural communities and falling in love. Her novel Little Girl Lost won the Epic Romantic Novel of the Year Award presented by the Romantic Novelists' Association in the UK, and she has won or been shortlisted for awards in Australia and the USA.
As Juliet Bell, in collaboration with Alison May, she rewrites misunderstood classic fiction, with an emphasis on heroes who are not so heroic.
Her favourite food is tomato. She spends too much time playing silly computer games, and is an enthusiastic, if not always successful, cook.
Janet loves to hear from readers—so do drop her a line.
Check out Janet's latest book Close To Home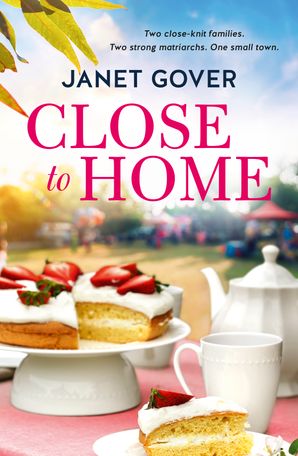 A delightful small town story of community and family with shades of Romeo and Juliet and The Dressmaker.
Two households, both alike in dignity…
Aunt Alice Dwyer loves her small Australian town. She's rarely left its comforting embrace. She knows everyone in it; in fact, she's related to most of them. All she wants is to keep her family safe and the town running exactly the way it always has. Her way. But when an exotic French artist comes to town, her hold begins to weaken…
Lucienne Chevalier, once the toast of Europe, has come to Nyringa after a tragic loss to hang up her sequins and create a place for her circus family to rest between tours. With her is Simon, her grandson, recovering from an injury so damaging he can no longer perform. Lucienne fears he'll never embrace a new future. That is, until she notices the chemistry between him and the new schoolteacher… All they need is a push.
Both grande dames think they know what's best, but with equal amounts of stubbornness on both sides, peace looks unlikely. Then a relationship between Alice's rebellious great-niece and a teenage acrobat sets the two communities on a collision course. But when the bakery starts making patisseries over lamingtons, the battle lines are truly drawn…
A story of community and family. Of the love that brings them together … and the fears that would tear them apart.